KENWOOD — Ald. Sophia King (4th) debuted her Kenwood advisory council Thursday evening, and attendees said they envision it encouraging collective action and relationships among neighbors.
About 20 residents learned the council's structure and discussed a wide range of issues at the first meeting.
"What we're asking tonight is where you think this community's priorities should be," King said at the meeting held at Kenwood Academy, 5015 S. Blackstone Ave.
Chair Tonya Primus and vice chair Camron Parker were appointed to the council before the meeting began, as they are "individuals who we know are already active in the community," King said.
The chairs of seven committees will be decided as residents nominate themselves over the next few weeks. King said she wanted to "get volunteers from places we may not know or areas that we're not as active in."
A block club committee will interact with six other committees, which are:
Arts and parks
Block clubs
Development
Economic development and jobs
Education
Infrastructure
Public safety
Committees will plan to meet monthly, with the full advisory council meeting three or four times a year.
King said the councils are similar to participatory budgeting, just without the "formal structure." The participatory budgeting process may not represent the entire ward's wishes, she said.
"I think it's a great idea … one of the things is, it costs money to manage it," King said. "Second of all, the people who actually show up are sometimes the same people, and then you're hearing from what they want to vote on."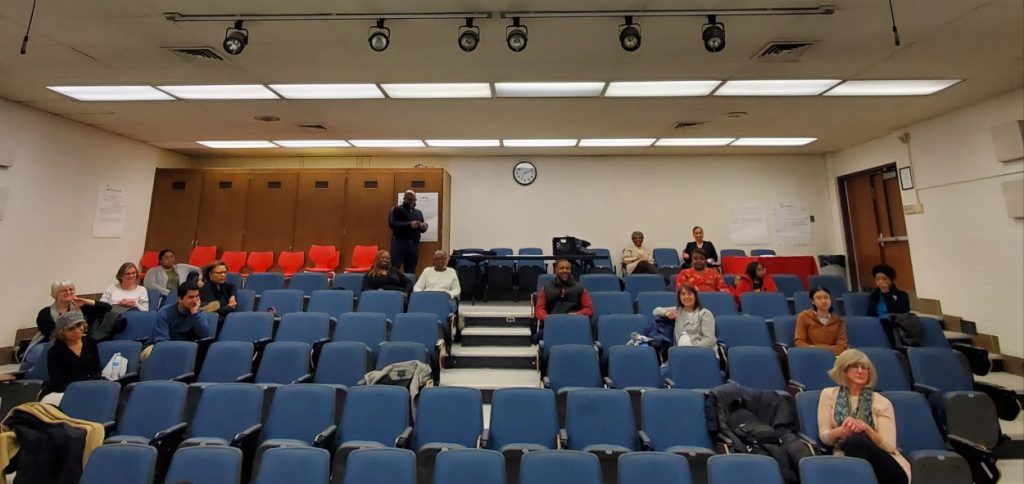 The council will help create community at a time where neighbors are more disconnected than ever, said Primus, a lawyer and former Special Service Area #47 commissioner.
"One of the things that builds a stronger community is being engaged and working together toward common goals," Primus said.
During the evening's breakout session, residents interested in the public safety subcommittee discussed increasing the police presence in the neighborhood, said Damascus Harris, program chair of Teens On 53rd.
Before deciding how to act, residents must first educate and involve themselves on the neighborhood's safety issues, he said.
"If there's a CAPS meeting where there's 50 people, [the police] do something," Harris said. "If we can get you this involved, then we can also teach you that 90 percent of the kids you call thugs are just kids."
Those interested in the education committee brainstormed ways to boost community involvement in schools.
By pursuing personal relationships with parents, the committee could help neighborhood schools in areas like fundraising, attendee Slayton Goodman said.
"You have a lot of people who have money that want to give to schools," Goodman said. "But [they say], 'I don't know what Kenwood needs … I don't even know how to give them money if I want to.'"
Other areas of interest include more community input on new construction projects, beautifying entryways like Lake Shore Drive's 47th Street exit and starting walking tours in the community.
Kenwood is the fifth of King's six councils to debut, with one council representing each of the ward's community areas.
The first was North Kenwood-Oakland, which came in with an established organizational structure, according to King. The council for nearby Hyde Park debuted last Thursday.
King said it would be fun to organize a "mini-Olympics" between the ward's various communities.
Do stories like this matter to you? Subscribe to Block Club Chicago. Every dime we make funds reporting from Chicago's neighborhoods.
Already subscribe? Click here to support Block Club with a tax-deductible donation.