ANDERSONVILLE — As it seeks to set up a second location in the West Loop, Dispensary33 is also plotting a major expansion of its Andersonville pot shop — and possibly taking over the home of a popular hot dog restaurant.
Dispensary33 at 5001 N. Clark St. was one of only a handful of dispensaries set up in time for legal cannabis sales to begin in Chicago on Jan. 1. After two months of brisk sales, the dispensary is considering expanding in its current location, said Abigail Watkins, director of marketing for Dispensary33.
"We'd love the space," Watkins said. "It's not for sure, but it's something we're highly considering."
Dispensary33 is in a building at Clark Street and Argyle Avenue that includes three storefronts owned by the same landlord. Leases are up at the two neighboring businesses, Hot G Dog's and Jenny's Nail Salon, sources said.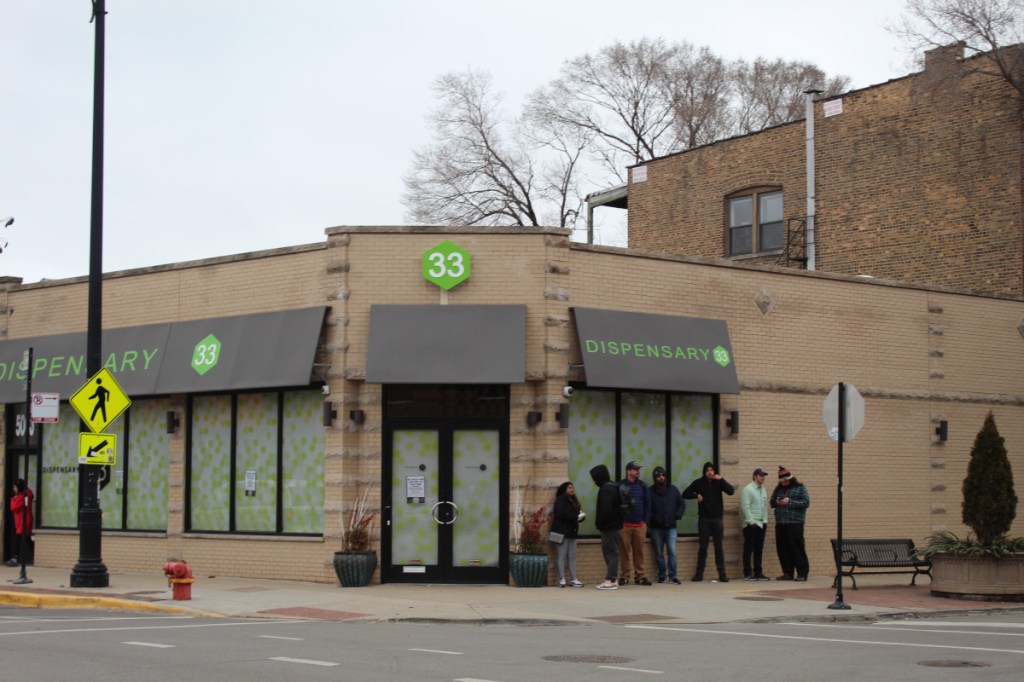 Depending on what happens with the neighboring businesses, Dispensary33 could take over one or both storefronts. Doing so could double the dispensary's current retail space, Watkins said.
The popularity of legal cannabis has business booming for the few dispensaries that opened Jan. 1. On the first day of recreational sales in Illinois, Dispensary33 had a line outside its doors that stretched five blocks.
Dispensary33 is not the only dispensary already talking about expansion. After just two months of legal cannabis, Midway Dispensary announced plans to expand its Archer Avenue shop near Midway Airport.
At its Andersonville shop, space inside the 2,500-square-foot business is at a premium, Watkins said. A break room had to be converted for business uses, and increased staffing has added to congestion.
"Space is so precious right now," Watkins said. "We'd be able to serve a lot more people."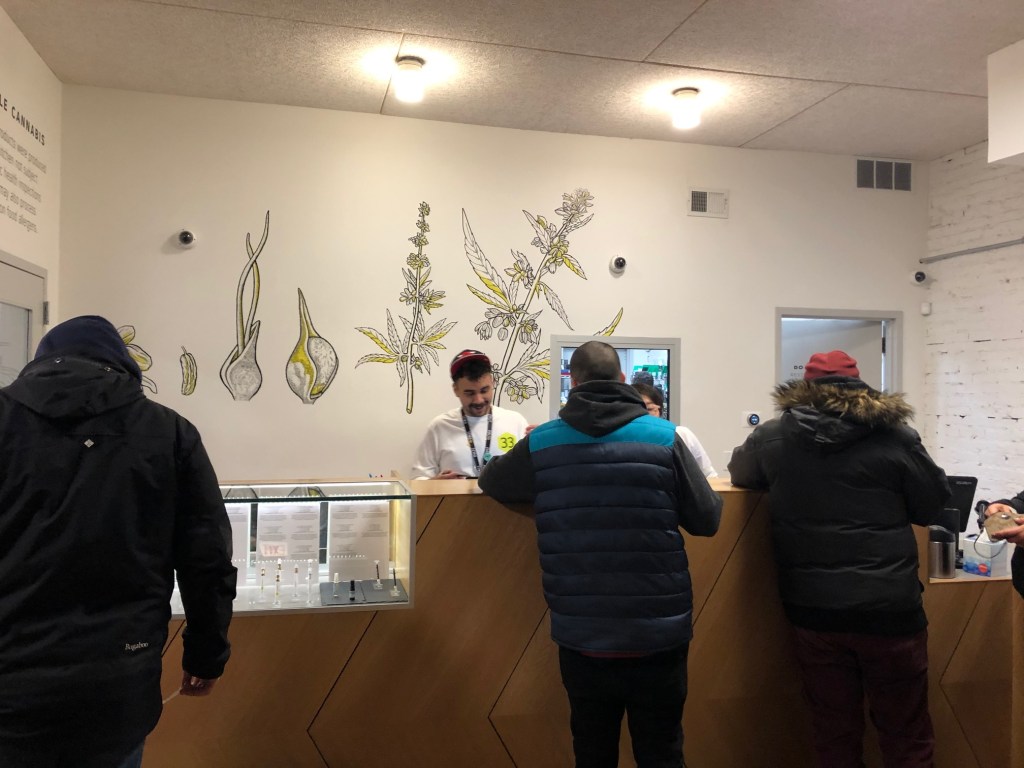 Octavio Garcia, co-owner of Hot G Dogs, said he has heard of Dispensary33's desire to expand. That news coincided with his lease ending, and Garcia and his brother, Juan Carlos, said they are looking to relocate the hot dog shop.
"We planned on moving already," Garcia said. "We just don't know how fast they're trying to do that," he said of the dispensary's expansion.
Hot G Dogs is a spinoff of the hugely popular Hot Doug's, the Avondale hot dog business that shuttered in 2014. The Garcia brothers, who worked as line cooks at Hot Doug's, went on to open Hot G Dogs in Andersonville.
Garcia said rent in Andersonville has been rising, and he's been thinking of buying a place for his business. At first he looked in the neighborhood, but prices for property were too high, he said.
"We were looking to buy in the area, but that neighborhood is expensive," he said. "It's almost as expensive to rent as it is to buy."
The Garcias have expanded their search to find a suitable property for their business, he said. It's also conceivable that he could shrink the restaurant's current space and remain neighbors with Dispensary33.
"There are a lot of possibilities," Garcia said.
Jenny's Nail Salon, 5005 N. Clark St., did not return a request for comment Wednesday. The building's landlord also did not return a request for comment.
Dispensary33 has communicated its desire to expand in Andersonville, said Josh Mark, spokesperson for Ald. Matt Martin (47th). No formal zoning change requests have yet to be filed, he said.
If the dispensary does seek to expand, the proposal would go through Martin's zoning process, which includes meetings with a zoning advisory council and neighborhood groups and organizations. Dispensaries also need to receive a special use permit, and the process for receiving a permit requires a community meeting.
Both processes would allow for plenty of opportunity for community feedback should Dispensary33 seek to expand, Mark said.
On Wednesday, Dispensary33 announced plans to open a second location along restaurant row in the West Loop. If approved, the company would open a 5,000-square-foot shop that would more than double the Andersonville location's footprint.
Currently, the dispensary accepts walk-ups until about 11 a.m. daily and has a system where customers can reserve online an afternoon appointment at the dispensary.
Right now, about 12 people fit into the dispensary's waiting room, while others line up outside. If an expansion happens, those 12 sitting in a waiting room could roam a retail floor, Watkins said. The expansion could cut wait times from 45 minutes to 15 minutes, she said.
"It would help out with congestion in general," she said.

Do stories like this matter to you? Subscribe to Block Club Chicago. Every dime we make funds reporting from Chicago's neighborhoods.
Already subscribe? Click here to support Block Club with a tax-deductible donation.