NORTH LAWNDALE — After being named a finalist for the Pritzker Traubert Foundation's $10 million Chicago Prize, North Lawndale neighborhood groups collaborating on their entry for the grant were given $100,000 and tasked with refining their plans for how the prize money would be spent.
Now, as they build out their implementation plans for the six projects dubbed "Advancing North Lawndale Together," the groups are inviting residents to help decide how the funds will be used to improve the community.
Residents and neighborhood organizations affiliated with the North Lawndale Community Coordinating Council, which is backing the Lawndale entry for the Chicago Prize, gathered for a Tuesday night community engagement meeting at the Sinai Community Institute, 2653 W. Ogden Ave.
At the meeting, residents were given an overview of the six projects and invited to offer feedback, ask about the projects, and participate in several engagement questionnaires on the priorities of residents. Residents were also invited to participate in a focus group afterward to further guide the direction of the projects.
"Imagine North Lawndale vibrant, colorful, safe. Imagine North Lawndale with businesses and artwork that reflect the great things about our community. Don't lose that," said artist Haman Cross at the meeting. "Our community is being invited to be a part of this process where we create North Lawndale the way we know it can be."
Public Art To Create A Sense Of Belonging
Cross's organization, Freedom House Studios, is leading the development of a creative placemaking project for the "Advancing North Lawndale Together" initiative that would bring community-driven and resident-designed public art throughout the neighborhood and into Lawndale's parks, railways, streetscapes, underpasses, housing developments, business corridors and community centers. Public art, murals and installations will be designed into each of the other Lawndale projects that would be funded by the Chicago Prize.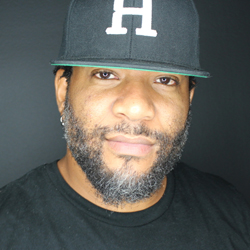 The engagement questionnaire showed that most attendees believed that public art is very important to creating a sense of community belonging in North Lawndale, and can help bring additional investment to the area. Residents at the meeting asked who decides what kinds of art would be produced, which artists would create the art, and where the art would live in the neighborhood.
"The community does," Cross answered. "This is not the case where we are going to have outside artists come in and tell us what goes up. … A guarantee that I can make is that the art that is displayed that is created is reflective, that the community is a part of selecting and a part of the process in making that art. … we want North Lawndale to be known for our art, our creativity."
Affordable Housing, Retail And More
Another of the projects the prize would fund is the long-awaited Ogden Commons mixed-use development that would include retail, affordable housing and a new surgical and ambulatory care center operated by Sinai Health System.
The center would aim to increase health access by expanding wraparound services like childcare, access to nutritious foods, banking and transit options that make it easier to live a healthy lifestyle and prioritize medical needs.
"Imagine an experience where you never have to be hospitalized just to be healthy and to be at your very best. Imagine a situation where you can have easy access, convenient access, affordable access to all the various services in the healthcare community," said Airica Steed, Chief Operating Officer at Sinai Health System. "That is the vision for the new Sinai surgical and ambulatory care center."
Steed said the center will help keep folks healthy in their communities regardless of their ability to pay by expanding their outpatient services and making Ogden Commons a one-stop-shop for health needs.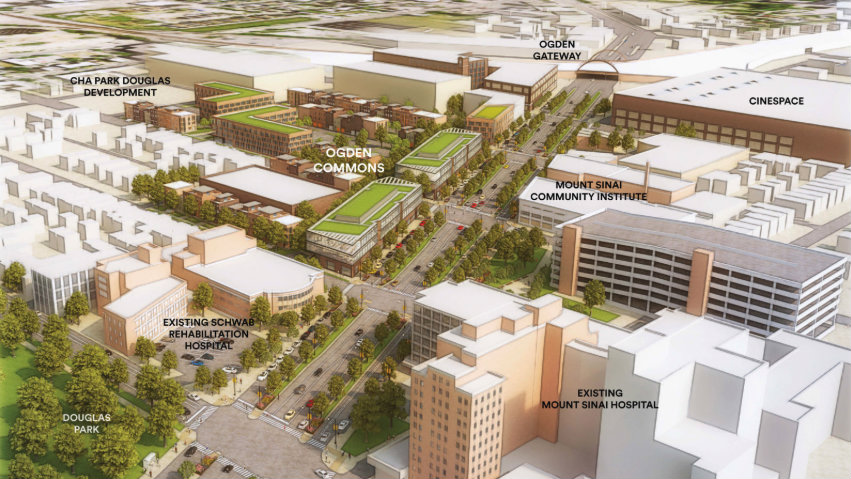 Community feedback after the presentation indicated a one-stop-shop for specialty services like radiology, surgery and dialysis is a priority for residents. The engagement questionnaire also showed that the most important amenities for residents are a calm and comfortable environment with convenient and accessible parking.
Lazarus And Canaan Homes
"Advancing North Lawndale Together" also includes two affordable housing projects led by the Lawndale Christian Development Corporation. The Lazarus Apartment complex at 1859 S. Pulaski Rd. would be revitalized after years of deterioration so that renters in the neighborhood will continue to have quality affordable housing options.
"God raised Lazarus from the dead, and if you take a look at this building, you'll notice that it's in pretty bad shape today," said the organization's Executive Director Richard Townsell. "We want to repopulate the neighborhood. We want affordable housing that doesn't look cheap."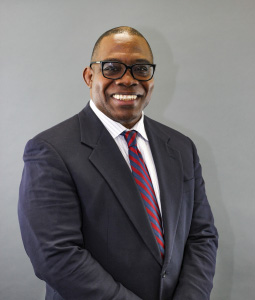 The building would preserve low rents in the area, with a three-bedroom starting at $1,000 per month. The Lazarus Apartments have 48 units of family housing, and the project will set aside 15 of those apartments for formerly incarcerated community members.
"People that have served their time, many of them have difficulty finding places to stay. This building will be set aside for them," Townsell said.
The other housing project led by Lawndale Christian Development Center would support homeownership in the area so Lawndale residents can build generational wealth even with a low to middle income. The Canaan Homes project will build quality houses on vacant lots that are currently city-owned, with a goal of the homes being affordable for families with a combined income of $45,000.
"We're trying to build a home that a working family can buy," Townsell said.
The organization is working to design programming to support the families that would benefit from the Lazarus Apartments and Canaan Homes, and feedback from the community indicated that residents are most interested in programs that would support them through the home buying process, as well as job training and employment assistance programs.
The North Lawndale Employment Network is tackling work readiness across the neighborhood with one of the other central projects in the initiative, which would fund the development of a new workforce development campus to help reduce the crippling unemployment rates in the area.
"I was laid off after working for a company for 13 years," said the organization's Executive Director and CEO Brenda Palms Barber. "And what I learned is that you can feel like you are a nobody if you don't have a job, if you're unemployed. You can feel like a nobody if you have an X on your back because you served time … if you're working but you're living paycheck to paycheck but you still can't pay your bills at the end of the month."
Construction on the new headquarters began last summer, with the gutting of the defunct Liberty Bank building at 1111 S. Homan Ave. to bring all of the organization's programs under one roof. The North Lawndale Employment Network currently operates out of five locations scattered across the West Side, including several apiaries for beekeeping, a production facility for the organization's social enterprise Sweet Beginnings to process honey products, and a financial service center.
The new campus will promote synergy between the workforce development programs and will allow more formerly incarcerated residents to get the career services that they need to thrive. The center will also have facilities dedicated to local entrepreneurs, an onsite bank and a new café that will serve as a gathering space and co-working location for people in the neighborhood.
"We want to get people into middle-wage jobs where they're making $20 to $25 an hour where they can support their families. We want to have community cohesion and ultimately changed the narrative of the North Lawndale community by lifting up the sweet and the good that are in the people in our community," Barber said.
Job Readiness Programs
Similarly, the final project of "Advancing North Lawndale Together" would support job readiness among youths involved with the criminal justice system. According to Lawndale Christian Legal Center Executive Director Cliff Nellis, people under the age of 24 make up over half of the criminal justice system.
"As a result of having no training in youth development, having no community or cultural competence, our criminal justice system has been a dehumanizing system of injustice predominantly in communities of color, and it has failed us," he said.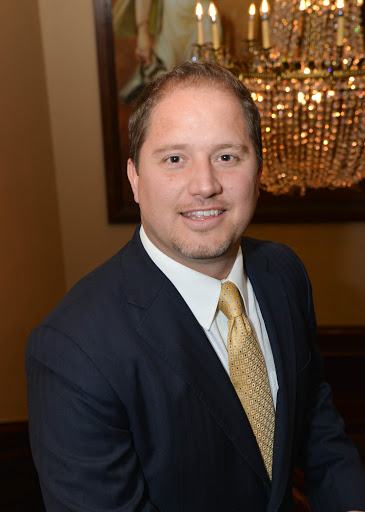 The Chicago Prize would allow the legal center to scale up its model of holistic, community-based criminal defense services, which supports each youth client with a lawyer, a case manager, and an outreach worker. Nellis said the legal center is planning to open a K-Town location that will extend their work to the other side of Lawndale and also bolster the legal services with housing and career support.
"This is a transitional living program with a goal of getting people predominantly into the trades. We had local unions and general contractors help us design the training program," he said.
The center will have 28 dormitory rooms so young men involved with the legal system can have a stable living situation as well as intensive skill training so they can earn a lawful, livable wage.
"We believe that we can end mass incarceration by providing holistic, community-based legal and social services that are provided by people from local communities to people in local communities to end this terrible system," he said.
Leaders at the meeting encouraged residents interested in participating in the implementation of the six projects to reach out to the North Lawndale Community Coordinating Council and to start attending the organization's committee meetings. Community engagement and outreach for the Chicago Prize projects are ongoing, and may include additional meetings, a resident advisory board to assess the success of each project, annual or biannual focus groups, and ongoing paper surveys on the potential impacts of the initiative.
The winner of the Chicago Prize is expected to be announced this spring or summer.
Pascal Sabino is a Report for America corps member covering Austin, North Lawndale and Garfield Park for Block Club Chicago.
Do stories like this matter to you? Subscribe to Block Club Chicago. Every dime we make funds reporting from Chicago's neighborhoods.