RIVER NORTH — Cannabis companies are so desperate to open in River North that they're willing to build four dispensaries — even though only one of them will get the state approval needed to open in the neighborhood.
It's a gamble four companies appear willing to take for a chance at the lucrative prize: Being the closest dispensary to the workers of the Loop and the tourists of the Magnificent Mile and River North.
"A collision course," is how the neighborhood's alderman, Brendan Reilly, describes the situation. He said he warned the companies not to jam into the same area, where only one will be allowed, but the companies took the risk nonetheless.
On Friday, their battle will play out before the city's Zoning Board of Appeals. It's just one of several rounds the eventual winner will have to survive to win the permit.
The Zoning Board can approve a "special use permit" for as many dispensaries as it members choose. But because state law does not allow two dispensaries to open within 1,500 feet of each other, only one of the four will get a license for their chosen locations.
The four River North applications before the board Friday are: 
— Cresco Labs, 436 N. Clark St.
— PharmaCann, 444 N. LaSalle St.
— The Greenhouse Group, 612 N. Wells St.
— MOCA Modern Cannabis, 214-232 W. Ohio St.
Those four — along with all companies permitted to sell legal cannabis right now — were a part of the state's medical marijuana program before recreational sales became legal. The state law that legalized weed permitted each company to convert to dual use, medical and recreational, and to also open a second, standalone recreational dispensary.
The companies were among the five lucky winners of the November lottery that allowed companies to select which of the seven cannabis districts they want to operate in.
PharmaCann and Cresco Labs each won two slots in the Central district that includes River North. A fifth, Midway Dispensary, also won a slot to try to open in the Central district but has yet to file an application with the zoning board.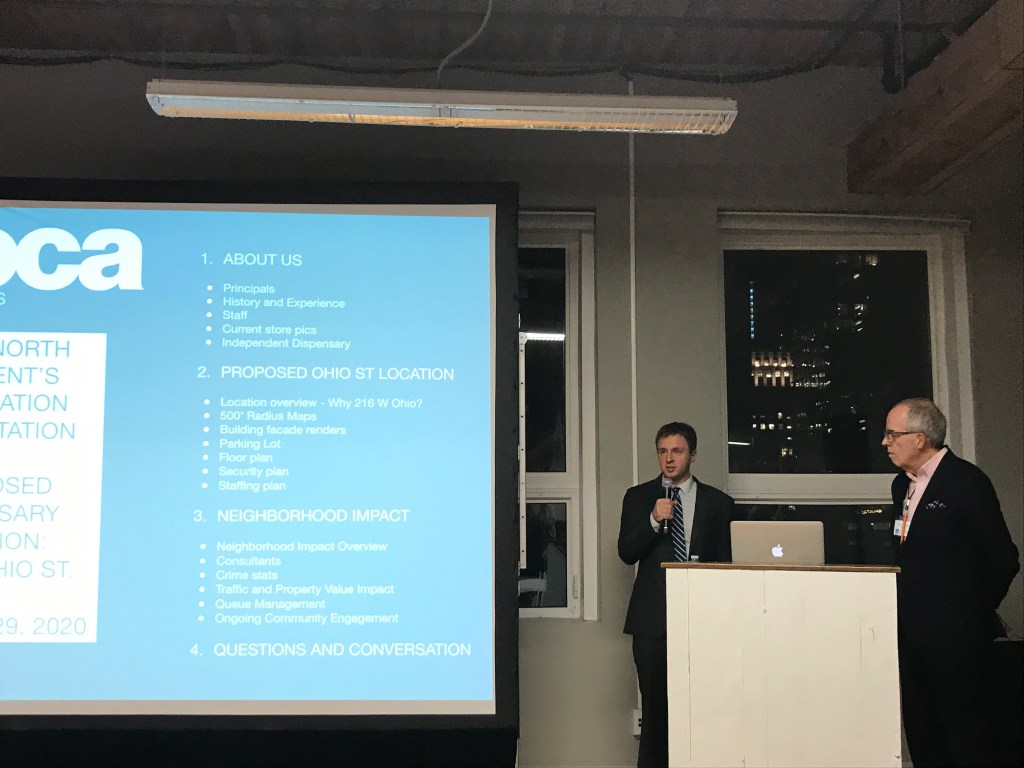 'Losing millions of dollars on a bet'
The Central district is just one of seven districts created by the city. Mayor Lori Lightfoot's cannabis zoning ordinance also created a Downtown exclusion zone, which includes much of the Loop and large parts of River North. The range of buildings where the companies are looking to open in is further constricted by whether the property is properly zoned. If it's not, the process of getting a zoning change from the City Council would slow the process.
The companies are now operating under conditional licenses. To receive final approval from the state, their dispensary must pass a final inspection from state regulators.
Jeremy Unruh, co-founder and director of regulatory affairs at PharmaCann, said the companies have been told they will be investing significant capital in the building before they know whether they'll be able to open.
"The guidance we've gotten from the (Illinois) Department of Financial and Professional Regulation, the primary regulator, is that that 1,500 foot flag gets planted when you get your operational certificate, after you build your facility out," he said, "…After you have staff, you could take a delivery the next day and open the day after."
Downtown Ald. Reilly (42nd) told Block Club the companies didn't have to be so focused on such a small area of the neighborhood.
"I met with each of the industry participants and strongly encouraged them to spread out," he said. "… I did try to encourage them to be mindful of distance, and they chose to pursue a different route."
If all of the companies go forward, three of them will sink a significant investment in a building they'll never be able to operate a dispensary in, Reilly said. The rewards of being in the popular retail district, which is closest to the Downtown exclusion zone and home to the region's largest job center and eager-to-spend tourists, seems to have outweighed the risk.
"They appear to be on a collision course with one another, and the unfortunate outcome here is that each of these locations could spend one or two million … building out their space, only for the state to approve one and deny all the others because they're too close. You hate hearing about entrepreneurs losing millions of dollars on a bet."
"That's the worst case scenario for everybody," Jason Erkes, spokesman for Cresco Labs said in January.
The zoning board will have the option to approve, delay, or deny the necessary special use permit, but it's not required to choose a winner among the four.
Paul Stewart, Lightfoot's cannabis advisor, told Block Club the city made a deliberate decision to punt the decision to the state.
"We didn't want to get into the business of choosing winners and losers, that's the state, they're awarding the licenses," he said.
Unruh said he doesn't believe all four will go through with a full buildout, but rather the race will sort itself out "organically."
"People will maybe get continued at the [zoning board] for a month and be like, 'ok that was it, so we're out,' he said. "…There will be little inflection points where we will pay attention to what our colleagues are doing."
Danny Marks, co-owner of MOCA, said in January that even though his company is smaller than PharmaCann and Cresco Labs, they have the capital to build out their facility.
"Everyone just has to go through this multi-step regulatory process and in the best of circumstances those are difficult roads and doing it in a race with three other people is stressful, to say the least," he said.
The zoning board is ostensibly outside the influence of aldermen and their wishes. However, the board often asks if an applicant has a letter of support.
Reilly said he may weigh in on the battle, but he was not at the community meetings where the firms presented plans to neighbors. Reilly said he will rely on the River North Neighbors Association for guidance.
"It's my expectation that RNRA will distill down all of the concerns for each of the locations and grade them and determine which of these they think are responsible for the neighborhood and which will be a risk," he said. "… And then I'll consider all that feedback and consider weighing in as well."
The four companies will be joined by three others at the Friday meeting. 
Downtown dispensaries in 2021?
MedMen and Windy City Cannabis are in a similar situation, just further north, in the North district. MedMen wants to open at 1001 W. North Ave. Windy City Cannabis is eyeing 923 W. Weed St. a few blocks away.
Nature's Care Company, owned by Acreage Holdings, had its path to locking up a dispensary on Randolph Street made easier by the misstep of NuMed, which wanted to open within 1,500 feet of Nature's Care.
While Nature's Care Company is on the Friday agenda, NuMed was forced to withdraw its application because it held a community meeting in the wrong ward.
Cresco Labs is also trying to open a dispensary in the Gold Coast. It's on a collision course there as well, trying to open within 1,500 feet of a PharmaCann application. Cresco is looking to open in an old Fifth Third Bank at 29 W. Division St. PharmaCann picked 12-14 W. Maple St.
Both companies are holding separate community meetings on Thursday for the Gold Coast locations, and they could be placed on the agenda for the March 20 Zoning Board meeting. In a letter to constituents, Ald. Brian Hopkins (2nd) said the meetings were being held on the same night against the objections of the community.
"I notified each company of the communities' objection to having both meetings on the same night. Our objections were disregarded. I will attend a portion of both meetings and my staff will be in full attendance at both meetings," the letter read.
The city's cannabis zoning ordinance says a community meeting must be held at least two weeks before the application can be heard at the Zoning Board of Appeals, so it is unlikely the companies will reschedule. Erkes told Block Club that Cresco Labs hopes the Gold Coast location will be on the agenda for the March 20 meeting.
That leaves seven companies on Friday's agenda, but only three of them will ever open in the spots submitted.
As for that Downtown exclusion zone? Reilly said it will be looked at again next year.
"The mayor and I have an agreement to revisit this after a year and see how things have played out," he said. "… Once these recreational players have been open for a while, we've had a chance to see how they operate, how they behave, how the blocks are impacted, perhaps then you could make an argument to loosen up that exclusion zone."
Perhaps 2021 will see a race around The Loop.
Do stories like this matter to you? Subscribe to Block Club Chicago. Every dime we make funds reporting from Chicago's neighborhoods.
Already subscribe? Click here to support Block Club with a tax-deductible donation.