CHICAGO — Thomas Tansey, the man charged with murder in the slaying of Kenny Paterimos outside Richard's Bar, will appear in court Thursday.
Tansey was arrested about 11:30 a.m. Wednesday in the 1600 block of West Harrison Street, police said. Rush University Medical Center is located in that block. He's been charged with first-degree murder and will appear in Bond Court on Thursday.
Tansey's arrest comes almost two weeks after he fatally stabbed Paterimos.
The stabbing happened 11:23 p.m. Feb. 21 at Richard's Bar, 491 N. Milwaukee Ave.
RELATED: Ex-Marine Wanted On Murder Charge In Richard's Bar Stabbing Has A Criminal Record
Tansey was arrested that night after stabbing Paterimos eight times, police said, but he told officers he'd acted in self-defense. He was released days later and a warrant for his arrest wasn't issued until Thursday.
Tuesday night, 100 of Paterimos' family, friends and their supporters gathered outside Richard's to demand justice for the slain barista.
Kenneth Paterimos, Kenny's father, found out about the arrest from a news article Wednesday afternoon. He said almost everything he's learned about his son's case he's learned from the media or social media.
"It's messed up that we have to learn about our son's killer on social media," he said, adding that he hasn't heard back from police or the state's attorney's office. "They're acting like the victim's family don't matter. That's what upsets me."
He will be at Tansey's bond hearing Thursday, but is worried about unequal justice.
"Even with a criminal background, he's going to get a low bond," Paterimos said. "They didn't even go looking for him. He's a murderer. What if he would have gone and killed somebody else?"
Paterimos, who is of Greek descent, grew up in a predominately Hispanic neighborhood in Chicago. When he was arrested for loitering, he remembered receiving a much lower bond than a Hispanic person who was arrested on the same charge.
"At least they know we're there, and we're not gonna walk away," he said.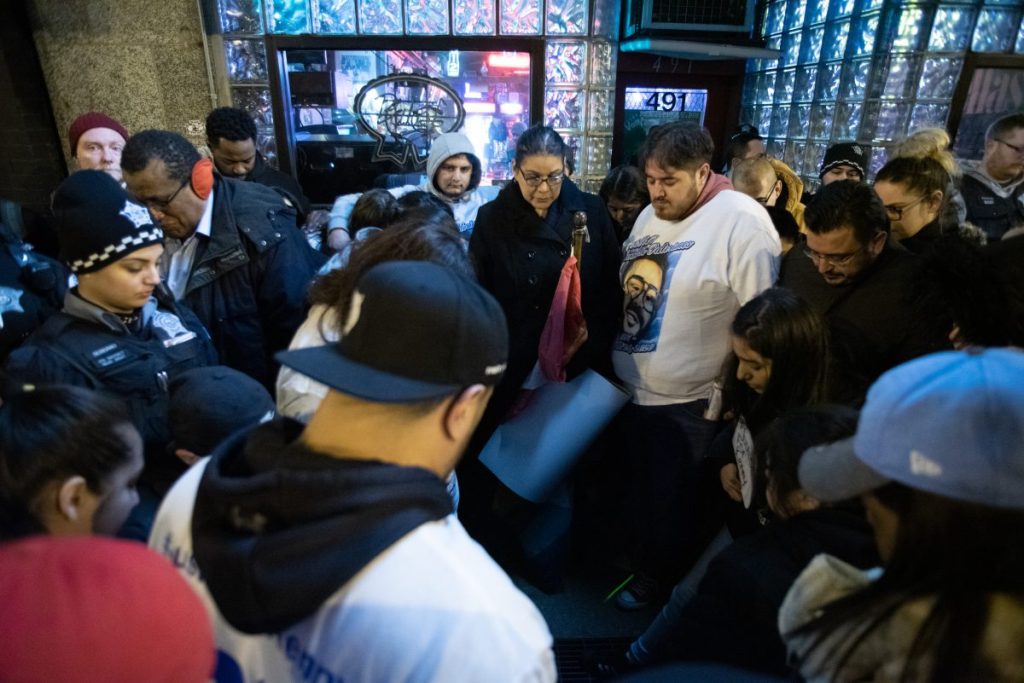 Tansey served in the Marines 2008-2013, rising to the rank of corporal in 2011, a Marines spokeswoman confirmed. He was deployed in 2012 and 2013, serving as a motor vehicle operator. Awards he received indicated he saw combat, and the Sun-Times reported he suffered from PTSD.
While at the bar, Tansey used a homophobic slur against Paterimos, a gay Latino man, according to police and witnesses. Officers are also investigating if Tansey used a racial slur.
At one point after that, Paterimos' brother Julian Bueno said he saw the much larger Tansey pin Paterimos to the ground of the bar, so Bueno kicked Tansey out.
But Paterimos stepped outside later, and that's when Tansey stabbed him, Bueno said.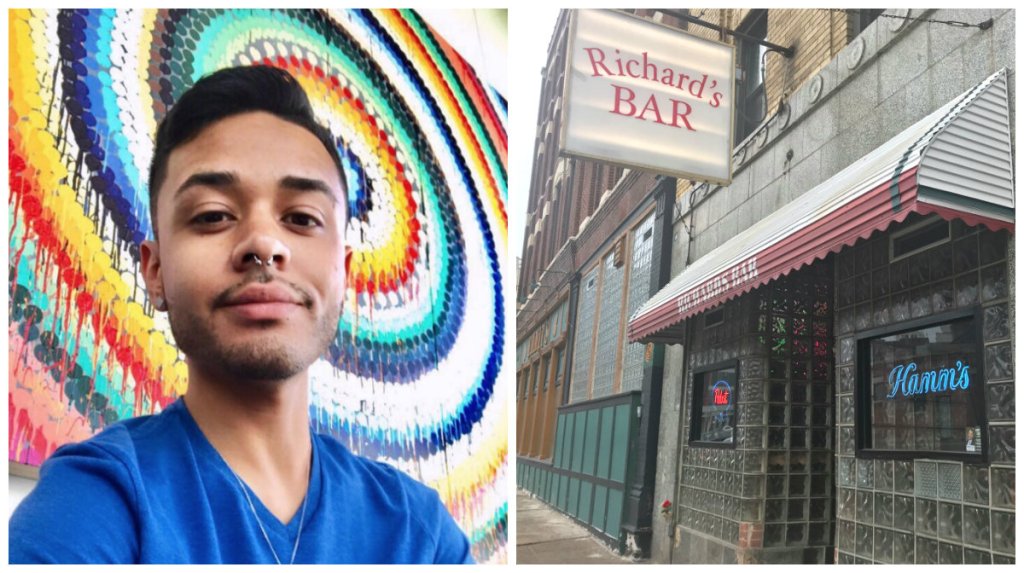 Paterimos stumbled back into the bar, where he died in the doorway. Bueno went after Tansey, holding him until police arrived.
Though Tansey had the weapon used to kill Paterimos and has a criminal record, he was released from police custody two days later.
Bueno said he went back to the bar the next day after detectives told him to "find a witness." When he returned to Richard's, he said he was told: "We don't know anything. Here, come have a drink. It's on us."
The slain man's sister, Dina Paterimos, said during Tuesday's protest she was outraged over the lack of cooperation by Richard's Bar staff and how elected officials and police have not held them accountable for what happened leading up to the slaying.
"I hope they get shut down," she said.
Ald. Walter Burnett Jr. (27th) has represented the ward Richard's Bar is located in for 25 years. The popular late-night dive, known for its smoky atmosphere — which persists despite the smoking ban — opened in 1926. 
As of 2015, the bar was owned by Susan Dominic, sister of Robert "Bobby" Dominic, who at one time was classified by law enforcement officials as a mob associate, according to the Sun-Times. 
Burnett has lobbied in the past to have problem bars closed.
At least four bars in Burnett's ward have been forced to close in recent years because of fights and shootings. 
Two shootings right around the corner, at Funky Buddha Lounge in November 2014, prompted the longtime River West bar at 728 W. Grand Ave. to close. 
But Burnett said he won't push Richard's to close.
"Richard's has been around for a long time," Burnett said, calling the slaying an isolated incident.
RELATED COVERAGE
With Alleged Killer Walking Free, 100 People Gather At Richard's Bar To Demand Justice For Slain Barista
Man Wanted In Richard's Bar Stabbing Harassed UIC Students On His Block, Impersonated Police, They Say
Ex-Marine Wanted On Murder Charge In Richard's Bar Stabbing Has A Criminal Record, Remains At Large
Warrant Issued For Man Who Killed Pilsen Barista Outside Richard's Bar, Police Say
'Justice For Kenny' Protest Planned Outside Richard's Bar, Where Barista Was Stabbed To Death
Brother Of Slain Barista Tackled Killer After He Stabbed His Little Brother: 'This Isn't … Self Defense'
Homophobic Slur Yelled At Stabbing Victim Before He Was Attacked At Richard's Bar, Police Say
Do stories like this matter to you? Subscribe to Block Club Chicago. Every dime we make funds reporting from Chicago's neighborhoods.
Already subscribe? Click here to support Block Club with a tax-deductible donation.