DOWNTOWN — It's Primary Election Day in Chicago.
The election is still on, despite the coronavirus spreading in Illinois. Officials have taken steps to make polling places safer: They're sanitizing voting screens between uses, election judges are distancing themselves from voters, voters will wait outside instead of crowding indoors and there will be hand sanitizer.
And though it's the presidential primary that gets all the attention, Chicagoans will also nominate a candidate for Cook County state's attorney and pick ward committeepersons, among other posts.
Here's everything you need to know to vote:
Voter Registration
1. Check Your Registration: You need to be registered to vote. You can check if you're registered online.
2. Same-Day Registration: You can still register and then immediately vote on Election Day. You must do so at your local polling place (you can check where that is here) and you must bring two forms of ID, including one showing your current address.
How To Vote
Once you've reviewed your voter registration information and made sure it checks out, you're good to go. There are multiple ways to actually cast your ballot in Chicago:
• Voting by Mail: Chicagoans can also vote by mail — and you don't need a reason to take advantage of this process. You can apply online by March 12.
The city has already started sending out ballots, and they include a postage-paid envelope so voters can return the ballots for free.
Once you get and receive your ballot, you can fill it out and mail it back to the city, deliver it personally to the Election Board or have it delivered through a licensed service like FedEX, UPS or DHL.
The ballot must be sent on or before March 17.
• Election Day: Of course, you can also vote on Election Day at your local polling place.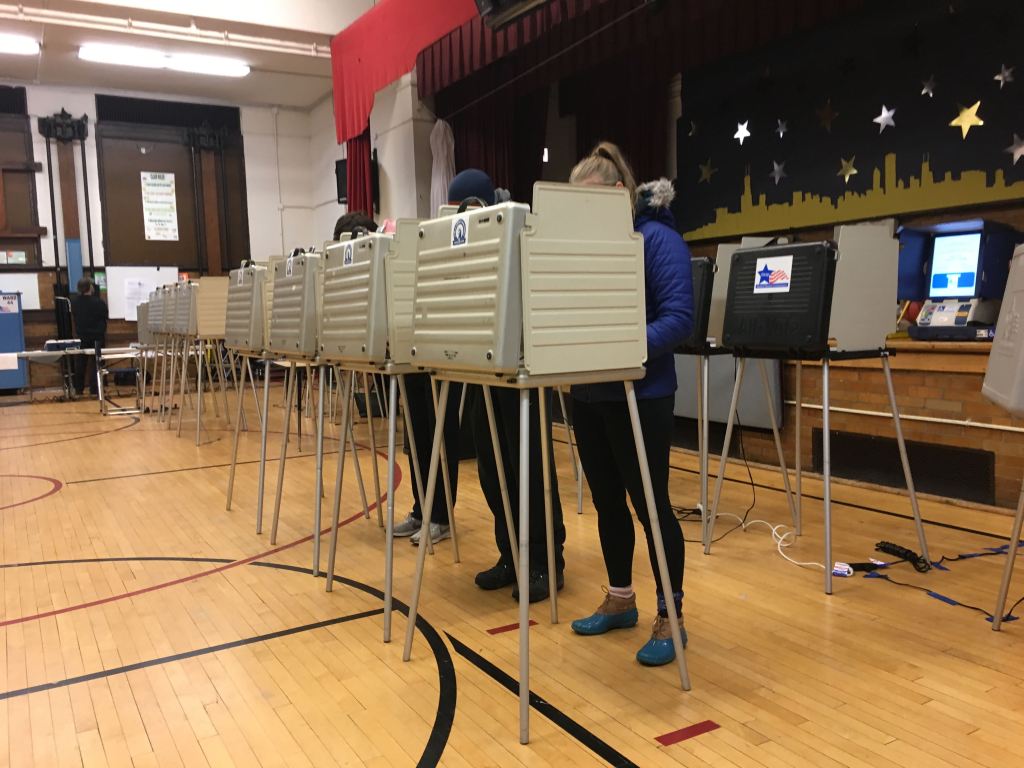 Do You Need An ID?
• An ID is not required to vote in most cases, but you will need to show one form of ID if an election judge challenges your right to vote. Here's a list of acceptable forms of ID.
• You'll also need two forms of ID if you're registering to vote on Election Day or during early voting.
Where To Vote
Multiple polling places have changed recently due to the spread of coronavirus, so check your location online.
• Election Day Voting: If you're voting on Election Day, you need to go to your local polling place. You can search for your polling place online.
If You Have Issues
Run into confusion or anything that worries you while voting? You can contact the non-partisan Election Protect program at 866-OUR-VOTE.
What You're Voting On
Chicagoans are voting to nominate candidates for the presidency, Senate and House of Representatives, among other offices.
Locally, you'll also be able to nominate a candidate for Cook County state's attorney's and clerk of the Circuit Court, among other spots.
Voters will also elect delegates and alternate delegates for the National Nominating Convention, delegates at large and their alternates for the General Primary Election and ward committeepersons.
For some voters, the ballot will also feature an advisory referendum asking if they'd want a senior center built in Bronzeville.
For most voters, there will be an option to vote on judges. If you're baffled by which judges to select, Injustice Watch has a comprehensive judicial election guide that breaks down who will be on your ballot — and how they are ranked by various bar associations. Check it out here.
Want to go through a sample ballot and properly research each candidate (you're our kind of person)? Check out your sample ballot here.
Do stories like this matter to you? Subscribe to Block Club Chicago. Every dime we make funds reporting from Chicago's neighborhoods.
Already subscribe? Click here to support Block Club with a tax-deductible donation.