RAVENSWOOD — When Mariano's opened in Ravenswood in 2014, residents flocked to the sprawling store on Lawrence Avenue for the wine bar, food stands and of course, groceries.
Six years later and under new ownership, the thrill is gone, customers say.
For more than five months, frustrated shoppers have been complaining about the broken escalators at the 1800 W. Lawrence Ave. store. Despite talking to management and even starting a parody Instagram account about the problem, it's still not fixed.
Customers who spoke to Block Club Monday said the escalator that moves from the street level to the second-floor main store at the Lawrence Avenue location has been out of service since at least November. And since January, the cart escalator up to the parking level has also been out of commission. This forces shoppers to lug bags of groceries up the one working escalator or wait in long lines for the elevator.
The Instagram account BrokenEscalatorDiaries has attempted to get the company's attention through humor.
"I am the Mariano's Ravenswood Escalator. I have been out of order for months. This is my story," the account's bio reads.
One post from Sunday jokes that "Spring is in the air but no signs of repair." Another post from Feb. 26 says, "You're out of service! You're out of service! This whole store is out of service! They're out of service!"
Michael, the owner of the parody account who declined to share his last name, said he started it because he was shocked at how long the escalators have been broken.
"I started the Instagram account because it's so ridiculous at this point that it hasn't been fixed and it made me laugh every time I went in there," he said. "There's been a lot of support since I launched it. People have left comments voicing their own frustrations or have been sympathetic to the escalator and its plight. A lot of people have sent condolences and positive thoughts to the escalator."
The goal of the Instagram account is to call attention to the broken escalator but in a playful way, he said.
"It really just started as a fun thing for myself and a few friends and it kind of grew from there," he said. "I don't want to bad mouth Mariano's and Krogers. I didn't want to be mean about it, but I did want to call out attention to it because people are frustrated about it."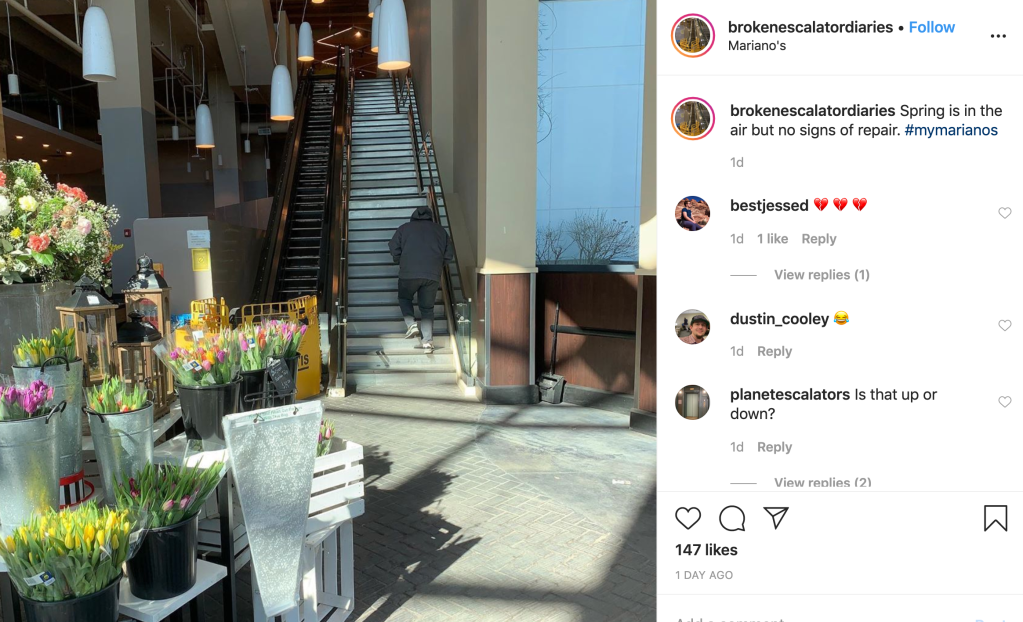 While the Instagram account is humorous, the lack of accessibility is a real issue for many customers shopping at the Ravenswood location.
"I'm 80 years old and don't drive," said Mercedida Liongson, a customer leaving the Ravenswood store Monday. "When I come here I'm carrying everything I need for the gym and then the groceries I take home."
She shops at the Ravenswood Mariano's four times a week, always after she finishes her swimming class at the LA Fitness gym connected to the grocery store. 
Since the escalators have been out, she relies on the store's two elevators to enter the grocery store on the building's second floor. But the elevators are often crowded with people using shopping carts, pushing strollers or with people who just don't want to or can't walk up the entrance stairs.
"Yes the stairs are right there but I will never take them. At my age I might feel dizzy and might have an accident on them," Liongson said.
For months, customers have seen the same sign at the main entrance that says, "We apologize for any inconvenience our escalator is out of service until further notice."
Mariano's did not respond to requests for comment until after this story originally published. Wednesday morning, spokeswoman Amanda Puck said the escalators are out of service due to a broken gear system.
"At Mariano's, the safety and convenience of our customers is first and foremost. We have been working with the manufacturer to rectify the escalator problems at our Ravenswood store. Unfortunately, the gear system needs to be replaced and there have been delays in obtaining the required parts," Puck said.
She said they will update customers on a timeline later this week. But first, another escalator will be out of service.
"In the meantime, the second escalator (from third floor to the second) will be out of service this week for proactive repairs to avoid a similar situation," Puck said. "We appreciate the community's patience during this process, and we will contact @brokenescalatordiaries to provide updates and celebrate the completion soon."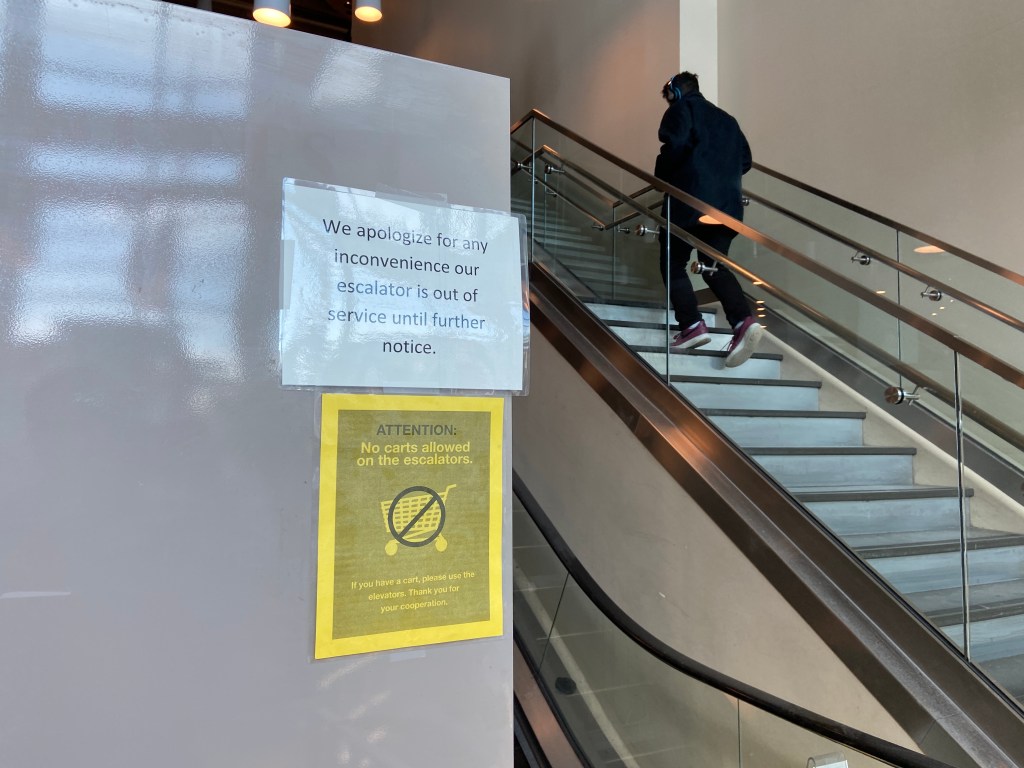 Kroger acquired Mariano's for $800 million in 2015.
"If they want us to spend money in this store then they need to care about customers and keep up with basic maintenance of the store," said regular customer Shemecia Haskell.
A woman who said she worked the store said the broken escalator wasn't a big deal and that the store was just waiting on a part to get the escalators working again.
She declined to share her name or comment further.
"When that guy Mariano owned his stores they were better quality. Not just taking care of the store like the escalators but also the food and the service," Haskell said. "Since Kroger took over the quality of the things I can buy here has dropped. … It was much better when Mariano still owned it."
Tim Bungeroth, another customer who shops at the Ravenswood Mariano's often, said he had a medical issue that prevented him from walking up the stairs a few months back when the escalator first stopped working. It made shopping at the particular store a hassle.
"That broken escalator is the first thing you see when you enter the store and right now it's this really large problem that's not being solved," Bungeroth said.
Customers said they blame Kroger for the broken escalator blues.
"Mr. Mariano would not have let this happen because he was a very nice man," said Scott Bloom, a customer who frequents the Ravenswood store. 
He lives in the neighborhood and often walks to shop at the store. He can walk up the stairs but says sometimes when he's sore from working out or playing tennis he would like to have the option of using a working escalator to get up to the store.
"They have a survey website on the receipt and someone else said to fill it out. I filled it out and I mentioned the escalators being broken and it still hasn't been fixed," he said. "Ever since it was bought by Kroger people are noticing different things they aren't happy with how the store is being run."
Do stories like this matter to you? Subscribe to Block Club Chicago. Every dime we make funds reporting from Chicago's neighborhoods.
Already subscribe? Click here to support Block Club with a tax-deductible donation.