HYDE PARK — The first meeting of Ald. Sophia King's (4th) Hyde Park advisory council was held Wednesday as she seeks to boost civic engagement in the ward.
The Hyde Park council is one of six advisory councils King is rolling out — one for each of the communities she represents. The others are focused on the South Loop, Douglas, North Kenwood-Oakland, Grand Boulevard and Kenwood.
The next kick-off meeting is for Kenwood, to be held 6 p.m. March 5 at Kenwood Academy, 5015 S. Blackstone Ave.
"What we've decided to do is form these advisory councils around communities, in hopes that it will empower the community to help itself," King said.
At Wednesday's Hyde Park debut at the Polsky Exchange North, 1452 E. 53rd St., about a dozen residents learned the structure of the councils while offering their ideas on topics that will be explored further through a series of subcommittees.
Before the meeting started, longtime neighborhood resident and CollaBOOration lead organizer Bennie Currie agreed to serve as council chair.
King "wants to make sure that the people that really are concerned are not just concerned, but actually getting involved," Currie said. "I thought this was a fantastic idea."
To be decided as residents nominate themselves over the next few weeks are a vice chair, secretary and heads of seven subcommittees:
Arts and parks
Block clubs
Development
Economic development and jobs
Education
Infrastructure
Public safety
Subcommittees will plan to meet monthly, with the full advisory council meeting three or four times a year.
King said she is open to creating more subcommittees to address community-specific needs. Residents are welcome to serve on more than one subcommittee at a time.
Some broad ideas attendees had for the ward include improved safety and traffic flow on city streets; a more holistic and all-ages approach to education; increasing access and awareness to economic opportunities; and improved relations with and accountability from the city's and University of Chicago's police departments.
Though Hyde Park represents "only a very small sliver" of the 4th Ward, it's "full of people" who are passionate about civic engagement, said Michael Gorman, a grad student at the University of Chicago who plans to go into transportation policy. He expressed interest in the infrastructure subcommittee.
Gorman plans on inviting friends and coworkers to future council meetings after being a little surprised at how "sparse" Wednesday's crowd was, though he understood it was just the first meeting.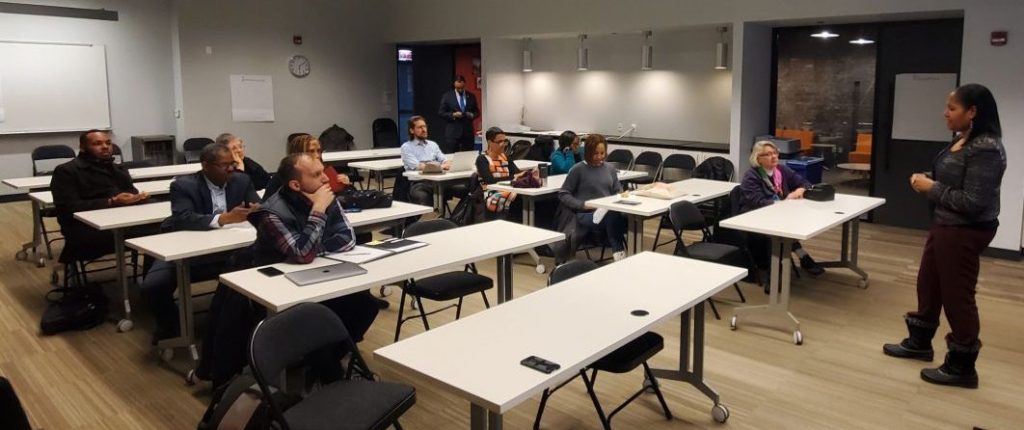 "I moved to Hyde Park last summer, and I think being actively involved in the place that you live is really important to society," Gorman said.
A few of the ideas shared aren't necessarily ward-level concerns and would require action from other agencies.
For example, aldermen can't directly expand programming at the neighborhood's public schools or force major property owners like Mac Properties and Hyde Park Property Management to be more involved with the community, two concerns raised on Wednesday.
While King may not be able to personally address every concern, the council's creation helps encourage collective action in the community, former DePaul professor and CPS principal Doreen Barrett said.
She discussed potential focus areas for the education subcommittee with King for much of the evening's breakout session.
"If you have people at the ward level who are constituents of these schools, they have a voice, and together they could go to the Board of Education as a group," Barrett said. "There's power in numbers."
King said council members will have not only a more direct way to raise community concerns, but will benefit from increased communication with their neighbors.
"We can't do everything, but we can come together and certain things we'll rise to the top," she said. "We'll try and get them done to help our community."
Do stories like this matter to you? Subscribe to Block Club Chicago. Every dime we make funds reporting from Chicago's neighborhoods.
Already subscribe? Click here to support Block Club with a tax-deductible donation.