RAVENSWOOD MANOR — Days after a mother of three was gunned down in a Ravenswood Manor apartment building, more than 50 people gathered on a frigid Thursday night to remember Stephanie Brooks.
The 27-year-old Brooks was shot in her chest Monday night while trying to keep a gunman from entering a friend's apartment in the 4400 block of North Francisco Avenue.
Police are investigating the slaying and said it's likely related to an incident earlier this month where a firefighter was wounded by gunfire in Albany Park. A man charged with shooting the firefighter lived in the Francisco Avenue apartment building.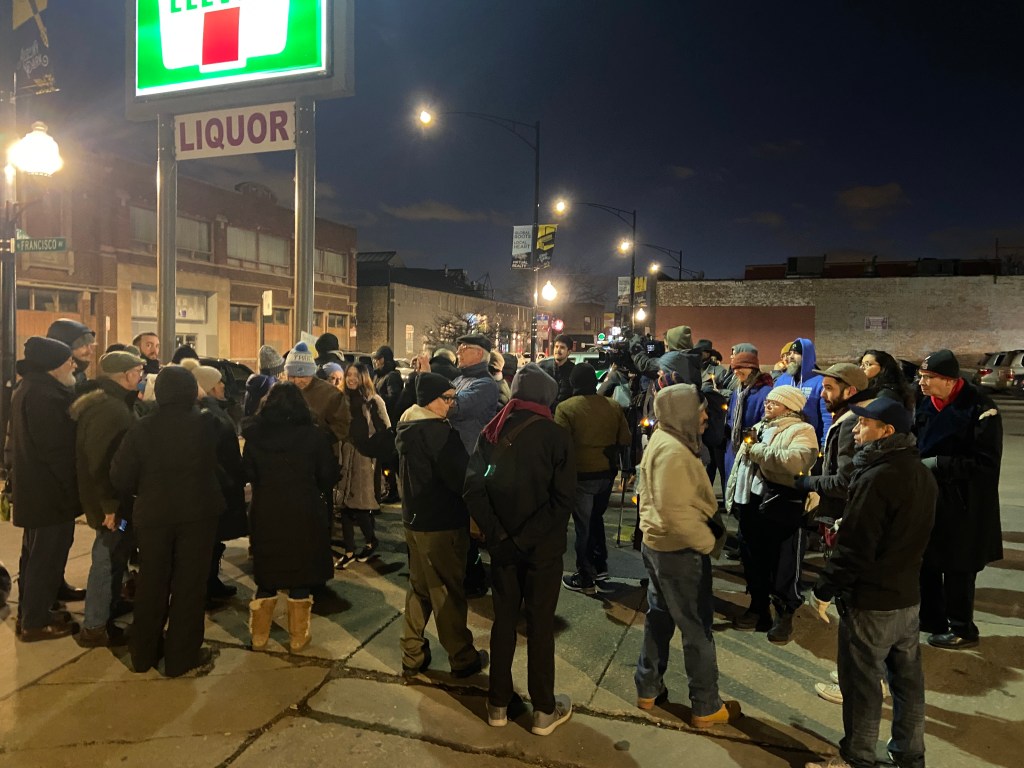 Late Thursday at the corner of Francisco and Montrose avenues, mourners held electric candles while others left messages on a poster board brought by Israel's Gifts of Hope, a group that supports Chicago families who have lost children to gun violence. Community groups, including the Residents of Irving Park and Horner Park Neighbors, also showed up.
"Stephanie was a very close friend. She was sweet and kind hearted," said Roylia McNeal, who lives in the building where her friend was killed.
Brooks didn't live there, but she dropped by often with her three children — a 7-year-old daughter and 1-year-old twins — to visit a friend who lived in the building, McNeal said. 
"She was a single mother and had a good job working at Red Lobster. She didn't deserve what happened to her. I spoke to her that morning … hours before it happened. She wasn't perfect, but who is? I liked her because she was a good person who was fair to everybody she met," McNeal said. "God calls people when it's their time. But I don't think this was Stephanie's time yet." 
McNeal's children would often play with Brooks' children, which is how they got to know each other. The morning before the murder, Brooks had asked McNeal if McNeal could babysit her kids. McNeal regrets not calling her back in time to say she could. 
"It's a nightmare knowing that I spoke to her that day and now she's gone. She was outgoing and she loved to take her kids everywhere they wanted to go for things like birthday parties and everything," McNeal said. "I've been through so much in my own life that when I got to know her better I would talk to Stephanie because she understood, you know? She was a great listener and a shoulder to lean on."
Both the building where Brooks was murdered and the one involved in the wounding of the firefighter are owned by the same landlord: Gary Carlson. 
McNeal, like other tenants of Carlson's building at the corner of Francisco and Montrose avenues, is looking to move out after her friend's murder. She heard the gunfire that killed Brooks echo throughout the building and then saw police lights take over the block in the hours after the murder.
For the past two days she's been living in a hotel because she feels unsafe in her apartment.
Carlson said McNeal's name is not on a lease for the building, and said any lease holder must let him know who is staying in the apartment.
"There's only two people on earth for me. The landlord and the lease holder," Carlson said.
However, Carlson also said he would like to speak to McNeal and offer to pay for both her past hotel accommodations and for her to move out of the building.
The week before the murder of Brooks, both police and Rodriguez told Carlson that landlords must go through the same eviction process with "unknown tenants" as they do with lessees.
This was in response to complaints about the people who were squatting in the first floor apartment of Carlson's building at 3359 W. Wilson Ave., where the firefighter was shot.
Carlson said he did not have a lease or any record of the people who were living at the Wilson Avenue apartment.
Despite the 17th Police District and Ald. Rossana Rodriguez (33rd) telling Carlson to change the locks on the building, the landlord had not done so as of Thursday.
"Everyone wants to hear that I'm in compliance and I'm changing the locks. OK, I'll change the locks," Carlson said. "But is it going to do any good? No. Because the people driving by, if they're going to get out of the car, if their friends are in the unit, they're going to let them in anyway."
McNeal — and other residents of the building — said the landlord's ambivalence about their safety is disturbing.
"Gary doesn't care about us. He only cares about making money off of us," she said. "I'm dealing with mice and rats in our walls, pipes that are leaking, and I can't get a hold of him. And the people he hires to manage his building could care even less about us. Gary's a slumlord who doesn't care about the people in his buildings."
Rodriguez previously told Block Club new inspections of Carlson's buildings were likely. 
After a firefighter was shot in front of one of Carlson's Albany Park buildings earlier this month, Rodriguez and police told Carlson to do a better job of securing his buildings by installing new locks and security cameras, among other things.
Contacted by Block Club after Brooks' murder in his building, Carlson said he had not taken the steps to secure his properties that police and the aldermen requested of him because he didn't think they would be effective. 
Since Brooks' murder Rodriguez said she has reiterated the importance of making these changes to Carlson, and she has told Mayor Lori Lightfoot about what's happening.
During the vigil, the messages neighbors wrote on the sign for Brooks included "Your life matters" and "Wishing you love and peace."
Neighbor Heather Robarge didn't know Brooks personally, but she felt it was important the neighborhood come out to remember the woman and support each other.
"I was devastated when I heard what happened," she said.
That show of support was heartening to Pastor Tom Terrell from Christ Lutheran Church, 3253 W. Wilson Ave. His church has partnered with Israel's Gifts of Hope in the past and attended Thursday's vigil to offer support to neighbors. 
"I'm so glad so many people came out tonight, many from our church, other churches and just people of good will, saying this will not happen in our neighborhood. We're better than this," Terrell said. "We're all working together and finding ways we can support each other. There's some issues with the landlord that need to be addressed, too, and I know our alderman is working on that. But other than that I just love the community and the solidarity being shown here tonight."
After the slaying of Brooks, Rodriguez offered her office as a place for family and friends of Brooks to find support. 
"I'm really happy that so many people came out to tonight's vigil," Rodriguez said. "It's amazing that we all felt the need to come out to show compassion and be with one another in a moment of pain."
No one is in custody for Brooks' murder. Police said the investigation was ongoing.
"Life is a beautiful thing," McNeal said. "You go through struggles and challenges but you have to make the best of it, you know? People need to learn to love each other better. You also have to remember that tomorrow is not promised today."
RELATED
Murder Of Woman In Ravenswood Manor Linked To Problem Landlord's Building, Ongoing Violence In Albany Park
Man Charged With Shooting Firefighter In Albany Park, Police Say
Second Man Charged In Shooting Of Firefighter In Albany Park
Days After Firefighter Shot Putting Out Car Blaze In Albany Park, Another Car Fire Reported On Same Block
Firefighter Shot While Putting Out Car Fire In Albany Park
Shooting Of Firefighter The Last Straw For Albany Park Neighbors: 'It Didn't Used To Be Like This'
Albany Park Landlord Under Fire After Recent Violence Linked To His Building, But He Blames Cops