ANDERSONVILLE — Businesses near the far north branch of the Red Line have been waiting to see what the CTA's $2 billion modernization of the transit line will mean for their livelihoods.
Bryn Mawr Jewelry Company, however, will not wait around to see the massive project's impact. The business is leaving its location at 1125 W. Bryn Mawr Ave. in Edgewater for new digs at 5139 N. Clark St. in Andersonville, where it will open Saturday, owner Scott Freeman said.
At 1125 W. Bryn Mawr Ave., the jewelry business is right next to the Bryn Mawr Red Line stop, which will be torn down and replaced as part of the city's efforts to overhaul the aging rail infrastructure. Freeman said the work would be too intensive to withstand.
"There was no way I can survive three-to-seven years of them outside, shutting down the sidewalk," Freeman said. "There's nothing I can do about that."
Work on the CTA's Red Purple Modernization project is officially underway on the North Side, with crews prepping for future work on new tracks and stations along the transit line's north branch. Weekend station closures have already begun, and will likely last into the spring.
READ: How Can North Side Businesses Survive A Massive Red Line Overhaul? City Steps Up To Help, But 'It's Gonna Suck'
Eventually, the CTA will overhaul the rail infrastructure and build new stations at Lawrence, Argyle, Berwyn and Bryn Mawr. Temporary stations will be built at Bryn Mawr and Argyle, with work on the temporary stations to begin late this year. The CTA has estimated that the project would take three-to-five years to complete.
City agencies and local elected leaders have been working with businesses near the impacted Red Line stations, including holding "hundreds" of community meetings with neighbors and businesses on the topic, a CTA spokesperson said. The CTA is also planning to launch a marketing campaigns letting neighbors know the area is still open for business.
"We are committed to supporting all small businesses during this time and are happy that Bryn Mawr Jewelry, an important business and institution in the community for 100 years, will relocate within the area to a larger space to grow and thrive for another 100 years," said CTA spokeswoman Tammy Chase.
With the move, the storefront at 1125 W. Bryn Mawr Ave. will be without a jewelry store tenant for this first time since 1918, Freeman said.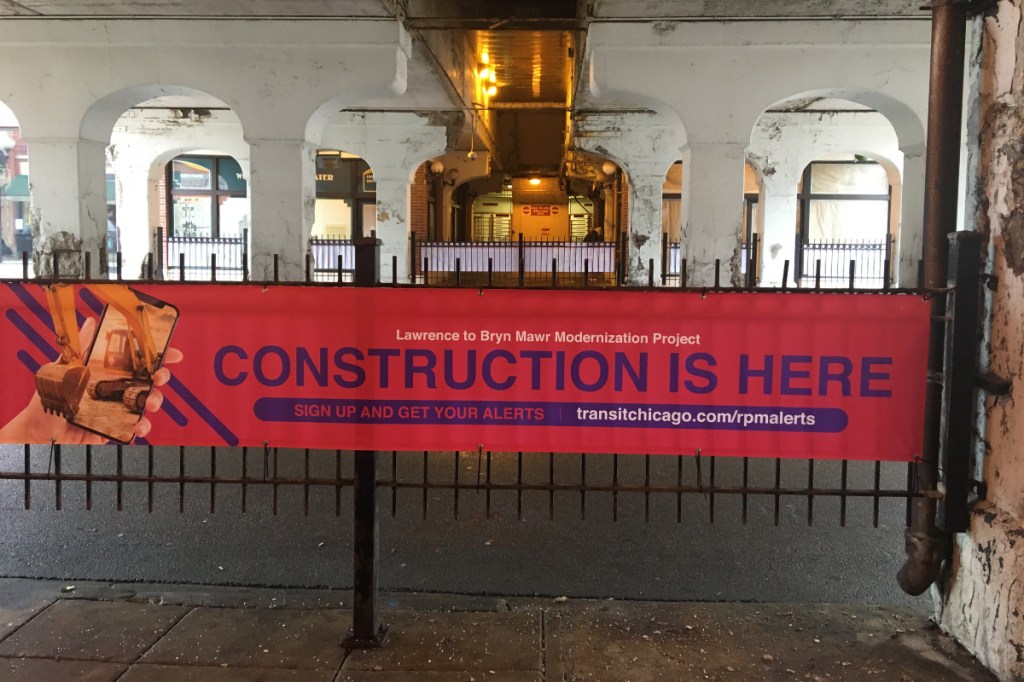 Freeman said he understands the need to improve transit infrastructure, but wished the city had done more to keep him in place.
Instead, he will spend $50,000 to build out the new Clark Street location.
"It's not cheap to do a build out, especially for a jewelry store," Freeman said.
Bryn Mawr Jewelry Company will move to Andersonville's Clark Street business corridor. The move is close enough to retain his customers while putting the business on a thriving retail stretch, Freeman said.
"I truly believe that Andersonville is just starting to stretch south of Foster," he said. "What's going on here is incredible. I'm glad to be a part of it."
The move also gave Freeman the ability to build out a new space to his specifications. That includes a massive mural on the store's south wall that colorfully depicts some of Freeman's interests and hobbies.
"There's a lot of Phish references," he said, laughing, about the popular jam band. "It's a reflection of things that mean a lot to me."
Freeman bought the jewelry business at 1125 W. Bryn Mawr Ave. in 2004. A jewelry business has existed in that storefront since 1918, when Ernest J. Samuelson moved his shop from a previous location across the street, according to a history of the location that Freeman uncovered. Samuelson first opened the business in 1901.
Freeman said he bought the business because of its history, and hopes to carry on the tradition even if it is no longer located on Bryn Mawr Avenue. Since the business is no longer on its namesake avenue, Freeman considered changing the name, but ultimately decided against it.
"After 15 years, you can't change the name," he said.
On Saturday, Bryn Mawr Jewelry Company will host a grand opening at its new location. A full day of activities is planned, including the raffling off of free diamond stud earrings and a free diamond necklace.
At 10:30 a.m., there will be drag queen story time with Muffy Fishbasket. At 11:30 a.m., there will be children's activities including a jewelry making class.
From 4-9 p.m. Saturday, the business will host live music, appetizers and drinks. Aside from the free jewelry, the raffle will also include gift cards to nearby businesses. More information on the grand opening can be found here.
The grand opening is a way to introduce neighbors to the Bryn Mawr Jewelry Company, as Freeman said he strives to be a welcoming and unpretentious business.
"We are happy to be here," he said of Andersonville. "We want to be as accommodating as we can be."
Do stories like this matter to you? Subscribe to Block Club Chicago. Every dime we make funds reporting from Chicago's neighborhoods.
Already subscribe? Click here to support Block Club with a tax-deductible donation.