DOWNTOWN — Nearly two years after the city began a process to modernize Little Village's industrial corridor under then-Mayor Rahm Emanuel, environmental groups are calling on the city to relaunch the stalled effort, but this time include a more robust push to reign in polluters in the Southwest Side neighborhood.
At a City Hall press conference Wednesday, the Little Village Environmental Justice Organization (LEVJO) called on the mayor and the city's Department of Planning and Development to resume the process to modernize the corridor and implement more stringent environmental regulations on existing industry, and future companies, looking to come into the neighborhood.
The group was joined by the Natural Resource and Defense Council, the Alliance of Nurses for Healthy Environments, Warehouse Workers for Justice and Union of Concerned Scientists in asking for the city to better regulate the industry and do more to protect Little Village residents.
"Building more warehouses in our communities and killing our people with air pollution is not the answer," said Kim Wasserman, executive director of LEVJO.
Wasserman said neighbors impacted by industry, including the Southeast Side and Little Village, "know what's wrong with their neighborhoods" and know how to fix these issues if given the chance.
"This is truly about dealing with the question of environmental racism and equity in the city of Chicago," she said.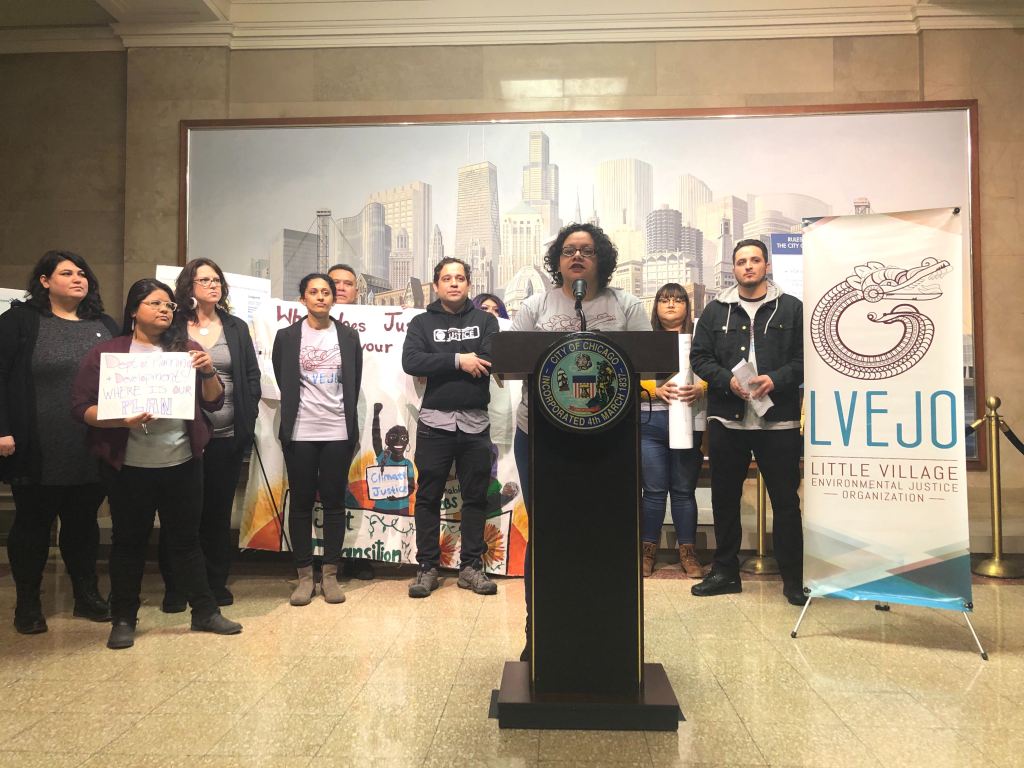 During the press conference, groups also called for the city to install air monitors in communities burden by industry and conduct comprehensive traffic studies in Little Village.
RELATED: As City Rolls Out Plan To 'Modernize' Little Village, Frustrated Residents Say They're Tired Of Warehouses And Pollution
In March 2018, the city set out with a plan to modernize the industrial corridor in a series of workshops with community groups. In August, city officials unveiled planning efforts to neighbors at a series of meetings aimed at gathering additional feedback from residents.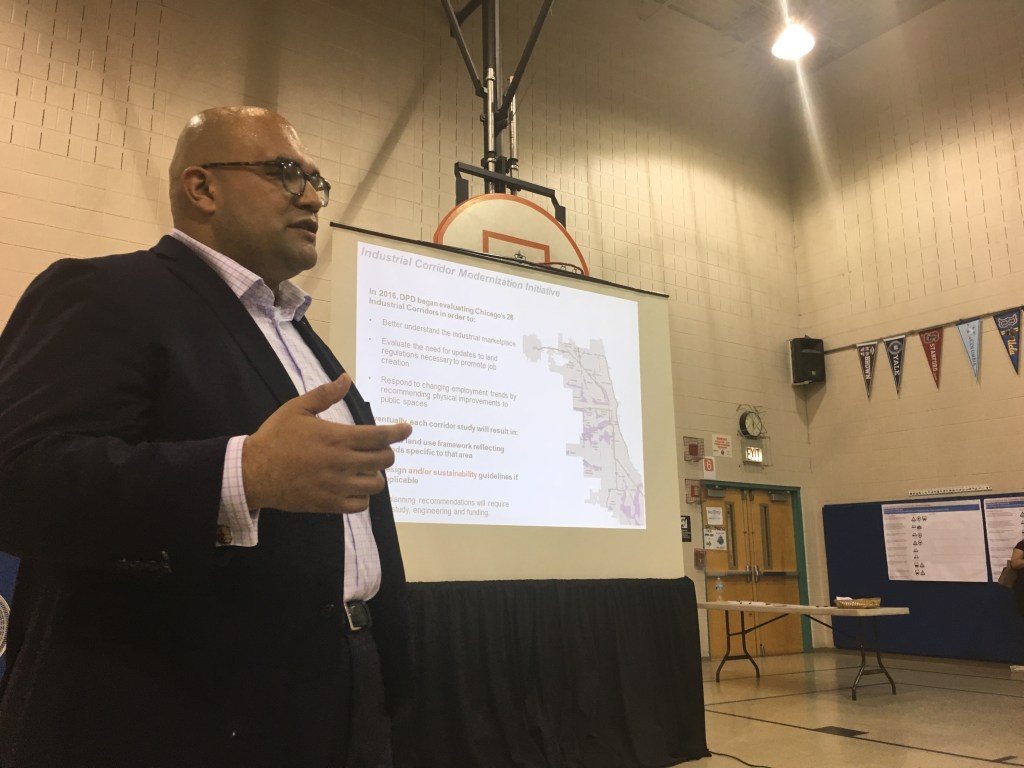 During the meeting, city officials said the effort aimed to keep jobs flowing in the neighborhood while also balancing health, environment and traffic concerns. But residents criticized the city for failing to include neighbors early on. At the time, the city planned to implement the plan by October.
RELATED: Plans To Modernize Little Village's Industrial Corridor Stir Concerns Among Residents
In January 2019, the Department of Planning and Development unveiled guidelines for the Little Village industrial corridor modernization efforts. The plan sparked more criticism from residents who said the plan prioritized industry and failed to prevent companies from coming in and polluting the neighborhood.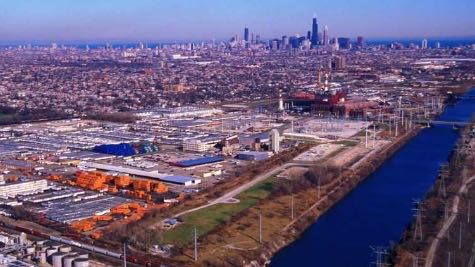 Viviana Moreno, a community organizer with LVEJO, passionately urged the city to look for alternative industries rather than continuing to plan for more "diesel-heavy industry" in the area.
The following month, the plan was stalled after the city's Department of Planning and Development was "unable to confirm aldermanic availability." 
Disgraced former Ald. Danny Solis (25th), who was revealed to be wearing a wire for the FBI, never returned to his post before his term ended, and embattled former 22nd ward Ald. Ricardo Muñoz told The Daily Line he was in rehab at the time after domestic battery charges were brought against him by his wife and later dropped.
A city official later told Block Club the city planned to provide an update at a later date.
RELATED: With Ald. Danny Solis And Ricardo Muñoz Missing In Action At City Hall, Little Village Industrial Plan Stalls
Now, more than a year after those efforts were halted, environmental groups are asking for the process to restart and make sure the future of the corridor does not have an adverse impact on the surrounding Little Village community. 
Meera Sotor, a nurse and fellow at Alliance of Nurses for Healthy Environments, said traffic-related pollution can lead to a wide range of health problems. Citing the National Institute of Environmental Health Sciences, Sotor said that children exposed to high levels of traffic-related pollution through age seven were more likely to develop asthma. 
Traffic-related air pollution has also been linked to support cognitive development and children, Sotor said. 
"There needs to be accountability for the existing businesses and for all new businesses seeking to occupy space in Little Village," Sotor said.
More oversight could be achieved through a rigorous permit process and increased air monitoring, she said. 
Gina Ramirez, midwest outreach manager at Natural Resource Defense Council, called on city officials to follow the lead of other cities like Los Angeles, New York and Minneapolis to address environmental injustices and enable a transition to "clean energy and climate-ready city to lift the most burdened neighborhoods of Chicago. "
LEVJO organizer Edith Tovar contested the controversial Crawford Coal Plant by Hilco Redevelopment Partners into a one-million-square-foot warehouse.
Despite vehement opposition from neighbors, the project was approved and received a tax break of $19.7 million. Tovar called for the project to be halted and the tax break be rescinded. 
The project received renewed criticism after a worker fell 50-feet to his death at the worksite in December.
RELATED: Little Village Residents Search For Answers After Worker Dies At Old Crawford Coal Plant Site
"We see a rapid increase of warehouse facilities in black, brown and poor communities across our city, thinking these are quick solutions," Tovar said.
An involved, robust community process would utilize our "the skills to bring forth actual solutions that benefit our families and our environment," Tovar said.
The city's Department of Planning did not respond to a request for comment ahead of publication.
Do stories like this matter to you? Subscribe to Block Club Chicago. Every dime we make funds reporting from Chicago's neighborhoods.
Already subscribe? Click here to support Block Club with a tax-deductible donation.