ANDERSONVILLE — Block Club Chicago's readers are pretty clever. Aside from supporting boots-on-the-ground neighborhood reporting, they've helped us create rad Chicago postcards and even named Chance the Snapper.
We've decided to put those brilliant minds to work again. On Feb. 28, our crew will head to Raygun, 5207 N. Clark St., for a Neighborhood Nickname Slogan Contest.
Raygun is known for "fun, funny and sometimes irreverent" products, but it's all about the neighborhoods, too. It's received hundreds of requests to do slogans for small towns and communities. So a few years ago, Raygun started city slogan competitions online.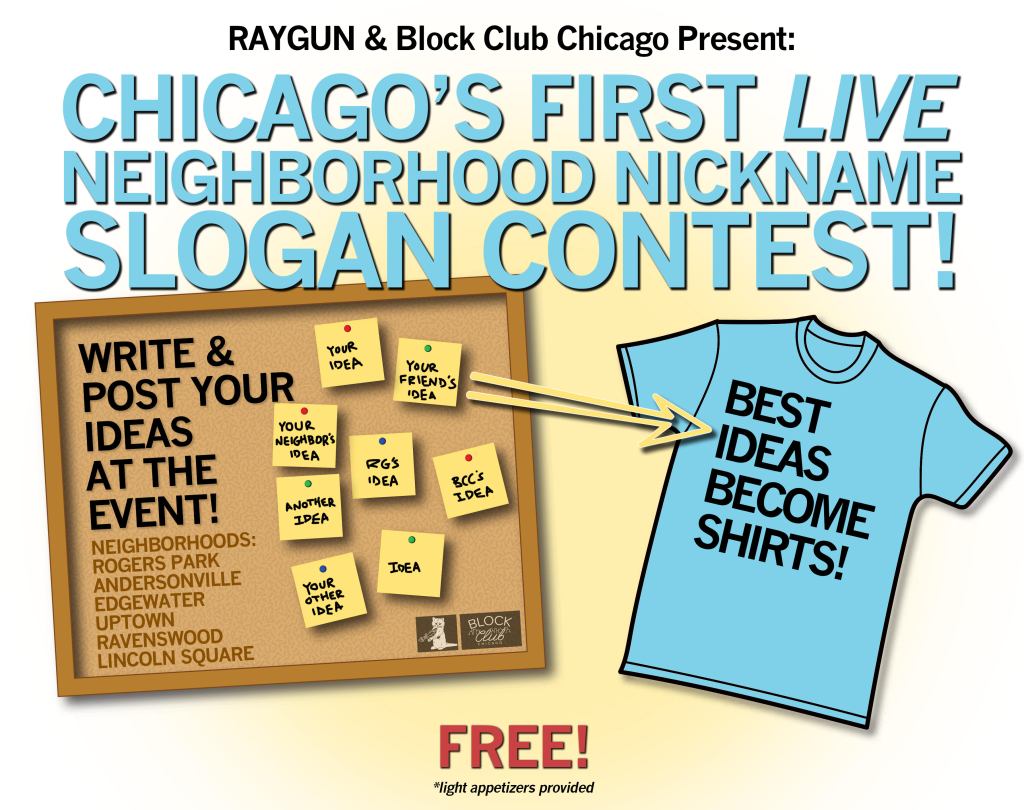 This time, we'll be doing it live. Come join us 5-7 p.m. Friday, Feb. 28, at Raygun to nickname these North Side neighborhoods:
1. Andersonville
2. Edgewater 
3. Rogers Park
4. Uptown
5. Ravenswood
6. Lincoln Square
Here's how it will work: Work by yourself or in a group to craft your neighborhood nicknames. When you're ready, grab a pin and post your ideas on the cork boards. We'll take the top nicknames from each neighborhood to social media and let the public vote. The winning nickname slogans will be made into Raygun T-shirts. 
We hope this event serves as a fun way to mingle with your neighbors, Raygun staff and your Block Club reporters. There will also be light bites served and an ample supply of Chicago Needs Local News T-shirts on sale. Raygun donates 25 percent of the proceeds from the shirts of those shirts to Block Club.
RSVP for this free event here. We hope to see you there!