CHICAGO — With an ambitious pledge to end poverty within a generation, Mayor Lori Lightfoot hosted the Solutions Toward Ending Poverty Summit Thursday, a first step in a new approach to lift families out of poverty.
At the invite-only summit, Lightfoot set the table for a frank and open conversation about poverty in the city, and invited Chicagoans to speak plainly about the racism and systemic oppression that perpetuates poverty.
"We're going to talk about it. We're not going to run away from it," Lightfoot said. "We are going to raise the curtain… and fill that void with resources."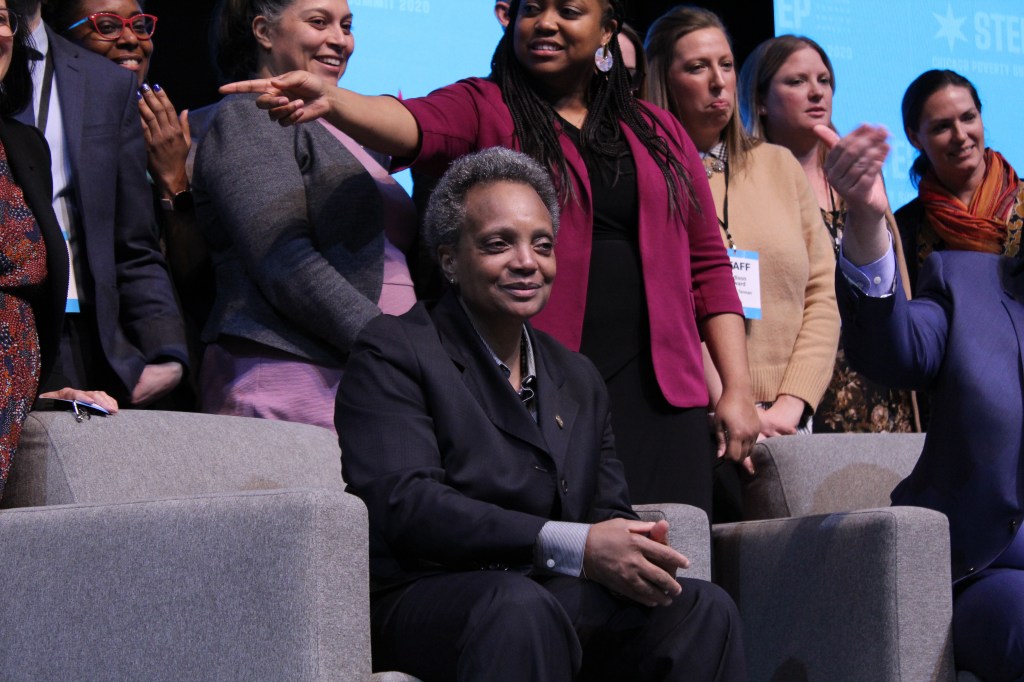 Public officials, neighborhood leaders, business owners, social service providers, researchers, activists and artists were invited to participate in the summit at the Isadore and Sadie Dorin Forum at the University of Illinois at Chicago. The summit served as the launch for a public engagement period that will bring people to the table who are directly impacted by economic hardship but are often left out of the room when decisions are made, officials said.
Even as household incomes in Chicago have been on the rise, 22 percent of Chicagoans still live in conditions of poverty, according to census data.
At the summit, Lightfoot announced plans to rollout an agenda over the next few months that aims to dramatically increasing economic opportunity for the city's most vulnerable people, including fines and fees reforms that include ending the practice of taking people's driver's licenses for nonmoving violations.
"There's a lot of low-hanging fruit that, I hope this conversation will launch a kind of listing of those things that can easily get done but will make a huge difference," Lightfoot said.
RELATED: Here's How To Get Your Driver's License Reinstated In Illinois (It's Happening Soon)
Dan Lurie, the mayor's policy director, said the city will work with residents to achieve their goals. Race and gender would be "front and center" in all of City Hall's work towards eliminating poverty, he said.
4-part poverty plan
The city's new poverty policy will have four key parts:
First, the city will work to reduce expenses for the city's most vulnerable. That includes addressing the high cost of utilities for low-income residents that unevenly affects people of color, especially seniors, and investing more into transit-accessible affordable housing,
Second, City Hall will work to expand quality jobs and increase income levels of residents in the city. An already approved minimum wage increase to $15 by 2021 is also part of the plan.
Also on the agenda are fair workweek rules, support for home care workers who are overwhelmingly women of color, and building a green economy with career development for people who were formerly incarcerated.
Third, the city will work to end the racial health disparities in the city, like the 16-year "death gap" between downtown and the West Side, Lurie said.
RELATED: 29 Small West Side Businesses Get Big Grants To Grow And Help Shrink The 'Death Gap'
These efforts will tackle infant and child mortality, include violence prevention strategies and expand community-based mental health treatment through the mayor's $9.3 million Framework for Mental Health Equity, and address the disproportionate environmental health impacts of pollution on communities of color.
Fourth, the city will promote wealth building among individuals, families, and entire communities. Achieving this goal will require securing more access to consumer credit for low-income residents so they can pay for cars, homes, and higher education.
Lurie said the solutions outlined in the city's policy framework are only a beginning, and more solutions will be developed as they engage with residents.
Michael McAfee, president of research institute PolicyLink, said nonprofits, social service organizations, and business owners in the room were poised to make real change with the city's support.
But without widespread buy-in, the mayor's efforts alone will not achieve the ambitious goal of ending poverty.
"It's the right vision…will we let it devolve into mediocrity?" he asked.
McAfee said the mayor has "set the table" to have difficult conversations that were swept under the rug in the past, noting that Chicago has been apathetic in allowing devastating poverty to exist for decades. Any meaningful solution must openly address the legacy of racism that stripped economic opportunity from generations of Chicago residents, he said.
"We designed the world to deal with black folks," he said about discriminatory systems like redlining and the war on drugs designed to target black people, but that also functioned as a poverty trap looming over people of color, immigrants and even middle-class white folks. "That's how racism works. You start out trying to hurt a group, and you end up screwing yourself."
During a Q&A with Darryl Holliday, editorial director of civic media lab City Bureau, Lightfoot addressed concerns that the city is too cash-strapped to pay for a wide-reaching poverty agenda with a budget deficit crisis looming overhead. Lightfoot said lifting residents out of poverty is a matter of fiscal responsibility: by "making sure that we're using investments in a smarter way we can get a real return on investment," she said.
"We can walk and chew gum at the same time," Lightfoot said. "Think about how much easier it will be to balance the budget if everybody is dealt into the economy, and everybody has an opportunity to have a good-paying job and we expand the tax base."
But before any new policy is implemented or tax dollars are spent, the first major hurdle to clear is simply talking about poverty and owning up to the choices that left so many people economically vulnerable. 
"We have already accomplished a tremendous amount by being here together today to say the p-word out loud, over and over again. To talk about race, talk about the way in which government has perpetuated, elongated, exacerbated the problem of poverty in the city," Lightfoot said. "And my commitment to you, my commitment is that I am committed to doing things in a fundamentally different way to be your partner in this work."
RELATED: Lightfoot To Launch Plan To Erase Chicago Poverty In A Generation At Thursday Summit
Pascal Sabino is a Report for America corps member covering Austin, North Lawndale and Garfield Park for Block Club Chicago.
Do stories like this matter to you? Subscribe to Block Club Chicago. Every dime we make funds reporting from Chicago's neighborhoods.
Already subscribe? You can make a tax-deductible donation to support our nonprofit newsroom here.