PILSEN — Bullets pierced Lucia Villarreal's Pilsen home three separate times in the last 14 years. Each time, her family was inside the home's walls.
This month, a trio of shootings near Pilsen's Picard Elementary School that left one man dead and two others wounded angered neighbors. On Thursday night, Villarreal and more than 150 residents showed up to a community meeting at Picard to tell local leaders and police brass they're fed up.
"The community is tired," said Villarreal, who was born and raised in Pilsen. "We don't need a politically correct meeting. We need our voices to be heard. There have been four deaths in two and a half months."
The theme of the night was frustration. Frustration over not being heard. Frustration over being passed over for city anti-violence dollars. Frustration over the continued violence.
Ald. Byron Sigcho-Lopez (25th) told residents his office is working to build a coalition of neighborhood groups, Pilsen school leaders and officers from the Ogden (10th) and Near West (12th) police districts to deal with gun violence in a holistic way.
State Sen. Tony Muñoz and Cook County Commissioner Alma Anaya have pledged nearly $500,000 to fund anti-violence programs, Sigcho-Lopez said. He's also working with State Rep. Theresa Mah to land additional resources, he said.
Some of that funding would be used toward youth programs in the neighborhood like Shine and JDEF:5, officials said.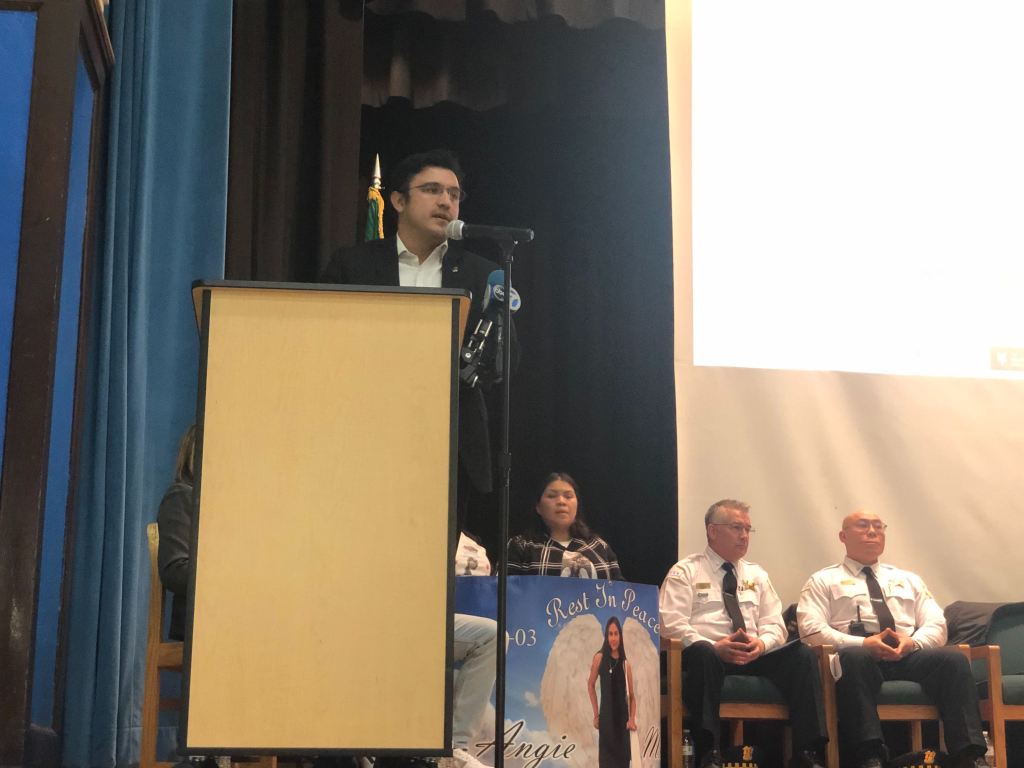 But Sigcho-Lopez also said he was frustrated because Pilsen has been passed over for some of the $11 million in the city has dolled out to anti-violence programs in other parts of the city.
Sigcho-Lopez said he would need neighbors to help him tackle "the complex" issue.
At the meeting, Maribel Diaz, mother of Benito Juarez student Angie Monroy, who was killed in December, pleaded for justice for her daughter.
RELATED: As Slain Teen Angie Monroy Mourned, Friends Beg Shooter To Confess: 'Turn Yourself In And Give Us Peace'
The neighborhood's top police officials also spoke to the crowd. Near West District Cmdr. Stephen Chung said his district has used active foot patrols along 18th Street to build rapport with Pilsen's young people.
Newly appointed Ogden District Cmdr. Gilberto Calderon said he's rolling out 24-hour patrol of hot zones and working with violence prevention like New Life.
RELATED: After Murders In Pilsen And Chinatown, Community Groups Unite For 'Holistic' Plan To Stop The Violence
Following a series of presentations, residents became restless, asking the moderator and organizers to allow residents to speak.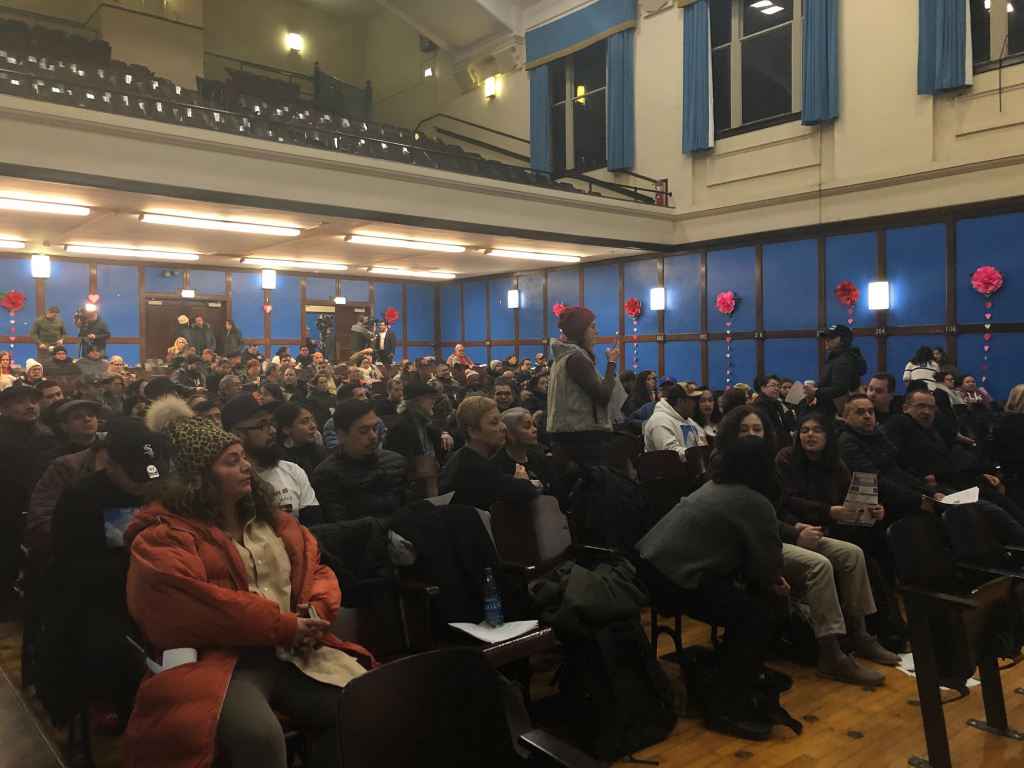 Villarreal was among the neighbors who stepped up. She told of bullets hitting her home, and said she understood that prevention will take community involvement, youth programs and more. But still she wondered: "What is being done right now?"
"Parts of 18th Street have been gentrified but when you get on some of these side streets you are still running into some of the same problems that plagued our neighborhood for the past 30 years," Villarreal said.
RELATED: Man Wounded In Pilsen Shooting Monday Afternoon, Police Say
One attendee called for the city "disinvest" in policing and directed those dollars to programs that employ violence interrupters.
Other neighbors disagreed.
"We do need police," one man said. "However, we also need the community to police itself. We need ourselves to govern the way we live. … We need our parents to be parents to these kids…They're from our own neighborhoods killing each other. Latinos are killing Latinos."
Instead of investing in Downtown, funds need to be redirected to the neighborhoods, he said.
"Instead of peanuts and pennies, we need dollars, too," he said.
Another resident criticized the foot patrol approach, saying it did nothing to help the "horrible [murder] clearance rate."
"I don't want to see 10 percent. I want to see 100 percent. We need to solve 100 percent of these murders," he said. 
Pilsen resident Miguel Chacon said neighbors are getting so fed up with violence, they're leaving.
Sigcho-Lopez acknowledged the meeting "wasn't perfect," but noted that Muñoz, Anaya, Mah and police leaders were all there to listen to residents.
"We are trying out best," he said. "…We don't have all the answers but we definitely have a commitment to address it together, and we need you to participate."
Do stories like this matter to you? Subscribe to Block Club Chicago. Every dime we make funds reporting from Chicago's neighborhoods.
Already subscribe? You can make a tax-deductible donation to support our nonprofit newsroom here.