PULLMAN — It was five years ago this week that then-President Barack Obama declared the Pullman Clock Tower building a national monument, kicking off a multimillion dollar restoration of not just the iconic tower, but of the historic Pullman district itself.
Leaders of the ongoing project gathered Wednesday to reveal the latest renderings of the project, give an update on the work and to keep the effort's momentum going.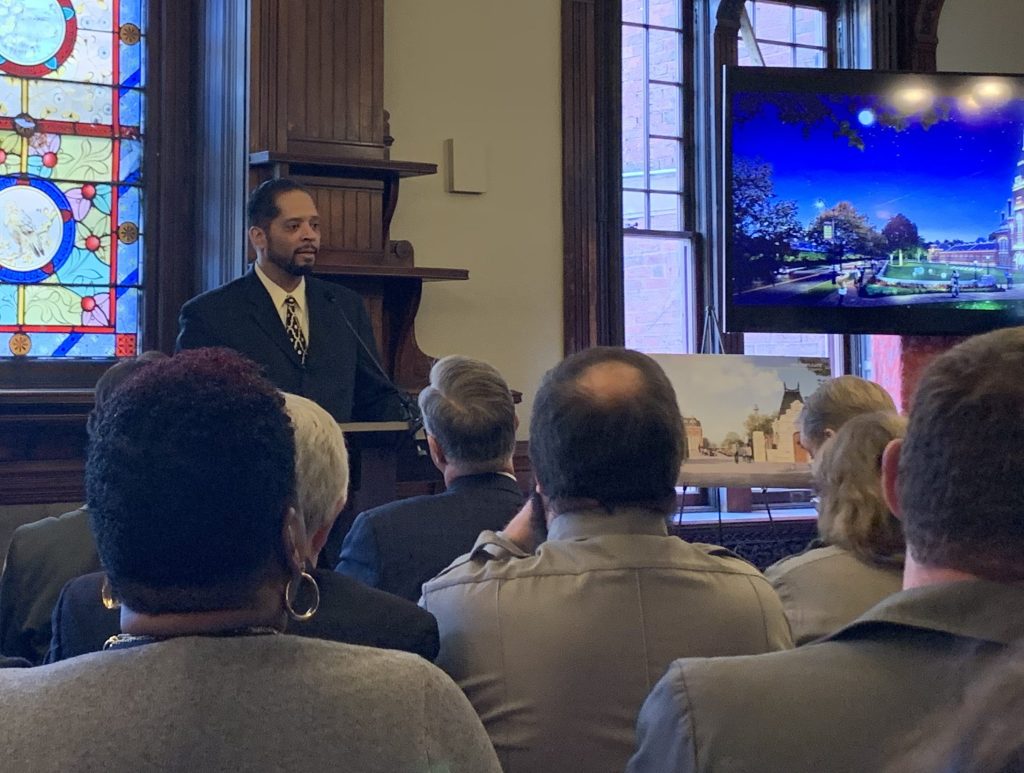 "Obama really took a chance on our community and here we are five years later," Ald. Anthony Beale (9th) said at a ceremony to mark the fifth anniversary of the monument designation. "It takes all of us in order to make this happen, and it is so breathtaking to me that the community has entrusted me to lead this renaissance."
The historic Hotel Florence at 11114 S. Forrestville Ave., a hub within George Pullman's planned community, hosted the ceremony. It bustled with dignitaries for the unveiling of the designs.
A central part of the $56 million project is the restoration of the Pullman Clock Tower and Administration building, which is being turned into a visitors center. That work is expected to finish next year.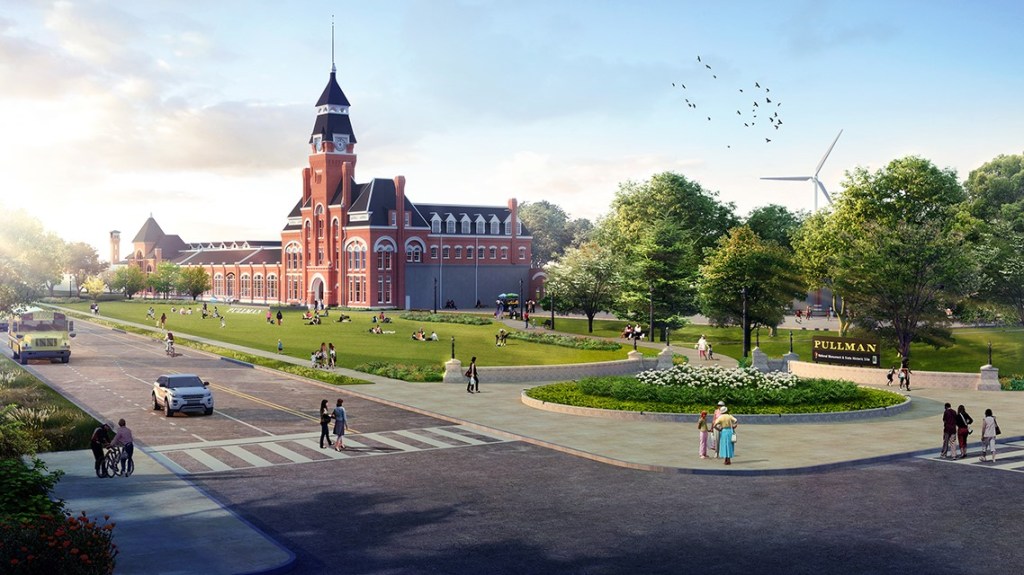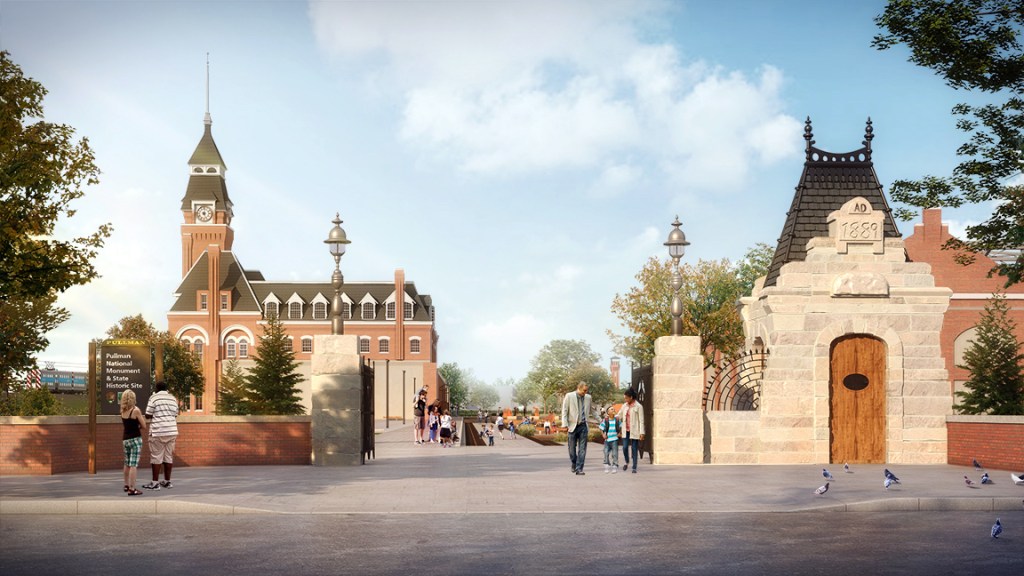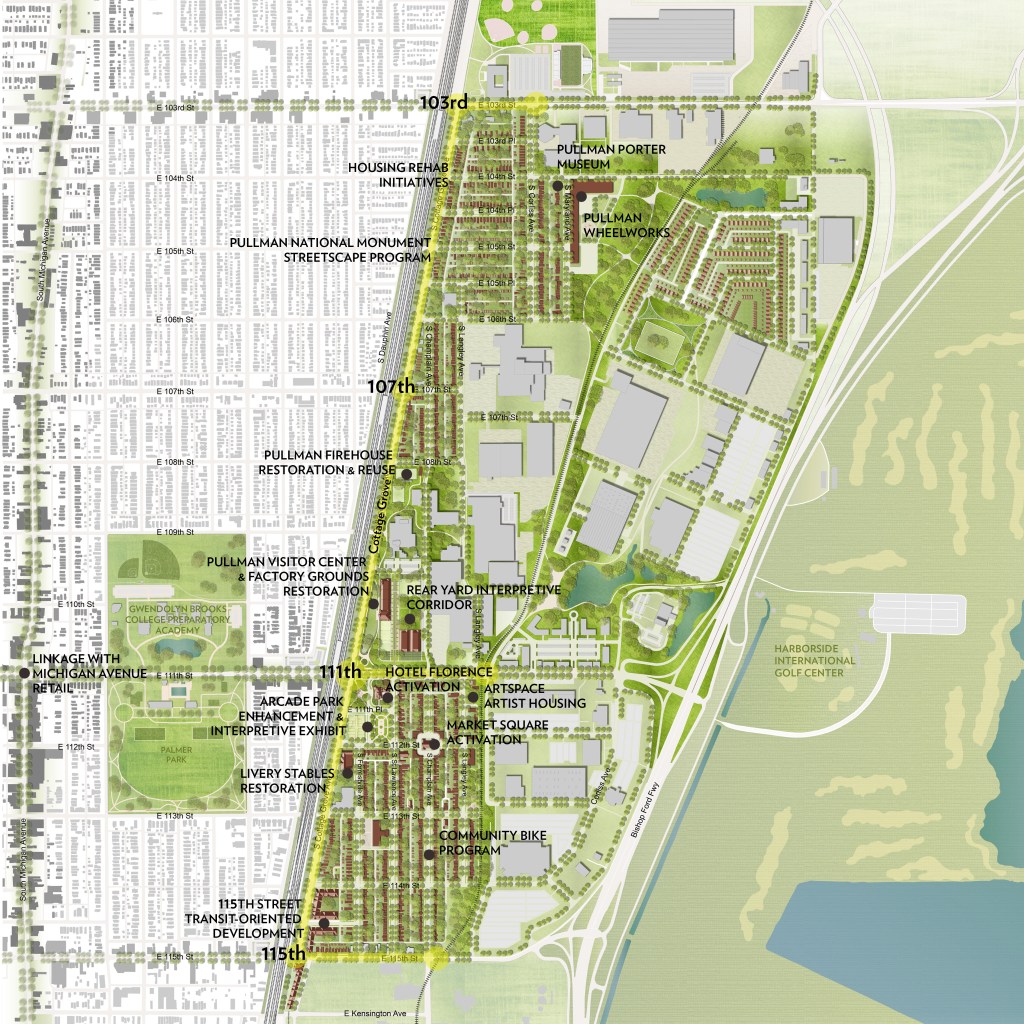 Architect Richard Wilson, of Adrian Smith & Gordon Gill Architecture, so the plan is to restore the original George Pullman vision.
"We're so excited for where we can take down this fence and we restore this to a [community] staple that has wonderful stories to share," Wilson said.
Rahm Emanuel, who was mayor when Obama declared the area a national monument, was on hand to talk about the journey so far.
"Thirty years ago people were writing off Pullman, saying its best days were behind it and to just sell it off," said Emanuel. 
But hard work and community passion, he said, caught the attention of Method Soap, which decided to build a plant in Pullman instead of Battle Creek, Mich.; Gotham Greens, which built a facility; and Amazon, which announced last month it plans to build a 40-acre distribution center in Pullman.
"When they saw what the community in Pullman would do to get those jobs here, and that they would do that much work, they came here," said Emanuel. "Everybody wants to take a second look and it's a tribute to the spirit, that can-do attitude."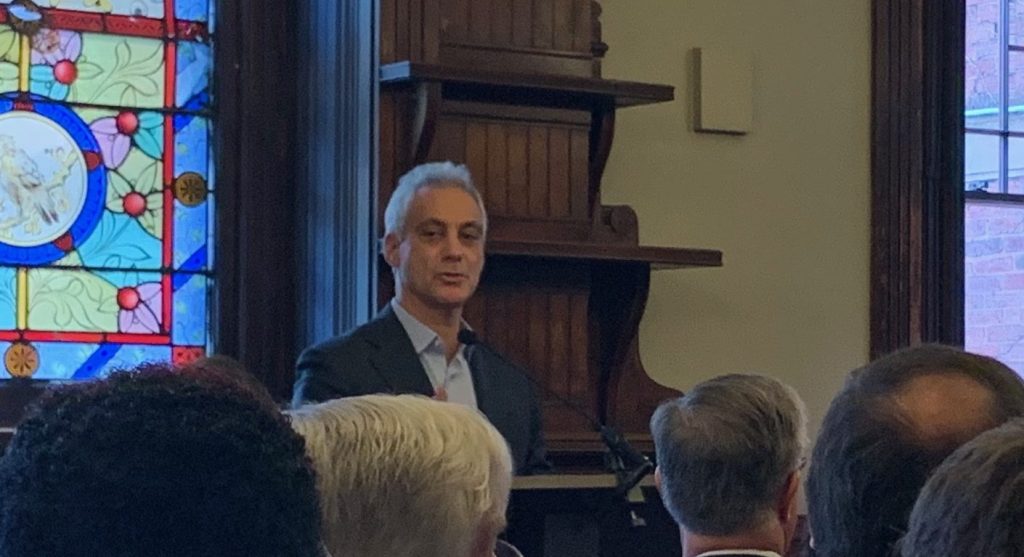 Will Shafroth, president and CEO of the National Park Foundation, credited Sally Jewell, former secretary of the interior, with helping to push for funding for the work, allowing the project to move forward.
"You want to make sure that you're going to be able to manifest the vision that we all want for the national landscape," said Shafroth. "Sally took the unusual step of asking us to commit to raising $10 million."
According to Shafroth, what made a difference was the "meaningful and significant" grant from Bryan Traubert and Penny Pritzker from the Pritzker Traubert Foundation. 
Apart from the Pritzker Traubert Foundation, the National Park Foundation was able to raise $10 million with the help of the Fun II Foundation of Robert Smith, which supports the telling of Pullman stories; the Union Pacific Foundation; the John D. and Catherine T. MacArthur Foundation; the city's Neighborhood Opportunity Fund; Walmart and the Robert McCormick Foundation.
"This partnership really came together in a way that we couldn't have anticipated in the beginning," said Shafroth.
With the unveiling of the final designs, a central theme was if it would stay true to the essence of Pullman and honor the community and its history, Wilson said.
"The key question was 'Imagine a neighborhood fighting for 15 years to preserve this amazing place?'" said Wilson. "How can we provide opportunities to the long-standing community living and working in Pullman, Roseland and adjacent communities."
Wilson said the renovations the historic district will raise the number of visitors per year from 15,000 to as many as 300,000.
"We see this as a major opportunity to not only restore historic assets but to rejoin the community and become a hub for education and to learn about the stories that are important to all Americans," Wilson said.
Patty Lawson, a Pullman resident for 35 years, said she hopes the changes don't change the feel of her neighborhood, however.
"I hope it's not taken completely out of my hands because it's our home," Lawson said. "It's bittersweet when you see people, not from Pullman, we are glad that they recognize the importance of what's going on and it's history, but it still has that neighborly feel and I hope it never loses that."
Teri Gage, superintendent for the Pullman National Monument, sees these new renovations as an example of the Pullman passion, and hopes it will show visitors the importance of Pullman history.
"When I walk around this neighborhood and I am talking with people, I can feel their excitement and their anticipation, but what shines through more than anything else, is the pride and affection that they have in their hearts for this very special place," said Gage.