NORTH LAWNDALE — Teachers, students and parents at Frazier Preparatory Academy in North Lawndale made a last-ditch effort Wednesday night to save their school from closing.
Pleading their case before a State Board of Education hearing officer, they argued the West Side charter school has been improving and is crucial for their neighborhood.
Chicago Public Schools officials recommended closing the school last last year, and the Chicago Board of Education agreed. Supporters of the school appealed that decision to the state, resulting in Wednesday's hearing at the Douglass Branch Library, 3353 W. 13th St.
RELATED: Devastated West Siders Beg Board Of Ed To Keep Frazier Prep Open, But They Vote To Close It Anyway
Joined by dozens of neighbors, teachers, students, and parents, CPS and the Frazier administration each made their case for why the state board should vote in their favor. The meeting was moderated by hearing officer Beatriz Diaz-Pollack, who will make a recommendation to the state board on whether to affirm the Chicago Board of Education's initial decision to close the school.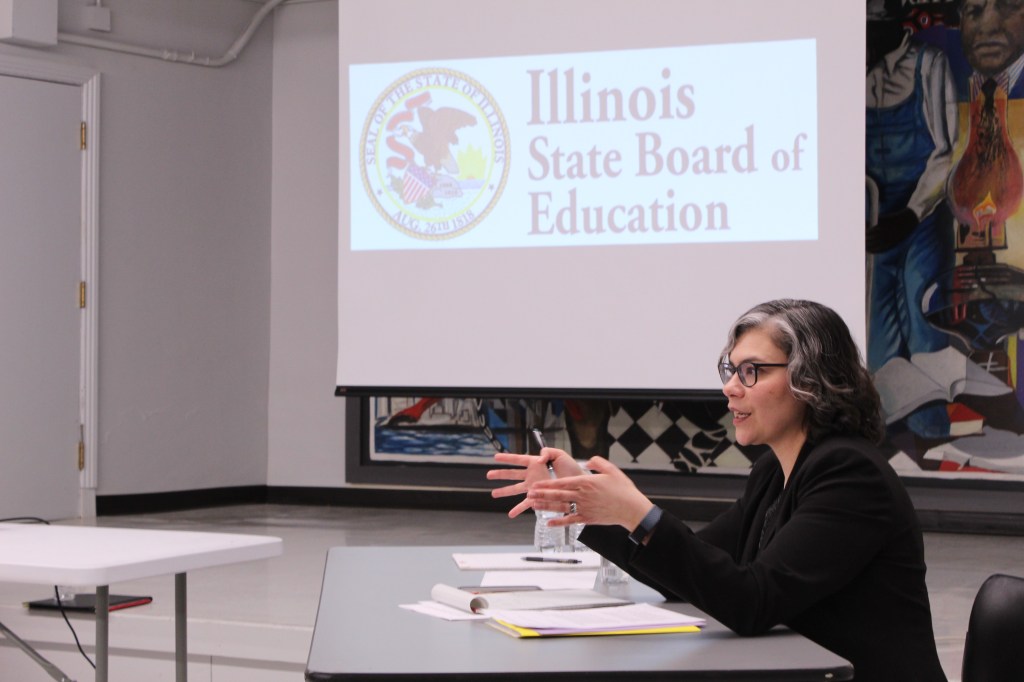 CPS reiterated points made at the December board meeting: Frazier had been on academic probation since 2018, but failed to implement the changes required by its remediation plan to increase their School Quality Rating Policy metric to the minimum rating of 3.0 needed to continue to operate.
The School Quality Rating Policy scores schools based on factors including test scores, academic growth, graduation rates and attendance. Frazier's administration said that while they were unable to meet the goals of their remediation plan, they made significant headway by raising their rating from a score of 2.2 to 2.8. Defenders of the school also pointed out that in 2019, the State Board of Education's quality rating of the school jumped from the poorest designation, Lowest Performing, to the second-highest designation, Commendable.
Frazier's administration also contested their rating score, claiming that CPS miscalculated the attendance contribution to the rating. Administrators said there was a discrepancy between their own attendance records and the attendance data used by CPS to score the school due to an adjustment in the academic calendar. Frazier had removed two emergency make-up days from the school year, and administrators say CPS erroneously included the no-show days in their attendance scoring calculations which pushed the rating down.
But CPS representatives said they recalculated their attendance scores and verified their data at least a dozen times, and found no error in their numbers.
"There's no way it would have been possible for them to misrepresent that," one representative said.
All who testified during the public comment period of the hearing spoke in support of keeping Frazier open. Parents and teachers pushed back on the CPS evaluation, citing the strides made during the past year to improve the quality of education offered at the school. They also said the School Quality Rating Policy is too rigid of a standard that fails to take into account the circumstances faced by Frazier students and the social and emotional learning supported by Frazier teachers.
"We teach the entire child… things that have nothing to do with curriculum," said Frazier teacher Eric White. "We worry about the mental and emotional and social problems."
White said decisionmakers would have a better understanding of the impact of the decision to shut down a school if they actually spent time in Lawndale and at the school.
"It's easy to advocate closing a place where you've never been," he said.
One parent spoke on how there is a social and community component to the value of Frazier that the district's rating system doesn't take into account. In a neighborhood where many young people are exposed too often to violence and trauma, where unemployment rates are high, where students forced to change schools are stifled by bullying and many students are pressured to join gangs, the school serves as a safe haven for students, she said.
"I have to trust my child to cross the street," she said about the challenges of being a parent on the West Side. "But I know the crossing guard."
Frazier teacher Sofia Gonzales reflected on the small victories the school achieves each day, like teaching students to focus a bit longer each day or helping them to overcome trauma, which are too often overlooked.
"It is these gains that should be magnified above all else," Gonzales said.
Teacher Tanisha Weeks questioned why so many schools had been targeted for closure in recent years in the same mostly Black neighborhoods time and again.
"Let me tell you what can't be measured: the mouths that we feed out of our own pockets," she said. "The brokenness that we heal out of our hearts."
Hearing officer Diaz-Pollack will use her observations from the hearing to make a recommendation to the State Board of Education. The state board will then vote on the ultimate fate of Frazier at their March board meeting.
If that state votes to close Frazier, the school will close at the end of the school year.
Pascal Sabino is a Report for America corps member covering Austin, North Lawndale and Garfield Park for Block Club Chicago.
Do stories like this matter to you? Subscribe to Block Club Chicago. Every dime we make funds reporting from Chicago's neighborhoods.
Already subscribe? Click here to support Block Club with a tax-deductible donation.