UPTOWN — The corner of Wilson and Broadway in Uptown is about to get a bit more retro.
On Thursday, Lucy's will open the doors to its newest location at 4570 N. Broadway, bringing elevated takes on classic American food in a retro diner setting.
Lucy's started out as a food truck before expanding into a restaurant in 2017, opening at 1043 N. California Ave. in Humboldt Park. Now, the restaurant is set to open its second location at a prime corner in Uptown.
Lucy's co-owner Damian Warzecha said he chose Uptown as the site for his second location because of the storefront at Wilson and Broadway, but also because of the improvements made to the corner and beyond in Uptown.
"We looked everywhere," said Warzecha, who owns Lucy's with his wife, Jessica. "This stood out. It's a nice corner property, a lot of pedestrian traffic. We saw the opportunity here."
Lucy's will open at 11 a.m. Thursday, specializing in hamburgers, fried chicken, chicken sandwiches and loaded fries. The Uptown location will feature two new chicken sandwiches, one a buffalo bleu cheese chicken sandwich and the other a bacon jam chicken sandwich. Warzecha is particularly excited about the bacon jam sandwich, which is a throwback to a grilled cheese and jam sandwich he used to sell when Lucy's was still just a food truck.
"It was a hit," he said. "We don't do grilled cheeses anymore, but we wanted to bring it back to life. The sweet jam goes great with the spicy chicken. No one else does it."
The restaurant will likely get its liquor license in about three months, Warzecha said.
Like its sister location in Humboldt Park, Lucy's in Uptown has a retro-diner decor featuring murals of 1970s-era icons. At Uptown, the walls include paintings of the Beatles, Chaka Khan, Elton John and Cher. Chicago artist Jeff Zimmerman painted the murals.
Inside the restaurant, Warzecha made sure to accentuate the storefront's expansive windows overlooking Broadway and Wilson. There is bar seating along the window at the intersection, and there is a communal table in the middle of the space, meant to accommodate the area's many commuters.
Lucy's is situated right next to the Wilson Red Line. Warzecha said he thought about opening a breakfast service to catch some of the morning commute rush, but ultimately decided that such an offering would not be true to the Lucy's brand.
"Quite frankly, we're not in the business of breakfast," Warzecha said. "I'm sure we could make a great breakfast sandwich, but we'd rather focus on lunch and dinner and creating an atmosphere."
Warzecha said he is excited to be in Uptown, a neighborhood experiencing rapid change that he thinks will benefit his business. There's the new Wilson Red Line station, the renovated Gerber building that will bring a co-op grocery store across from Lucy's and an apartment complex expected to rise at 4601 N. Broadway.
"I fell in love with this place," Warzecha said.
Lucy's Uptown will open at 4570 N. Broadway on Thursday, Feb. 20. Its hours will be 11 a.m. to 9 p.m. Tuesday-Thursday, 11 a.m. to 10 p.m. Friday-Saturday, and 11 a.m. to 9 p.m. on Sundays. It will be closed on Mondays.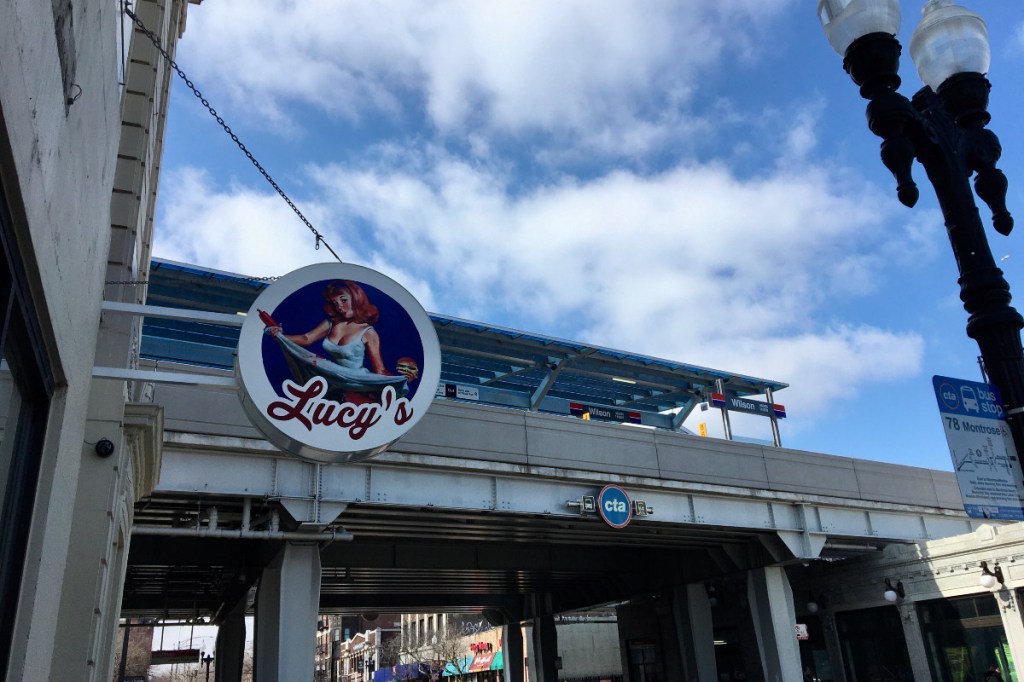 Do stories like this matter to you? Subscribe to Block Club Chicago. Every dime we make funds reporting from Chicago's neighborhoods.
Already subscribe? You can make a tax-deductible donation to support our nonprofit newsroom here.