RAVENSWOOD MANOR— When Rod Blagojevich's prison sentence was commuted by President Trump Tuesday, it meant the former governor's otherwise quiet residential street was besieged yet again by news vans, reporters and onlookers hoping to be part of the saga.
Blagojevich, who frequently ran late as governor, was 20 minutes late to the press conference on his front porch. He said he cut himself shaving and couldn't find his socks.
When he finally emerged from the home at Sunnyside Avenue and Richmond Street around 11:30 a.m. Wednesday, his parkway grass and front lawn had been trampled and turned into a mud pit, with television camera cables snaking through it.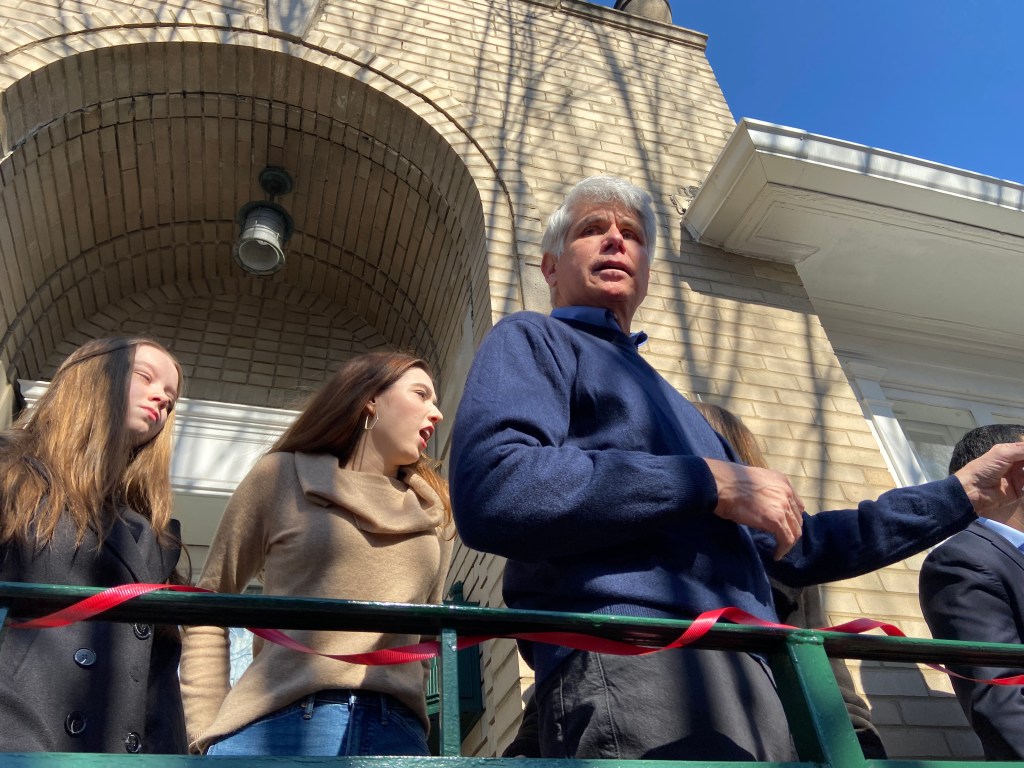 The number of television cameras set up around Blagojevich effectively blocked him from view to anyone standing on the block after he descended his front porch's stairs. But that didn't stop onlookers from trying to snap a photograph or record video of him. 
Police closed off traffic to the intersection as the crowd grew in advance of the press conference.
Photographers shared a ladder to get above the crowd of reporters, TV camera operators and neighbors who had all come out for Blagojevich.
"He deserves a second chance and there shouldn't be a problem with him coming home," said Lisa Dee as she was walking to the CTA Brown Line stop in the neighborhood. 
She didn't have time to stay and watch the media circus around the former governor's home for the past two days.
"Gov. [George] Ryan got a slap on the wrist for what he did. Maybe Blagojevich learned his lesson this time. Politics can be crooked and my neighbor is an example of that," Dee said. "I don't know if he's going to go back into politics. I personally wouldn't." 
If Dee were in his shoes, she's leave and start fresh somewhere else away from the spotlight. 
"I mean everyone is at his door right now. The helicopters were circling like vultures all last night," Dee said. 
Since news of Trump's commutation, reporters have been camped out on the block. The sound of helicopters buzzing overhead has been unceasing.
Neighbors called police at 1:30 p.m. Tuesday to say that news vans were blocking traffic. Another neighbor called police at 5:57 p.m. to complain about the news helicopters.
During Wednesday's press conference, police officers were on hand and tried to manage the chaos.
"I live in the area and I'm used to it by now. Since last night I've heard the helicopters. But I think after today, people just need to leave him alone and let him get back to his life," said Adrian Collins, another neighbor.
Collins used to see Blagojevich running around the neighborhood or Horner Park with a security detail back when he was governor. She's also seen the the media descend on the block in the past with each new development in the Blagojevich saga.
"I've been watching him through this whole situation and I wanted to show some support," she said.
Collins was standing by Blagojevich's front porch with her phone Wednesday morning. She missed her chance to snap a photograph when Blagojevich first exited and was waiting for a chance to snap one once he headed back in after talking to reporters. 
Also in the crowd was one man holding up a giant photo of Blagojevich's head on a stick.
Cubs fan Ronnie "Woo Woo" Wickers was there, too. He signed his name to a banner that had been hung across the home's front porch welcoming Blagojevich back home. When asked what he thought about the entire situation, Wickers said Blagojevich had been "railroaded."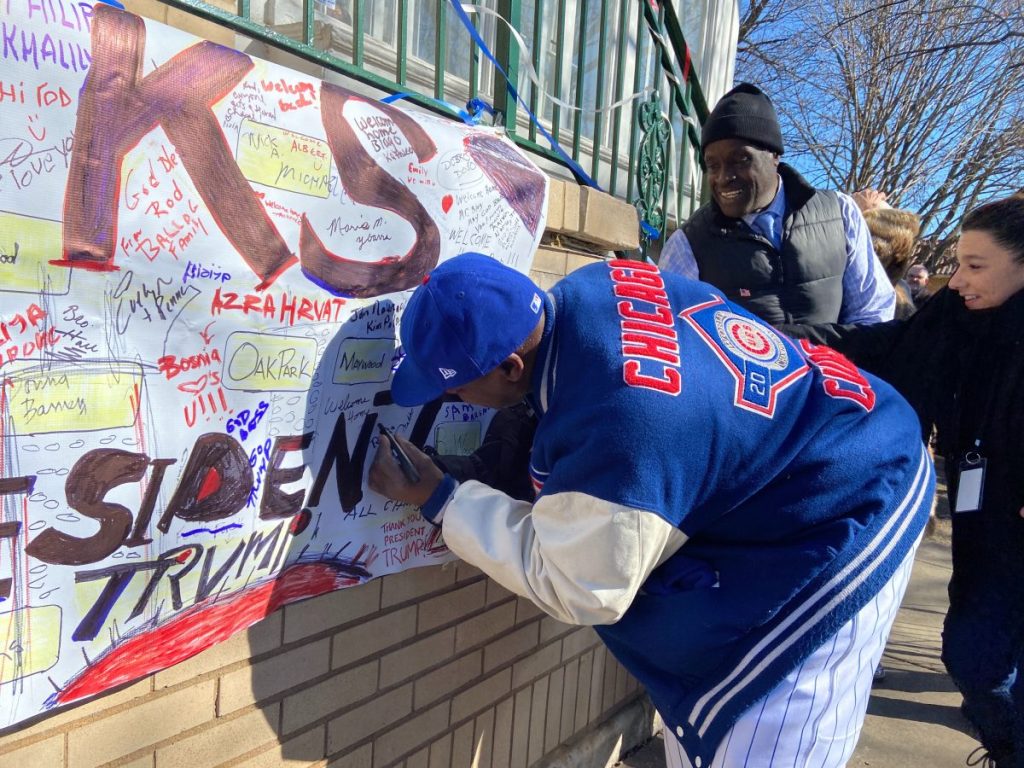 More than a few pro-Trump supporters were also in the crowd yelling "four more years." 
During his first public appearance Tuesday, Blagojevich called himself a "Trumpocrat," and would vote for the president if he can.
"Trump knows what he's doing. He's very good at deflecting," said Joshua Davis, another neighbor. He was on his way to the train and didn't have time to stop by the scrum Wednesday.
"At the end of the day, I would have been fine if he served the rest of his sentence. Now that he's back,  I don't think it changes much either," Davis said. "Really, more focus should be put on why Trump is giving out a pardon."
Davis thinks commuting Blagojevich is an election tactic to change the conversation after the president's own recent corruption scandal and impeachment acquittal.  
By Wednesday afternoon, hours after the news conference, four news vans were still parked on the corner. The crowd had died down considerably but periodically someone would walk by, often while walking a dog, and peer at the house's windows to see if they could spot Blagojevich inside.
One bicyclist who was cutting through the neighborhood Wednesday joked that soon everyone would be posting sightings of Blagojevich online if he starts his jogging routine again.
"It'll be Blago Watch 2020," she said, laughing.
RELATED: 
Rod Blagojevich Praises Trump, Tells Illinois Voters He Was Persecuted: 'I Didn't Let You Down'
Rod Blagojevich Is Out Of Federal Prison: 'Misfortune Has Silvered My Hair,' He Tells WGN
Rod Blagojevich's Sentence Commuted By President Donald Trump: 'He Seems Like A Very Nice Person'