HYDE PARK — Last year, in the first-ever lacrosse clash between Kenwood Academy and Urban Prep Academy's Englewood campus, Kenwood walked away with a 10-4 victory.
It was the only win of the season for either team.
"We had to hang our hat on that one," Kenwood coach Scott Johnson said.
But regardless of the season's results, that game last May was a "milestone" for Johnson and Matthew Wegh, his Urban Prep counterpart.
They're leading the only Chicago Public Schools playing lacrosse on the South Side, according to both coaches. The teams are helping to make Chicago history, sharing the role in bringing a largely-white sport to a largely-Black side of town.
The numbers for when lacrosse players reach the college level are stark. As of 2018, just 2.8 percent of Division I men's lacrosse players are Black. But at Kenwood and Urban Prep-Englewood, the teams are made up of a majority of Black students.
The teams meet again this year, at 5 p.m. April 14 at Kenwood Academy, 5015 S. Blackstone Ave.
Of the schools, Kenwood has a more robust program, featuring a 7th- and 8th-grade team that predates the varsity squad by two years. Roughly 60 kids come out to practice on any given day, Johnson said.
Many of Kenwood's varsity players have come up through the middle school program, though the team has found a breakout star in senior midfielder Kalidu Bah, who didn't start playing the sport until last year.
Centenary College of Louisiana, an NCAA Division III school, has shown interest in bringing Bah on to play at the collegiate level, Johnson said.
Johnson, who said he personally strings each player's lacrosse stick, coaches the team with his roommate Daniel Getachew. The pair has "worked side-by-side in building this thing up," Johnson said.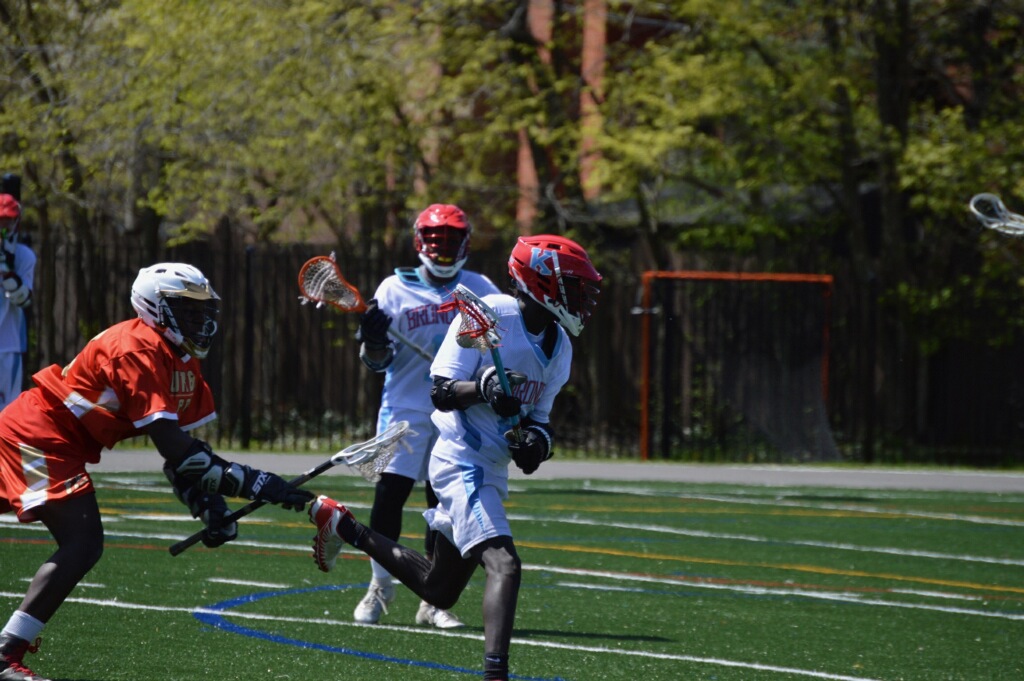 Urban Prep is on stable ground too, Wegh said. A grant from U.S. Lacrosse, the sport's national governing body, got the program started last year by paying for 20 full sets of gear.
About 10 players will return from last year's squad, and the team will be able to support about 25 players in total for this year, Wegh said.
Though "wins are important to the psyche," he said, the team's lack of experience means "getting the fundamentals and literally having a good time is the primary concern."
"It's not like [lacrosse] is something a lot of these kids are going to do in the future," he said. "There are a lot of transferable skills, so we have basketball and football players staying in shape out of the season."
For at least one multi-sport athlete — senior midfielder Brandon Fletcher, who also plays basketball and football for Urban Prep — the jump to lacrosse is showing signs of paying off.
Fletcher, who recently visited the University of Dubuque's Division III program, "picked up a stick less than a year ago and has a legit chance of being a collegiate athlete," Wegh said.
There's no love lost between the teams, despite their similar talent levels and their South Side locations.
Urban Prep players see their relationship with Kenwood "more as a rivalry than camaraderie," Wegh said.
Following last year's victory, Kenwood is "not trying to lose" in 2020, Johnson said. "I think the competitiveness — and also just the novelty of [beating the only other South Side public school team] — is pretty cool."
That hasn't stopped the coaches from collaborating. They're hashing out plans for an After School Matters lacrosse program, and Wegh said he's working with the Give and Go Foundation on a joint clinic with Kenwood and some professional lacrosse players.
Wegh also hopes to expose Urban Prep players to "high-level lacrosse" this year through a joint practice with the Illinois Institute of Technology, as the university enters its first season of Division III play.
While Kenwood will have the home-field advantage, it's the easiest game on Urban Prep's schedule for parents to make a trip. The rest of the team's away games are on the North Side or in the suburbs.
Given the programs' proximity in talent and location, April's matchup is the closest either will get to competitive high school athletics "versus something you're trying just for the hell of it," Wegh said.
"We want to get some wins this year, and this is the best game we have a chance to win because they're just as inexperienced as us," Wegh said. "We've got the date circled. We're juiced for it."
Do stories like this matter to you? Subscribe to Block Club Chicago. Every dime we make funds reporting from Chicago's neighborhoods.
Already subscribe? You can make a tax-deductible donation to support our nonprofit newsroom here.