CHICAGO — The Trump administration is sending specially trained Border Patrol officers to arrest undocumented immigrants in Chicago and other sanctuary cities across the the country.
In a renewed attempt to crackdown on undocumented immigrants, the New York Times reported Friday U.S. Immigration and Customs Enforcement will be using tactical officers from Customs and Border Patrol in everyday arrests in Chicago, New York City and other sanctuary cities.
In a statement, Matthew T. Albence, acting director of Immigration and Customs Enforcement, said the agency will be "utilizing [Customs and Border Patrol agents] to supplant activity to the resource challenges stemming from sanctuary city policies."
The agency declined to answer questions about the timeline of the operation. But sources told the New York Times that the new effort would be employed from February to May.
In response, Mayor Lori Lightfoot criticized President Donald Trump's new effort targeted an undocumented immigrants, calling the tactic "fear-mongering and xenophobic." 
"We will not be bullied. Period. Especially by a bully like President Trump," she said.
Lightfoot affirmed that Chicago was committed to its status as a welcoming city, regardless of any vitriol leveled at the city.  Police officers and city workers will not work with federal agents in any civil immigration enforcement efforts, she said.
"If anyone thinks they can come here into our city and terrorize our residents into the shadows, let me say this: They have another thing coming," Lightfoot said.
"Chicago will always stand strong and we will use all of our tools to keep everyone safe. We are a great and proud city built by immigrants and refugees and will always shine as a beacon of hope for the world. We are your neighbors and we are with you," Lightfoot said.
Lightfoot has previously pushed back against other immigration enforcement efforts by the federal government.
In September, Albence, acting director of U.S. Immigration and Customs Enforcement, criticized sanctuary cities for their refusal to cooperate with the federal agency.
We aren't going to let anyone demonize who we are as a city, and who you are as communities. … For shame," Lightfoot said at the time. "We are not going to tolerate that. The ICE guy here can say whatever he wants."
The Trump administration has previously threatened mass deportations and other ICE enforcement operations throughout his first term, sparking fear among immigrant communities in Chicago and across the country.
Ald. Byron Sigcho-Lopez (25th), whose ward includes Chinatown and Pilsen, both havens for immigrants, said his communities are organized and will not withstand "any kind of threats" or attempts to intimidate Chicagoans.
Noting that this action would happen during the census count, Sigcho-Lopez said he is working with community groups to keep neighbors informed and make sure all people are counted.
During previous threats, some shop owners in Little Village saw a significant drop in their business on 26th Street, which is often regarded as the highest revenue generator for the city behind the Magnificent Mile.
In a neighborhood of Mexican-owned businesses serving a majority Latino clientele, the threat of an immigration sweep is devastating to local businesses, Adolfo Peña previously told Block Club.
"When these threats happen, there isn't a soul on 26th Street," he said. "It causes panic, and does a lot of harm to the economy of the neighborhood, to Chicago and the state." 
RELATED: 'Not A Soul On 26th Street': Sales Drop At Little Village Shops As Threat Of ICE Deportation Sweep Looms
Chicagoans have heard these threats from the Trump administration before, National Immigrant Justice Center officials said in a statement. 
"As a legal service organization committed to defending our Chicago neighbors, NIJC's message to communities remains the same: Everyone in the United States, including undocumented immigrants, has rights under the U.S. Constitution," the statement reads.
Erendira Rendon, vice president of immigration advocacy at The Resurrection Project, said immigrant groups have remained vigilant and will organize to inform Chicagoans of their rights.
Laura Mendoza, an immigrant rights organizer with The Resurrection Project, previously told Block Club that ICE agents aren't allowed to enter private property without a judicial warrant. People also have the right to remain silent, the right to an attorney and may refuse to sign paperwork given by an ICE agent, she said.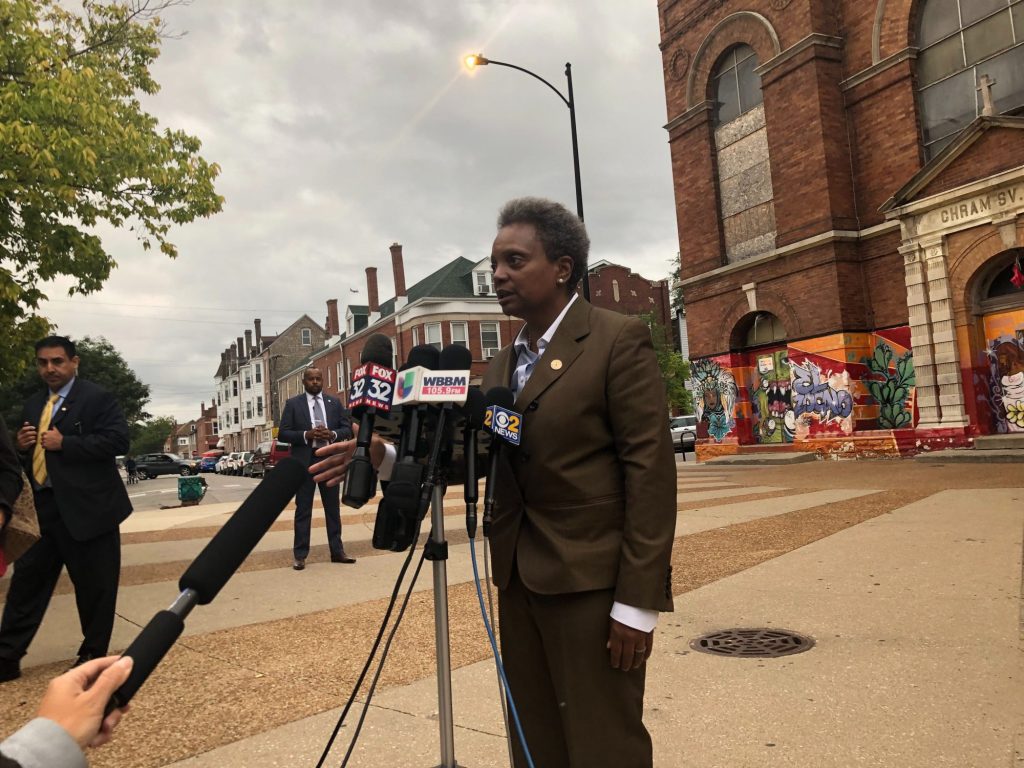 Welcoming city ordinance
In 2016, City Council approved an amendment to Emanuel's original 2013 Welcoming City ordinance. The ordinance limits interactions police and other city employees have with ICE.
As part of the ordinance, local officials are not allowed to ask a person's immigration status or turn undocumented immigrants over to federal agents.
Trump's administration has repeatedly slammed Chicago and other "sanctuary cities" for their reluctance to cooperate with ICE, and threatened to yank federal funds. Those actions were ultimately blocked by a federal judge. 
The 2016 amendment provided additional protections to undocumented immigrants, barring city officials from threatening to reveal the immigration status of a person to federal officials or verbally abusing immigrants based on their race, citizenship, or country of origin.
RELATED COVERAGE
ICE Agents 'Manipulated' Chicago Cops By Calling 911 During Raids, Ald. Says: 'This Was A Bait Call To Get CPD Out There'
Mayor Lightfoot Vows To Stand With Chicago's Immigrants: 'We Aren't Going To Let Some Bully Intimidate Us'
Aldermen, Activists Warning Immigrant Neighbors Of Reported ICE Deportation Sweep Starting Soon In Chicago
Do stories like this matter to you? Subscribe to Block Club Chicago. Every dime we make funds reporting from Chicago's neighborhoods.
Already subscribe? You can make a tax-deductible donation to support our nonprofit newsroom here.