HYDE PARK — The 60th annual University of Chicago Folk Festival will be held this weekend, bringing the sounds of communities around the continent to the South Side.
Performances begin at 8 p.m. Friday and 7:30 p.m. Saturday at Mandel Hall, 1131 E. 57th St.
Artists include:
A total of six artists will take the stage across the two-day festival.
General admission tickets are $25 for Friday and $30 for Saturday, and can be purchased on the festival's website. Seniors and students receive discounted rates.
Free workshops covering everything from barn dancing to sea shanty singing will be held Saturday from 10 a.m. to 5 p.m. at Ida Noyes Hall, 1212 E. 59th St.
The first folk festival was held in 1961 and featured a young Studs Terkel as emcee, said University of Chicago sophomore Eli Haber, co-president of the university's Folklore Society.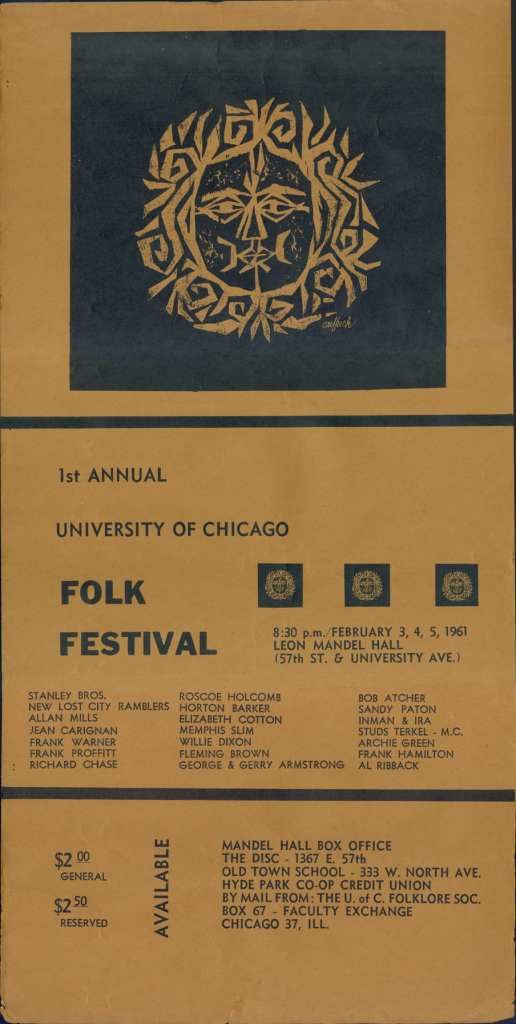 The society still owns the recordings of that inaugural festival. Attendees will also be able to share memories of the first year and others throughout the years in between acts, and a presentation on the festival's history is planned for the weekend, Haber said.
Though the festival got its start in the midst of the American folk revival, the Folklore Society has always been "more interested in the music that the folk revival was derivative of," Haber said.
"We're looking for a certain type of traditionality … [Performers] who aren't necessarily professional musicians; they may just play for their families and communities," he said.
Even the "professionals" with numerous studio recordings and regular tour dates — like accordionist Jimmy Breaux, formerly of Grammy-winning group Beausoleil — are steeped in tradition.
Breaux is a fourth-generation Cajun musician, dating back to his great-grandfather Auguste who was also an accomplished accordionist in Louisiana.
In bringing Cajun, Afro-Cuban, mariachi and other performers to the same stage, the festival makes the case that "there's no such thing as American national folk music," Haber said.
Though he initially joined the Folklore Society "not really knowing what [he] wanted to get involved with" in college, Haber said he's gotten deep into folk music ever since.
The Boston-area native said he's recently been listening to a lot of traditional music from New England and the Canadian Maritimes.
Beyond the all-volunteer festival, the society hosts semi-regular contra dances and supports the work of the Old Town School of Folk Music and likeminded groups.
"We recognize that there are all these distinct folk traditions from around the country, the continent and beyond," he said. "Folk music is alive and well in Chicago."
Do stories like this matter to you? Subscribe to Block Club Chicago. Every dime we make funds reporting from Chicago's neighborhoods.
Already subscribe? Click here to support Block Club with a tax-deductible donation.