HUMBOLDT PARK — They're strong, they're fast and they know what it's like to be the only girl on the team.
The dozen or so 10-, 11- and 12-year-old girls who play for the Humboldt Park Gators, Chicago's only all-girls youth baseball team, are gearing up for their first season ever.
Soon they'll face off against a slew of teams made up mostly of boys.
"I want to see the look on the guys' faces when they realize we can throw stuff," 12-year-old Sadie Manley, pitcher for the Gators, said after a recent pre-season game.
Sadie's teammate, 11-year-old Miriam Cárdenas-Mitchell, added with a smile, "I'm excited to see her cut off boys' heads."
All of the girls on the Humboldt Park Gators have experience playing baseball, some for a few years and others since they were toddlers — but always on boys teams. It was either that or play softball, and softball wasn't appealing to many of these girls.
"I think that people just made softball so that girls couldn't play baseball because they didn't want them to. … I prefer baseball," Miriam said.
Miriam's parents, Chip Mitchell and Alba Cárdenas, are the ones who started the Humboldt Park Gators. The couple started recruiting girls for an all-girls baseball team last spring.
In an email, Mitchell said Miriam didn't have a bad experience with coaches or teammates while playing for the boys teams, but she did feel some isolation.
"It never made sense to [Miriam] that girls got channeled into softball instead of taking part in America's pastime," he said.
Mitchell said he and his wife wanted to have a "bigger impact," so they started a team of their own in hopes of building off the momentum that national nonprofit group Baseball for All and its local affiliate Illinois Girls Baseball have created.
"The idea is for the girls to have some space together, to feel good in their bodies and build their strength as athletes, and to learn they can exercise their rights," Mitchell said.
"And we want everyone who sees our team to get the message that girls can play baseball. We want parents and girls to join us or form their own teams."
Sometime early on, one of the players or a parent — Mitchell can't remember exactly who — came up with the idea to name their team after Humboldt Park's famous alligator, Chance the Snapper. Mitchell's family lives in Humboldt Park.
The name stuck, and now the team is formally called the Humboldt Park Gators.
"It was, like, an iconic thing," Sadie said of Chance the Snapper.
Added Miriam: "We couldn't come up with anything better. I was like, 'The Sliding Bananas!' and everyone was like uhhh."
'It's so much better to be with girls'
The Gators have been practicing indoors for months to prepare for their regular season, which kicks off the first week of May and ends in mid-July.
The team will play all of its home games at the baseball diamond in Humboldt Park, not far from where the wayward alligator was caught last summer.
According to Mitchell, the Gators are the only all-girls youth baseball team in Chicago right now. Girls baseball is growing in popularity across the country, but it's nowhere near as popular as boys baseball.
Many of the girls agree that playing on an all-girls team is markedly different — in a good way.
"It's so much better to be with the girls and not the boys because boys are always yelling, [have] bad attitudes," Miriam said.
Miriam's teammate Camila Rodriguez, 11, who lives in Norwood Park, had been playing baseball on boys team for five years until she joined the Gators.
"With boys, they don't really get how you feel and stuff. And I feel like with girls, they're less emotional than boys. They're more strong," Camila said.
Another teammate, Rosie Gonzalez, also 11, agreed. Rosie, who lives in North Center, said she, too, is more comfortable playing on an all-girls team after years of playing on boys teams.
"I want to inspire girls to play baseball," Rosie said. "Some girls are shy like me and if I was a girl that was really, really shy and wouldn't want to play without girls, I would be inspired by a girl if they played on an all-girls team."
Rosie's mom, Geovanna Silva, said she was thrilled when Mitchell asked Rosie to join the team.
"The fact that it's an all-girls team — you hear people coming in here like, 'That's an all-girls baseball team! No, it's baseball.' And that's kinda cool," Silva said.
Silva said she's noticed Rosie is "more herself" on the Gators than she was on the boys teams.
"You see more smiles, laughs, talks. It's a different vibe," Silva said.
When the Gators pitcher came off the mound at a recent pre-season game, all of her teammates congratulated her, Silva noted.
"It's so nice to see them support each other," she said.
The Gators lost that game 6-4. The teams played three hard-fought innings over the span of two hours at University of Illinois' physical education building at 908 W. Roosevelt Road.
Despite the loss, the Gators are excited to take on more boys this upcoming season.
The boys have a reason to be scared of Gators pitcher Diya Buonincontro, 12. Diya, who has been playing baseball — on boys teams — since she was just three years old, throws up to 60 miles per hour.
"One of my goals is to play in high school," Diya said.
Diya travels all the way from suburban Algonquin to play for the Humboldt Park Gators. She said while she misses her team in the suburbs, she's enjoying being a Gator.
"I feel like the girls here kinda get me more," she said.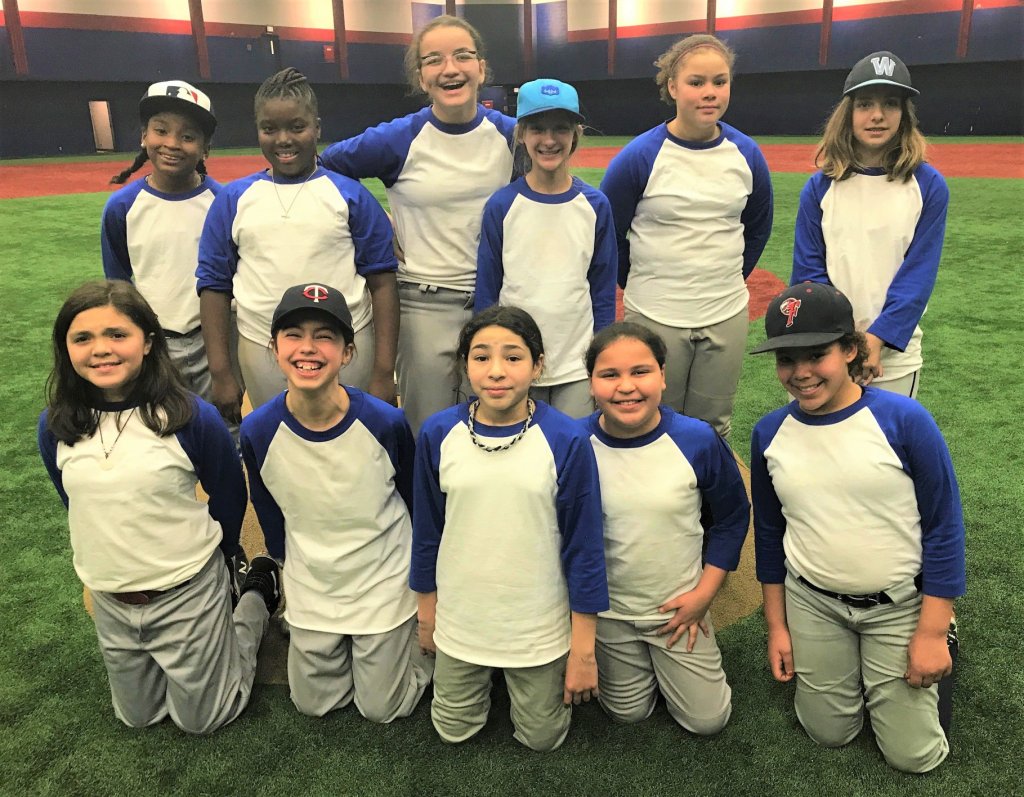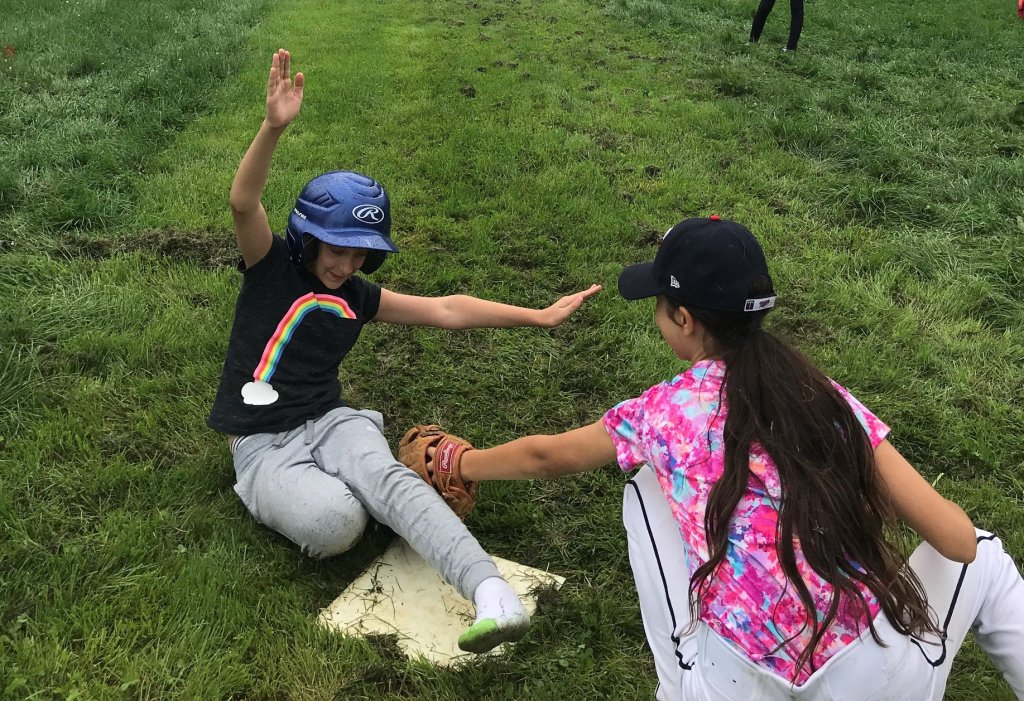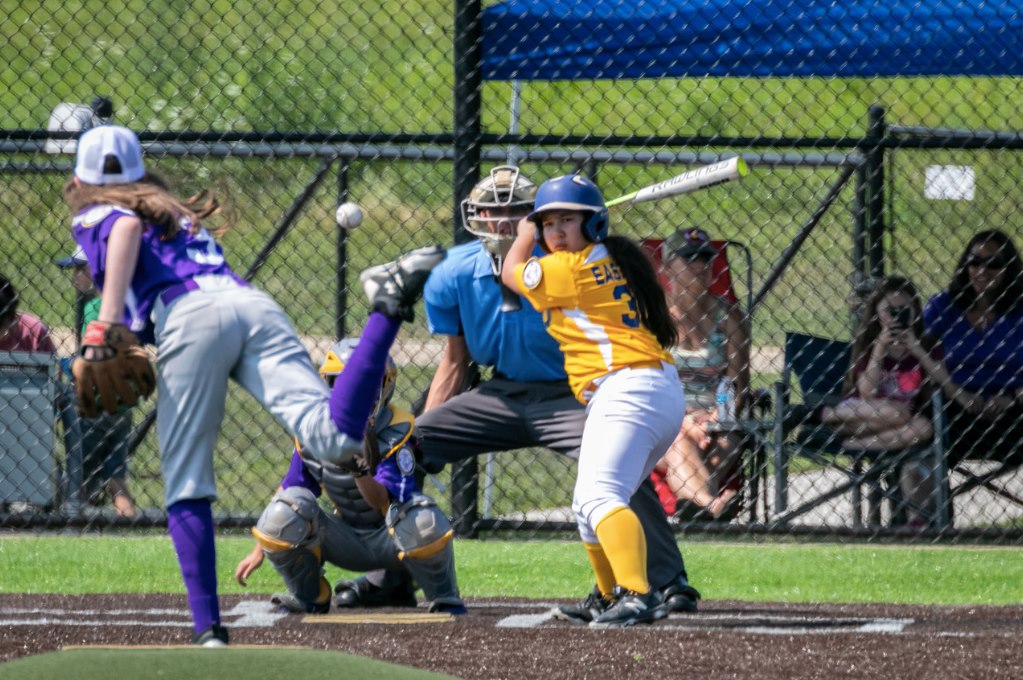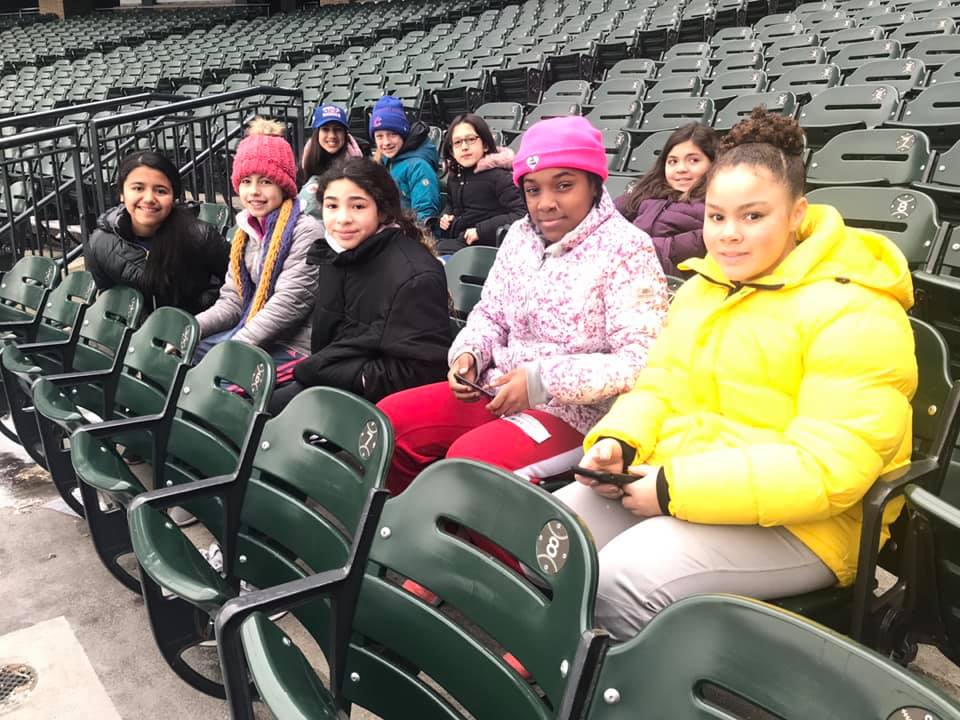 Do stories like this matter to you? Subscribe to Block Club Chicago. Every dime we make funds reporting from Chicago's neighborhoods.
Already subscribe? Click here to support Block Club with a tax-deductible donation.