BUCKTOWN — After news broke that Grisel & Junior Food & Liquors would leave its home of 45 years, Bucktown neighbors speculated as to the history of the business' name.
Who were Grisel and Junior, exactly?
Were they friends? Spouses? Business partners?
In real life, Grisel and Junior are brother and sister, the children of the store's founding owners, Jose and Maria Roche.
When the Roches opened the store in the mid-'70s, they named it after their children: Grisell Roche and Jose Jr. "Junior" Roche.
The family sold the business in the late '80s, but the new owner kept the name and the family's iconic red and yellow porcelain sign.
After Block Club's story on the closure, people flocked to social media to share their memories of the corner store — and Grisell and Junior found themselves getting nostalgic, as well.
"A lot of memories," Grisell said. "And to drive by [the store] now, it's like, 'Wow, it's all coming back.'"
"My father was a hardworking, self-made man with a sixth grade education," Junior said. "He was just a hard worker who tried to provide for his community the best he could."
RELATED: Grisel & Junior, A Corner Store With 40+ Years In Bucktown, Will Be Replaced By Dentist Office
Jose grew up in Puerto Rico. Before getting into the Chicago liquor business, he worked in the jewelry industry and at a steel mill in Indiana.
He also served in the U.S. military during the Korean War. During that time he became disabled and would later have five spinal surgeries, Junior said.
While at a dance in Indiana, Jose met his future wife, Maria. She, too, was from Puerto Rico.
The couple married Feb. 29, 1963.
They opened a grocery store at the corner of Racine Avenue and Ohio Street, near Eckhart Park, in West Town. Eventually they opened a liquor store on Division Street in Humboldt Park.
In 1966, Jose Roche Jr., nicknamed "Junior," was born. Grisell Roche was born four years later.
In either 1973 or 1974 — Grisell and Junior can't remember the exact year — Jose and Maria bought the building at the corner of Armitage and Leavitt. By 1975, they moved their family into the apartment upstairs.
There, they opened what would be their final Chicago liquor store: Grisel & Junior.
Grisell's name was misspelled on the sign. Her father was known for having trouble with spelling, which is probably why the sign lacked "proofreading," she said with a laugh. Junior said he usually spells his sister's name with one L, too.
In 1976, the family's youngest child, Juan Roche, nicknamed "Johnny," was born. Neighbors knew him as the kid who rode around the store in a tricycle.
The three children "grew up" in the liquor store, Grisell said, helping out by cleaning or stocking shelves. The store also sold groceries and at one point served hot dogs.
Though Jose lacked a high school education, he was a skilled handyman who did his own plumbing, electrical work, carpentry and brick-laying.
The building originally had a wooden frame, but Jose enlisted his family members to help him find scrap brick to lay over the wood.
Jose was also a self-taught entrepreneur.
He saved money by buying his own cooler and ice machine and bagging his own ice. He bought his own wax, too, and cleaned the floors often.
Instead of buying individually packaged six-packs of beer, he bought the beer in bulk, as many as 500 cases at a time, and plastic wrap.
On delivery days, Junior helped his father take the plastic and wrap each six-pack by hand.
"My dad instilled in me at a young age, there was no pride when it came to how you made an honest living," Junior said. "You could be a bank teller, a president, a CEO, or you can be a maintenance guy. As long as you made an honest living, that's all that matters."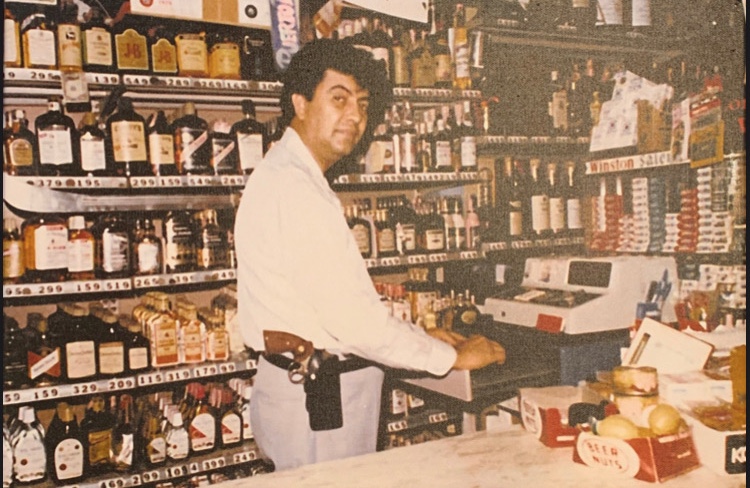 Open 8 a.m.-midnight, Jose strived to make Grisel & Junior a one-stop shop for neighbors.
"He was no-nonsense type of guy," Junior said. "He didn't like people swearing in the store, getting out of hand. Especially if there were women and kids around."
The store was a place where children could buy pencil sharpeners on their way to school in the morning. Mothers could save themselves a trip to Jewel when they needed a gallon of milk.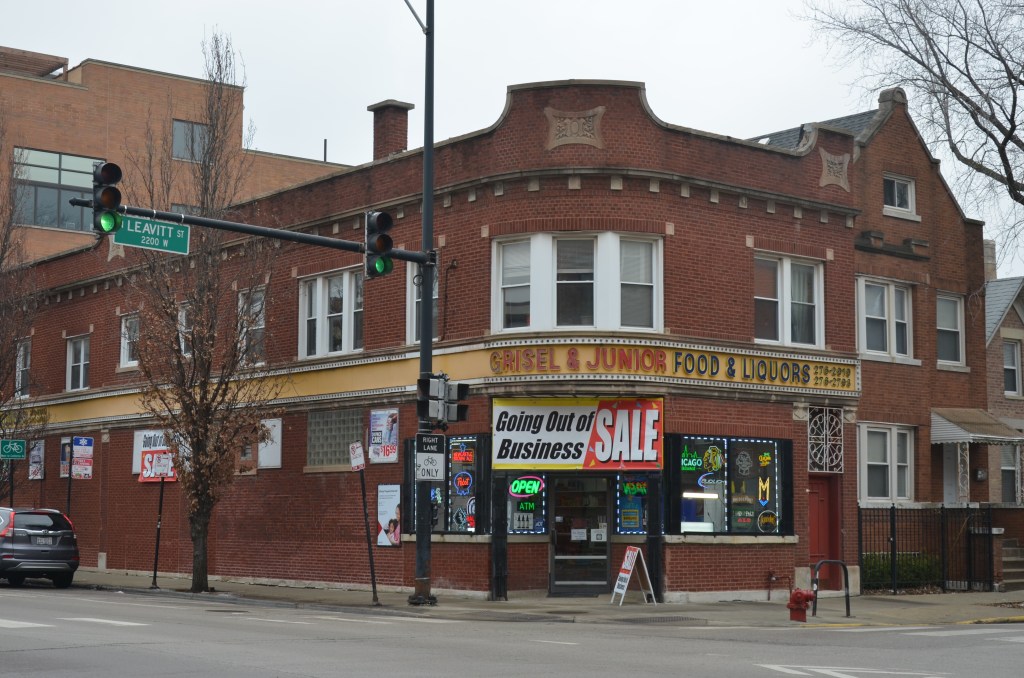 And, of course, neighbors of all walks of life found a wide selection of beer, wine and liquor.
"I remember having customers come in and say, 'For a small little liquor store, your dad has a good variety of wines [and] beers from all over,'" Junior said.
Because Jose and Maria were often at the register, the family rarely sat down for meals together.
But on birthdays, their father made it a point to close the shop early around 6 p.m. and take the family to a late dinner in Chinatown.
"My parents worked really hard to make sure the sky was the limit for us," Grisell said. "My mom loved working in the store more than cooking and housework."
Jose read the Sun-Times every day and sold the newspaper on Sundays. When he ran out of copies, he joked with customers, "Give me 25 cents and I'll tell you what's going on in the world."
Her father was a person of "strong character" who wanted the best for his family and his neighborhood, Grisell said.
On Halloween, Jose and Maria handed out candy to trick-or-treaters. And on Easter, they sold baskets to neighborhood children.
Jose relished his conversations with neighbors, many of whom he knew by name.
Some of those regulars included then-aldermen Luis Gutierrez and Dan Rostenkowski, both of whom went on to serve in the U.S. House of Representatives.
During the '70s and '80s, the shop was not immune to crime. More than once, the shop was "held up," Grisell said.
Each night, Jose would walk the family's two Dobermans to a nearby park. Grisell and her brothers often tagged along, but their father cautiously carried a gun.
"The neighborhood was not the best," Grisell said. "It's not like it was a bad neighborhood to grow up in, but you were just cautious of your surroundings into the late hours."
Around 1988, as the tide of gentrification began to spread toward Bucktown, Jose sold the store and moved his family to suburban Glenview.
For the next three decades, the new owner maintained the name and the iconic porcelain sign.
A few years after moving to Glenview, Jose and Maria moved back to Puerto Rico. Jose died from pancreatic cancer in 1997. Maria moved back to the Chicago area and died last spring.
Today, all three children live in the Chicagoland area with their families.
Some familiar sights, such as Margie's Candies and McDonald's, remain in Bucktown, Grisell said.
Ciales Poultry Store, 2141 W. Armitage Ave., still sells chickens.
But the majority of the neighborhood has changed, she said.
After more than 70 years in business, Sam's Red Hots hot dogs closed in 2016.
Nook Daycare was once Jay's Italian Lemonade, which Jose Roche bought and dreamt of renaming "Johnny's." He never did.
Around the corner from Jay's was Cafe LaGuardia, a Cuban restaurant known for Tuesday Latin Jazz nights.
RELATED: Sam's Red Hots Calls It Quits After More Than 70 Years In Bucktown 
Grisel & Junior will be replaced by a dentist office, an employee told Block Club last month.
"It's just weird, surreal," Grisell said. "And bittersweet. … That part of our lives is gone."
Before the store closes for good, Junior said he wants neighbors to know his father was a hard worker who cared about the community.
"He was a disabled veteran, but at the same time, he still did what he did," he said. "He always wanted to take care of his customers. … It really bothered him when a customer walked in and walked out with nothing in their hands because we didn't have it. … He was just a hard worker who tried to provide for his community the best he could. And he was honest."
Do stories like this matter to you? Subscribe to Block Club Chicago. Every dime we make funds reporting from Chicago's neighborhoods.
Already subscribe? Click here to support Block Club with a tax-deductible donation.