IRVING PARK — Irving Park is getting bike lane upgrades, an expanded dog park and an effigy mound after neighbors voted on how to spend $1 million in ward money for the first time ever.
Ald. Rossana Rodriguez (33rd) campaigned on a more inclusive budgeting process when she ran for office in 2019, and announced results of the ward's first participatory budgeting process this week. More than 800 people weighed in on how to spend the $1 million.
"We are really proud to bring participatory budgeting to the 33rd Ward and excited for the projects that our neighbors selected," said Veronica Tirado-Mercado, the ward's director of neighborhood services.
Horner Park's dog park, 2741 W. Montrose Ave., will get $25,000 in upgrades thanks to community support. These funds will go towards the installation of a new lead-free water line for a drinking fountain, a paved entry way to the dog park, and a water station for dogs, according to Rossana's office.
Rossana's office also said the funds would help the dog park install a small dog area, benches, mulch canine turf play fields and landscaping to help the dog park be prepared for "all weather conditions."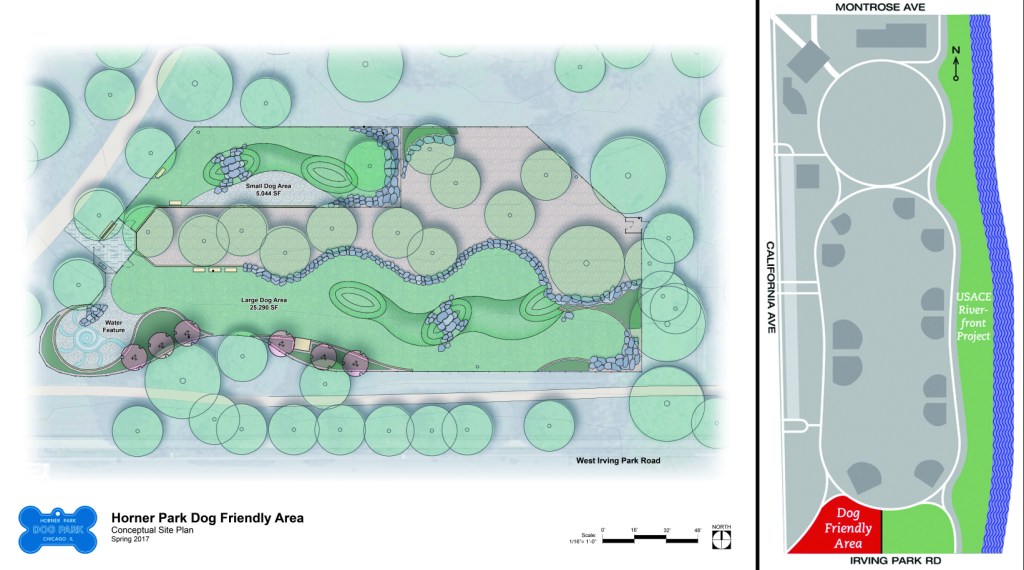 Phase One of the dog park focused on building the fenced-in area at Horner Park. That was completed in August 2018. The dog park is open to the public, but it's currently just a fenced-in, no frills spot.
Neighbors also voted to have $25,000 set aside for the proposed earthen mound at Horner Park by artist Santiago X.
Mounds have had a variety of uses over the years including burial mounds, wayfinding mounds and ceremonial mounds.  The proposed Horner Park mound would be a modern interpretation of these historical mounds, a modern revival of these historical traditions. The mounds are a part of the Northwest Portage Walking Museum that connects the Chicago River to the Des Plaines River via Irving Park Road.  
Santiago X presented his vision for the mound to neighbors in 2018. The Chicago Community Trust awarded the Chicago Public Art Group a Great Rivers Grant to help build the "Northwest Portage Walking Museum Trail." 
The Horner Park mound would be the eastern trailhead for that walking museum, with Schiller Woods acting as the western trailhead. The newly awarded ward money will go towards the construction of the mound at the Horner Park trailhead.
The alderman will also be setting aside $150,000 for bike lane improvements along Kimball Avenue in the ward, though the exact locations on Kimball have yet to be determined, the alderman's office said.
And another $50,000 is being set aside to renovate and expand the Drake Garden at 4643 N. Drake Ave.
More than $500,000 will be set aside for street and alley repairs throughout the ward, Rodriguez's office said.
A total of 802 neighbors voted during a 14 day period between Jan. 13 and Jan. 27 on how to spend the menu money, according to the alderman's office.
"When we started the process we were told to expect around 300 votes because it was our first year. Based on that, we set an internal goal of 500, which we ended up exceeding," Tirado-Mercado said.
The ballot items were submitted by people who live in the 33rd ward, which includes parts of Albany Park, North Park, Irving Park, Ravenswood Manor and Avondale. 
The ward plans to host another participatory budget vote for the 2021 budget. Additional information on how to get involved in the next round of participatory budgeting will be shared by the alderman later this summer.
"This year we had four winners, all great projects to strengthen community engagement and to raise awareness of environmental justice issues," Tirado-Mercado said. "Next year, we are looking to build on this foundation and expand our outreach to areas that had less participation."
Do stories like this matter to you? Subscribe to Block Club Chicago. Every dime we make funds reporting from Chicago's neighborhoods.
Already subscribe? Click here to support Block Club with a tax-deductible donation.