THE LOOP — Some of Chicago's oldest buildings got closer to landmark status after a vote by the city's landmark commission Thursday.
The landmark proposal, opposed by some property owners, would create a Near North landmark district comprised of 15 homes in the neighborhood that were built between 1871 — the year after the Great Chicago Fire — and 1923. The homes are in an area bounded by Chicago Avenue on the north, Grand Avenue on the south, LaSalle Street on the west and Fairbanks Court on the east.
While some building owners testified last month that giving the properties landmark status would prohibit them from selling to developers, others, including philanthropist and architecture enthusiast Richard Driehaus, believe they are the last remnants of Chicago's gilded age and must be preserved. 
A building owned by Driehaus at 17 E. Erie St. would be among those landmarked. Across the street to the east is the Samuel Nickerson House, 40 E. Erie St., which now houses the Richard H. Driehaus Museum, a designated Chicago landmark.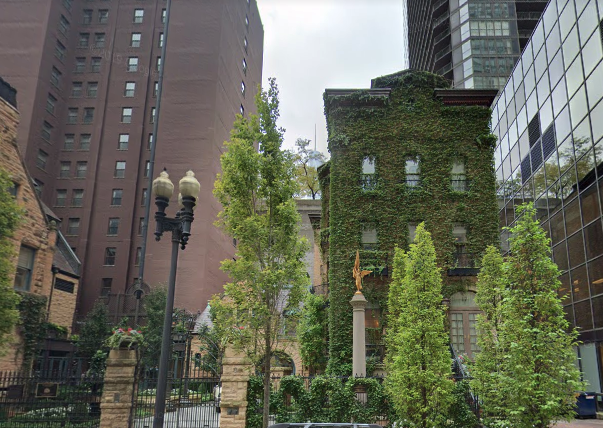 In a letter to the commission, Driehaus said he passionately supported the landmark district. So much of the neighborhood's historic fabric has already been lost, he wrote.
"Too many places today are devoid of the uniqueness that lends itself to memory because we have failed as a society to thoughtfully preserve the places that we have inherited and to create new ones that resonate emotionally," he wrote.
But other property owners that would be affected by the landmarking said they should have the right to develop their properties as other nearby owners have — something landmark status would prohibit.
Last month, neighbors testified on the issue in front of Michael Gaynor, Chicago's supervising corporation counsel; Dijana Cuvalo, architect with the city's Department of Planning and Development; and Rafael Leon, chair of the Commission on Historic Landmarks.
RELATED: 15 Century-Old Near North Side Buildings Set To Be Landmarked, But Some Neighbors Aren't On Board
The city proposed the landmark district after receiving a permit application to demolish three buildings at 42, 44 and 46 E. Superior St. in September 2018. The application was subject to the city's 90-day hold, which was extended by an additional 90 days after a request by the Department of Planning and Development's Historic Preservation Division, Cuvalo said.
At the time, the owner of the three buildings on Superior Street was in talks with a developer who planned to build a 60-story tower on the site. That plan currently is in limbo, said Chris Carley, a friend of the owner who testified to the commission on his behalf.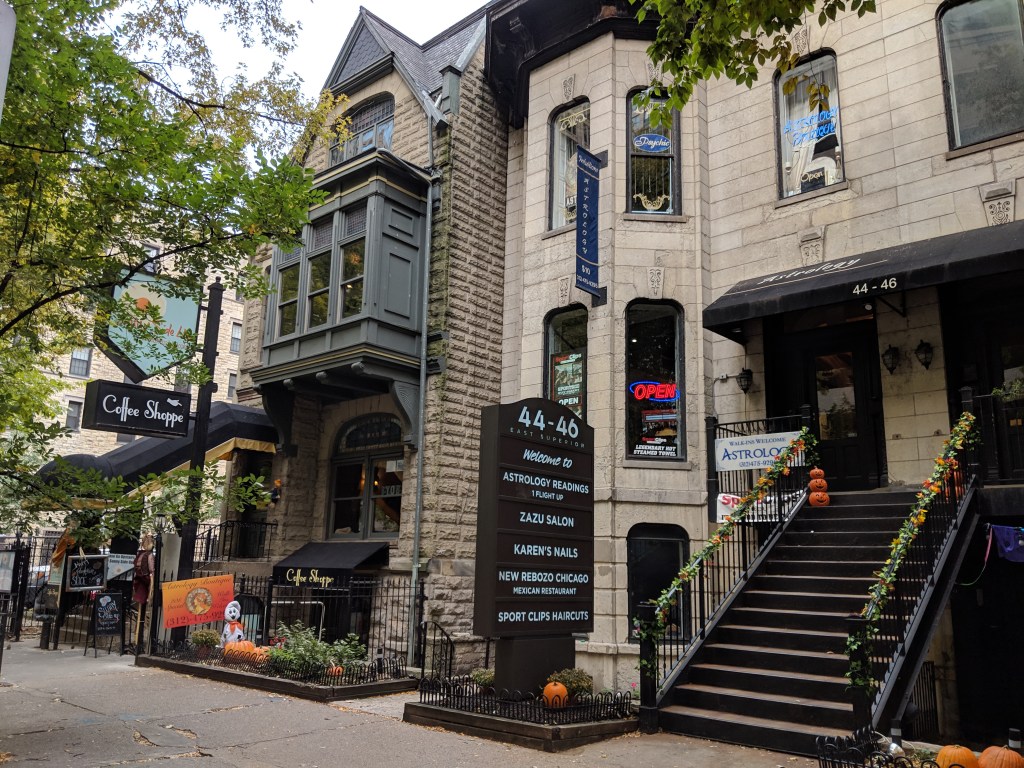 Cuvalo said the department then evaluated the buildings on Superior Street during the demolition hold for possible designation. 
"Rather than deal with these three buildings in an ad-hoc fashion, it became clear that a holistic approach was needed for singular, historic residential buildings in the Near North Side from the late 19th and early 20th centuries," Cuvalo said.
All 15 of the buildings were originally homes, but several now house businesses. A building at 1 E. Huron St. houses a hair salon on the first floor, fitness studio on the second floor and a residential apartment on the third floor.
Half of the buildings under consideration were built in the decade after the 1871 fire and are Italianate in style. Italianate style, which is loosely based on traditional Italian country architecture, was the most popular architectural style in Chicago during the 1870s, according to a report commissioned by landmark district supporters. Other buildings under consideration are examples of Second Empire, Queen Anne, Romanesque Revival and Colonial Revival architectural styles, all of importance to the history of Chicago architecture, according to the report. 
But some neighbors said buildings should not be considered historically valuable just because of their age. Cindi Tyler, who owns the three-story building at 1 E. Huron St., which was built around 1880, said she does not consider it architecturally significant. Designating it as a historic landmark will prevent her from making money on the property, she said.
"I bought it as an investment 23 years ago," Tyler said. If the proposal is ultimately passed, "I'd never be able to sell to a developer. I'm on a corner of State and Huron where [other buildings have] already been developed. I'll never be able to sell it as a development, which has always been my intention." 
On Thursday, the commission assured property owners any ordinance would reflect their concerns and would allow visible additions at the rear of the buildings if they were set back far enough from the street. However, if landmarked, the owners would not be able to tear down the buildings or make any changes to their historic facades. They would be allowed to change the interiors.
The commission's recommendation in favor of landmark status still has to be introduced in City Council, and final approval could come as early as next month. 
The 15 proposed properties include:
642 N. Dearborn St., circa 1872, architect unknown
17 E. Erie St., circa 1870, architect unknown
14 W. Erie St., built in 1875, architect unknown
110 W. Grand Ave. circa 1872, architect unknown
1 E. Huron St., built in 1880, architect George H. Edbrooke 
671 N. State St., built in 1876, architect unknown
9 E. Huron St., circa 1870 with front addition by architect Edgar Martin in 1922-23
10 E. Huron St., built in 1883, architects Cobb & Frost 
16 W. Ontario St., circa 1872, alterations in 1888 by architects Ackermann & Starbuck
18 W. Ontario St., circa 1872, architect unknown
212 E. Ontario St., built in 1885, architects Burling & Whitehouse 
222 E. Ontario St., built in 1885, architects Burling & Whitehouse 
716 N. Rush St., built in 1883, architect Henry Ives Cobb 
42 E. Superior St., built in 1883, architects Treat & Foltz 
44-46 E. Superior St., built in 1872, builders Agnew & Hennessey
Do stories like this matter to you? Subscribe to Block Club Chicago. Every dime we make funds reporting from Chicago's neighborhoods.
Already subscribe? Click here to support Block Club with a tax-deductible donation.