LINCOLN PARK — In the city that works, Toronzo Cannon literally and figuratively wears the Chicago flag on his sleeve.
But even if Cannon didn't have the four six-pointed Chicago stars tattooed on his right wrist, it wouldn't take long to learn Cannon, who grew up in the shadow of the Robert Taylor Homes at 49th Street and Michigan Avenue, is the embodiment of everything Chicago.
Cannon continues to drive a CTA bus 26 years after first getting behind the wheel. He's a devoted father and, as a bonus, an internationally renowned bluesman who has played for audiences all around the world.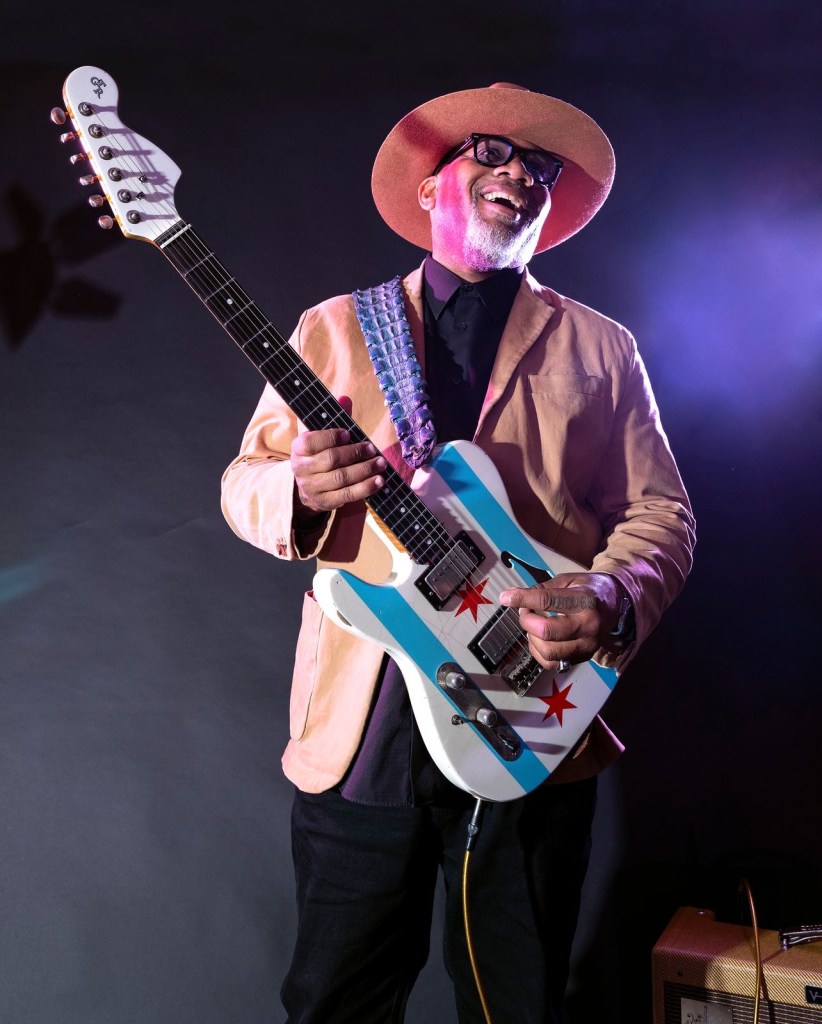 Cannon, who turns 52 on Feb. 14, is promoting his latest album, "The Preacher, The Politician or The Pimp." He sat down with Block Club Chicago to talk about his career and the city he loves.
Dressed in pressed blue jeans with sharp creases, a matching blue button-down shirt, Wayfarers and a black leather jacket and boots, Cannon looks more like the internationally respected musician he is than a regular working stiff — which he also is.
But it's Friday and Cannon is off, having arranged his schedule to work four 10-hour days to have three-day weekends to gig. 
Cannon has been around for years and has played Chicago's Blues Fest in various capacities 10 times, ranging from side-man to headliner. But he's only put out two albums on Alligator Records and in some circles is still regarded as a "newbie." That may be something unique to blues, which often relies on life experience to give credibility to an artist — something Cannon definitely has.
"I think the young guys have life experience but don't talk about it much," Cannon said, while sipping on a coffee in Lincoln Park, where he recently moved from Bridgeport. "They go with the old tropes of,  'My woman left me' types of songs. For me, there's more stuff out there, especially where I work. So there's more than, 'My woman left me.' That's going to happen. If you have a woman, eventually she's going to leave, statistically speaking."
Where he works is the subject of many stories about Cannon, and he's the first to admit the "CTA bus driver by day, star musician by night" is an intriguing story and one his label has marketed to the max.
"It shows I'm a regular person. I get to travel the world and then come back and I'm just a regular guy, a bus driver. I think it shows that this is a real blues guy because I'm still out in the streets," Cannon said.
Indeed, Cannon, given his first name by his grandfather to honor the Native American blood in the family, still works his day job, not only for the pay and benefits (something his song "Insurance" covers on his latest album), but for the inspiration. Despite that, he said some have questioned his dedication to the music over the years — but he offers no apologies and said for him having a safety net is essential and smart.
"I don't subscribe to the starving artist thing. I think sometimes people with my background, being from the neighborhood I grew up in, there aren't a lot of second chances, so I'm always afraid to go out on a limb. There has to be a branch on that limb, I need to see some way out.
"I've gotten into some strong discussion with other musicians who say I'm not taking my craft seriously, that if I don't go out on a limb I'm not a real musician. Most of those guys who were talking had girlfriends or wives that have money so they could afford to go out on a limb. No one's going to make me feel bad about my path to play this music."
Cannon said Bruce Iglauer, head of Alligator, the Chicago-based label that also happens to be the biggest blues label in the world, was hesitant to sign him because he was still working.
"I don't think he's ever signed a blues man with a regular job," Cannon said. "When I told him I could make things happen, take my vacation and do what I have to do — you know, the Chicago way. I do what I have to do to do what I want to do."
That's exactly what Cannon has done, and he has risen to be one of Alligator's most popular draws around the world, all while paying homage to the city he was born in and loves. And in turn, Alligator has done a great job promoting him and helped him with negotiating better concert deals, Cannon said.
"When I first talked to Alligator I told them I didn't want to be a regionalist blues man," he said. "Chicago is where I was born, where I love. This is my area. I wanted to stand on Chicago's shoulders.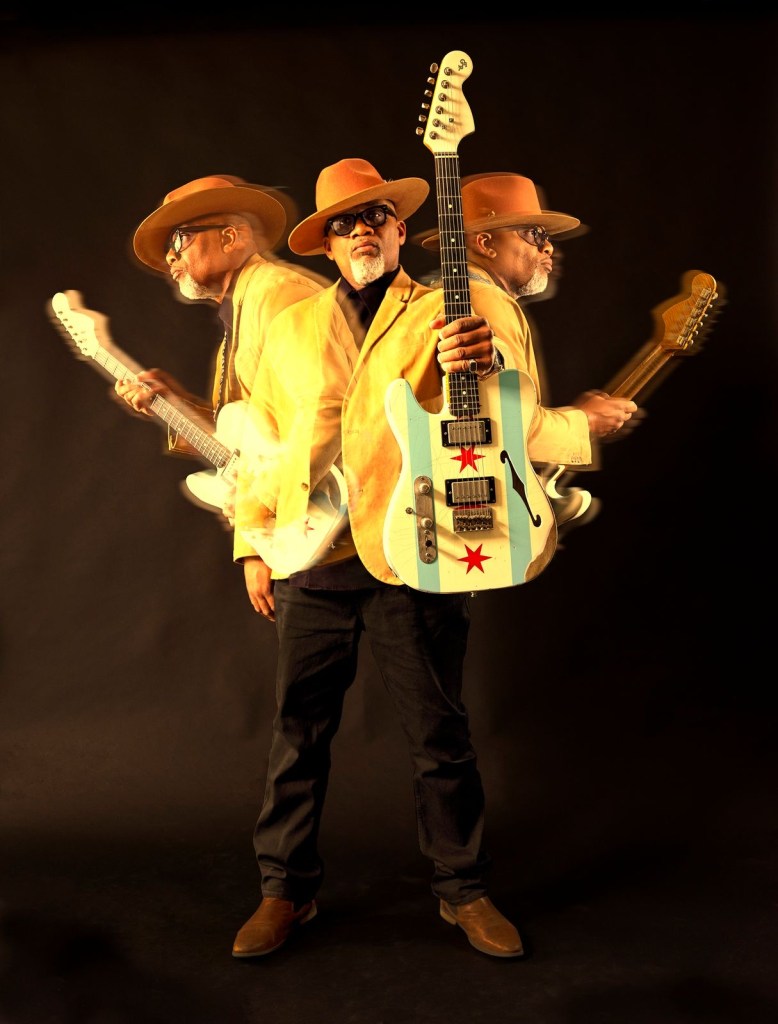 "With some blues musicians, you don't know where they are from. They may talk about about Chicago but they may be from Florida or New York. … It's just nice to be in the area where the soil is real fertile. I just want to do my part. I'm not trying to be king of the blues of Chicago."
Ironically, because of demand to play festivals around the country and overseas, Cannon only plays Chicago three to four times a year now, down from playing about 40 Chicago gigs annually just a few years ago.
He said he loves to play Chicago but does think Chicagoans tend to take blues for granted. 
"I think we take it for granted because we can just roll out of the bed and go to a bar that's open until 3:30 or 4 in the morning. I just played in Michigan last week and they don't have that. In France and Switzerland, people drive two to three hours to see a show. It's like a delicacy and it humbles me out because in my mind I'm like, 'I'm just a bus driver.' But thank you for coming out," Cannon said.
While Cannon's music has taken him to the four corners of the globe, his "day job'" sustains his music, as he often comes up with song ideas while driving. His bus route changes every three months, so he gets to see all sides of the city, which only adds to his inspiration. Currently his route is on the West Side.
"I'm in this vehicle 10 hours a day with myself watching for traffic, seeing poverty, seeing whatever. I have thoughts and think of scenarios and expound on that," Cannon said. "So, everything is not directly what I see. It's just that I'm in my thoughts all day. It can be pretty lonely in the front. You're just driving."
Musically, Cannon said he's not the best guitarist in the world and he is OK with that. He'd rather connect through the songs he writes.
"I'm not Mr. Guitar Virtuoso. I get my point across. Bruce [Iglauer] told me a long time ago, 'People leave your shows singing the songs, not the guitar solos,'" Cannon said.
Indeed, listening to some of his songs it's easy to see they were spawned while driving his bus, like "The Pain Around Me" from his 2016 Alligator debut, "The Chicago Way." The song was written by Cannon when he was driving a West Side bus route and begins:
"Six kids on the corner, up to no damn good. That's six broken homes strugglin' in my neighborhood. You got liquor stores everywhere on my side of town. I don't want my kids to go outside, 'cause the thugs are hanging around. Don't get me wrong, I don't want to sing this song. About the pain around me, Lord, but this is what I see, what I see."
While many of his songs are inspired by Chicago, Cannon said he does have songs that are not specific to any region, like "Insurance" on the current album, "Johnny The Conquer Root" from his 2013 Delmark album of the same name; and "Bad Contract" from "The Chicago Way."
"I'd still try to write about whatever was going on in my life and whatever was going on in the area where I am. I guess I can't imagine no other area. But it's not always about the area, sometimes it's about life experiences," he said. "I wrote 'Bad Contract' about divorce like five years ago. I'd say it's a premonition song now. But I got that concept from a Howard Stern show I heard 12 years ago. Sometimes thing stick in my head and I remember him saying, 'Look at marriage, that's a bad contract.' Years later I wrote a song about it."
Cannon also avoids blues stereotypes and what he describes as "women-hating songs."
"For the most part I want to write songs that people can relate to, things between the lines. It's ain't all about a woman, ain't all about losing the money," he said. "And it's not about partying or big booties and barbecues. So if you write a song about getting insurance, people take it for granted but it's a real thing." 
Going forward, Cannon said he's going to continue to promote himself and the blues — something the Grammys and American Music Awards have taken for granted, and something he wants to change.
"I think it needs to be more popularized [in America]. Like at the Grammys, our category isn't even televised. The way I see it, if there was no blues, there would be no Grammys," he said. "Blues is the basis of all American music. I'm talking to the Grammy board so they give respect to the lineage. And there aren't any American Music Awards for blues, which is a big slap in the face."
Cannon also wants to write for others, having been "flattered" recently when he heard his song "Johnny the Conquer Root" being covered by The Natural Fact Band.
"They funked it up. I was in my room thinking, this is cool that someone would love my words and do 'Johnny the Conquer Root,'" he said.
As for who he would like to write for, his friend Gary Clark Jr. comes first to mind, as does Shemekia Copeland, who was just named headliner for the 2020 Chicago Blues Fest.
"I hear something in her voice that I think I can bring out in some of my songs," Cannon said.
He also wants to keep being one of the most innovative blues artists around.
"I told [Bruce Iglauer] a long time ago that I want to be the first, I don't want to be just a regular Alligator artist. I want to be the first to do certain things with the label. Having women singers," he said. "In the song 'I'm Not Scared,' I'm not even singing. There's three different singers. He was a little bit against that. He said, 'How are you going to translate that on stage?' I said, 'I don't know but I wrote the song and I would hate for the song to just go away.'"
Whichever way Cannon goes, one thing seems assured: He will continue to carry the torch of the Chicago blues around the world and continue to do what he needs to do in order to do what he wants to do — otherwise known as the Chicago Way.
Toronzo Cannon's next Chicago-area appearance will be March 13 at Fitzgerald's in Berwyn. Additionally, he will be a guest on The Interview Show, which airs on WTTW Chicago at 8:30 p.m. Feb. 21.
Do stories like this matter to you? Subscribe to Block Club Chicago. Every dime we make funds reporting from Chicago's neighborhoods.
Already subscribe? Click here to support Block Club with a tax-deductible donation.