HYDE PARK — Brown Books and Paintbrushes, a Hyde Park-based nonprofit, is celebrating Black History Month with events intended to "empower young African American boys and girls" through literacy and history.
A workshop celebrating "bold women and exceptional men" throughout Black history kicked off the tour on Feb. 2. The rest of the month's events include:
Books, Drums and Dads, 1–3 p.m. Feb. 9 at the Quarry Event Center, 2423 E. 75th St.
There's a President in the Park, Feb. 22 at the Jackson Park Field House, 6400 S. Stony Island Ave.; time TBD.
Black Boys Do Yoga, 11:30 a.m.–1 p.m. Feb. 23 at the Quarry Event Center.
The Free Black Children's Library, Feb. 29 at the Hall Library, 4801 S. Michigan Ave.; time TBD.
The Books, Drums and Dads event is a kid-friendly version of the Quarry's weekly men's mental health circles, said Candice Washington, founder of Brown Books and Paintbrushes. Like the circles, Sunday's event will be limited to boys.
"African drummers and dancers will come out and teach Black men and boys about our history and our culture," Washington said.
Kids can also read and discuss the book "In the Time of the Drums" by Kim Siegelson, which explores how drums helped African slaves remember and reconnect to the lands they had been stolen from.
On Feb. 22, There's a President in the Park will celebrate the planned Obama Presidential Center. The event, held in conjunction with South Side Neighbors for Hope, will be held blocks from the center's site plan at the Jackson Park Field House.
Kids can design and create presidential centers of their own using blueprints, Legos and a woodworking table.
Local artists will be on hand to help attendees mimic Barack and Michelle Obama's presidential portraits.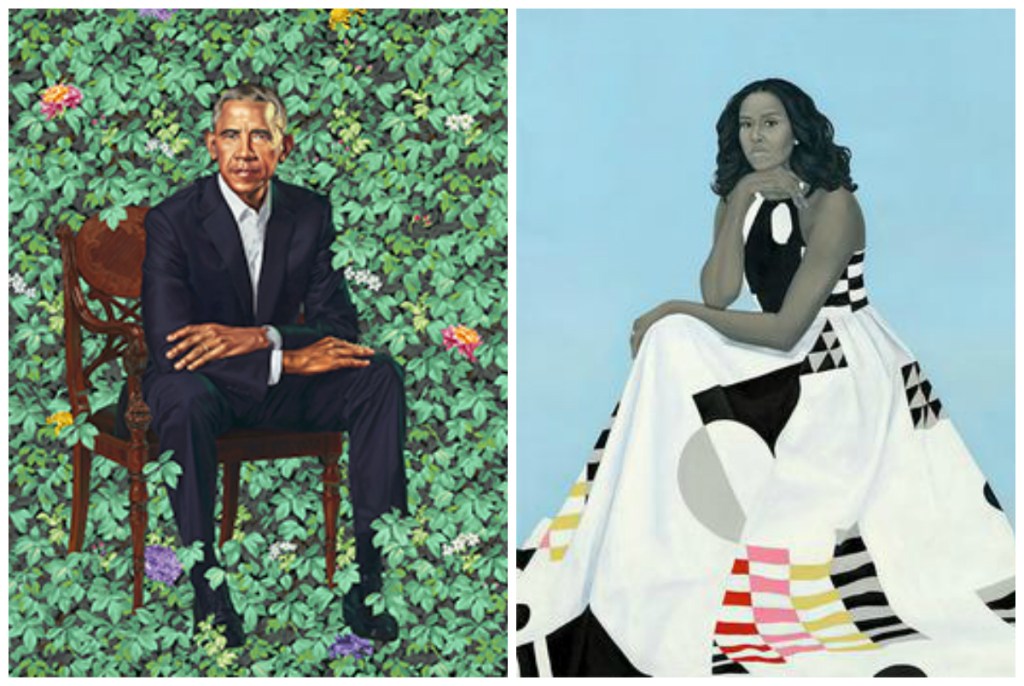 The pieces by Kehinde Wiley and Amy Sherald — drastic departures from the muted portraits of the past — are the first presidential portraits painted by black artists.
There will also be a reading room with books on the Obamas and other black "trailblazers," like traffic signal inventor Garrett Morgan.
On Feb. 23, Black boys are invited to practice yoga at the Quarry. Following the session, organizers will hold a panel discussion on finding peace and practicing mindfulness as a Black male, Washington said.
Closing out the month is a Black authors and illustrators book swap on Feb. 29, inspired by Olaronke Akinmowo's Free Black Women's Library.
Akinmowo is a Nigerian American woman "who set a bunch of books on her porch one day that were written by African American women and said, 'I'll swap you one if you swap me one,'" Washington said. "I thought, 'There's nothing for Black children like that.'"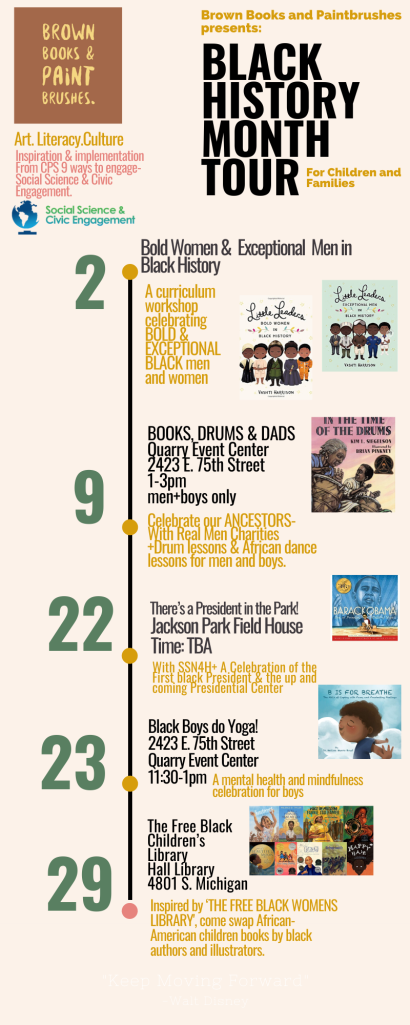 Washington stressed the event will be a book swap, not a giveaway. She'll also show off Black history artifacts she's collected over the years.
An issue of the first magazine for Black children — W.E.B. DuBois' "The Brownies' Book" — and signed copies of children's books by Toni Morrison and Nikki Giovanni will be on display. Those aren't for swapping, Washington half-joked.
The Black History Month Tour was created "to empower and to create this healthy racial identity — you are black and you are somebody," Washington said. "You can do anything, just like your ancestors who have been through so much just for you."
Do stories like this matter to you? Subscribe to Block Club Chicago. Every dime we make funds reporting from Chicago's neighborhoods.
Already subscribe? Click here to support Block Club with a tax-deductible donation.