AVONDALE — For years, artist and Avondale resident Lynn Basa has been on a crusade to fill the empty storefronts along Milwaukee Avenue and make the stretch vibrant again.
For Basa's latest effort, she's enlisted another artist, David Orozco, to paint a mural at 2901-2903 N. Milwaukee Ave., a vacant and boarded up building.
It will depict Blue Goose grocer, a small business that called the now-vacant building home in the 1920s, back when vacant storefronts were rare on the stretch of Milwaukee.
"This is part of a larger initiative to bring Milwaukee Avenue back to life with the immigrant working-class small businesses," said Basa, who owns a building kitty corner from the mural building.
The mural will be based on a 1920s-era photo of Blue Goose owner Stanley Zielinski and workers outside of the vegetable and fruit market.
The building has sat empty for a few years. It was previously was home to a botanica and a small appliance shop, according to Basa.
The building is in the process of changing hands, but Basa couldn't say if any new businesses will be moving in. The sale is not listed in public records and Barnett Capital, the current owner, couldn't be reached for comment Wednesday.
In the meantime, Basa hopes the public art serves as a symbol of Avondale's glory days and inspires neighbors to reimagine its future.
"A long line of mom-and-pop shops made the street vibrant. It was only until recently this street started gradually going downhill, getting more vacancies," she said, adding, "All of the ingredients are here for our rejuvenation."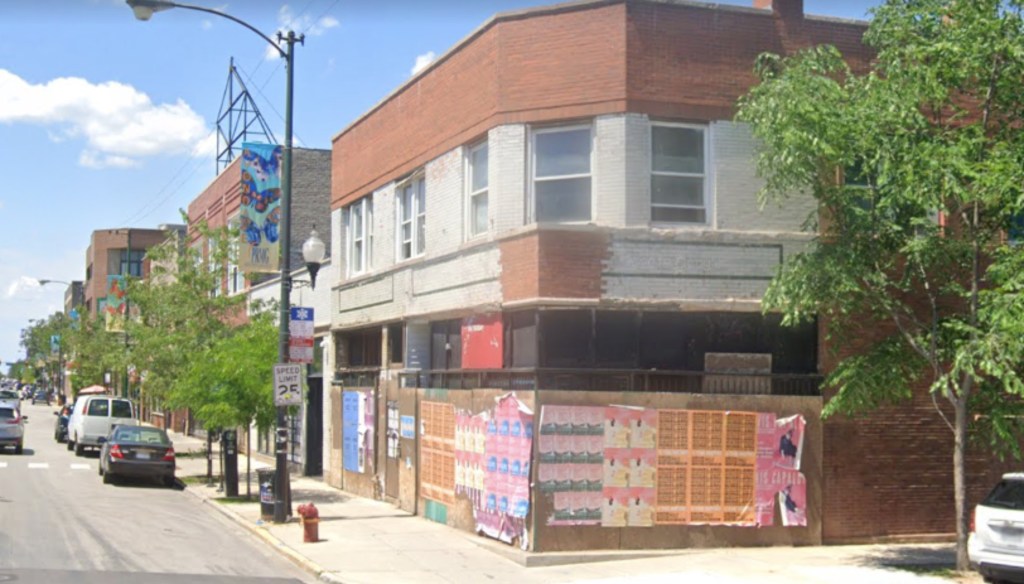 Orozco will begin working on the mural Saturday and expects it to take a little more than a month to complete.
Basa found Orozco through the nonprofit radio station and community art center Que4. She was struck by Orozco's ability to replicate photography in his art.
Orozco, a commercial artist who primarily makes a living off of sign painting, window painting and graffiti-based projects, also has personal ties to the neighborhood. He grew up in Logan Square and now lives in Belmont-Cragin.
"I like the fact that she's trying to revive the neighborhood because I grew up in the area," Orozco said of Basa.
"Businesses come and go. Looking at the photo, it looks like it was a very vibrant community."
Basa and Orozco are encouraging neighbors to come out and help paint on Saturday and Sunday. Kids are welcome.
Through happenstance, the granddaughter of Stanley Zielinski, owner of Blue Goose, plans to come out.
To get the project off the ground, Basa is looking to raise a total of $6,000 in community donations.
The money raised will go toward art supplies and equipment. It will also go toward paying Orozco for his work. People who donate $500 will get a four-inch-by-eight-inch panel of the mural when it comes down.
Basa said so far other neighbors are in support of the project.
"Everyone wants to see this street, this old commercial main street, come back to life," she said. "Everyone sees the potential. That's the appeal of it."
Donations can be made online through the Logan Square Chamber of Commerce or in person by mailing or dropping off a check at 3147 W. Logan Blvd., Suite 12.
Do stories like this matter to you? Subscribe to Block Club Chicago. Every dime we make funds reporting from Chicago's neighborhoods.
Already subscribe? Click here to support Block Club with a tax-deductible donation.