ALBANY PARK —Recent shootings in Albany Park have neighbors on edge, but one area landlord said he's being unfairly blamed for the chaos.
On Tuesday evening, police, elected officials and neighbors gathered at Wilson and Kimball avenues for a roll call, where 17th District Police Cmdr. Ronald A. Pontecore Jr. spoke to residents about recent violence, including a Sunday shooting that left a firefighter wounded.
He was not the intended target, police say, but neighbors believe the incident was linked to an apartment that's been taken over by squatters at 3359 W. Wilson Ave.
Bullet holes could be seen in the window of the building Tuesday, and neighbors said drug activity there has been rampant. Police recovered guns from the building as well.
Cmdr. Pontecore said he's tried to reach the building's landlord, Gary R. Carlson, in recent days — but the landlord doesn't make it easy.
"You call this landlord's phone number and get his 10-minute voicemail message where all he does is keep repeating over and over that his office is only open from 8 a.m. to 8:30 a.m. Monday through Thursday," Pontecore said. "Then, when that's finally over you find out his voicemail box is full and you can't leave him a message."
Carlson's voicemail indeed says he's only reachable for 30 minutes four days per week. It's that way for a reason, Carlson told Block Club Wednesday.
"If I know someone is going to call me, I make myself available. But you have to understand that if you're a landlord you want to limit your accessibility to people," Carlson said. He said he'd call the commander back after Block Club relayed the message.
Carlson's Wilson Avenue building is one of dozens he owns across the city. According to a 2016 investigation by the Chicago Sun-Times and the Better Government Association, Carlson owns at least 60 buildings with more than 500 apartments in and around Albany Park and Irving Park. While he's received hundreds of code violations over the years, all issues were quickly resolved, the report found.
RELATED: Shooting Of Firefighter The Last Straw For Albany Park Neighbors: 'It Didn't Used To Be Like This'
On Wednesday, the former auto mechanic who first started buying apartment buildings in the early 1980s said he's the one who should be frustrated by the violence: He's been trying to get police to help him get rid of squatters for months.
"I would have been at the roll call last night but no one invited me," he said. "Somehow those people got into his apartment. This is not the first time something like this has happened to me in one of my buildings. I've been evicting one tenant after another for the last two or three years. These people ingratiate themselves to my tenants and then cause problems when they take it over."
He had not filed eviction papers in court, however.
Carlson said he had been renting to an a man without issue since May 2015. When that tenant moved to Virginia, others moved in without his approval.
During the last two CAPS meetings for beat 1722 and 1723 in the 17th District, Carlson said he told police about the squatters and asked officers to do something about it.
"The CAPS meeting is always the third Wednesday of the month at the 17th District station. No one has attended more beat meetings than me. People want to blame me for this but I told police about what was going on and they didn't do anything until the shooting that happened," Carlson said. "The police would not put these people out. The only time police do anything is after there is gunfire."
Since the Sunday shooting, the apartment has been empty. Carlson said he's having a worker clean it out and repair the shot out windows.
"I hate to have to say it but the finger should be pointed at the 17th District," Carlson said. "They should have come out to do what they eventually did, put the squatters out, long before the shooting happened."
While neighbors and Carlson say police evacuated the squatters, the police department would not confirm any arrest at the location.
Albany Park is 'better than it's ever been'
After hearing from vocal Northwest Siders about recent crime, Mayor Lori Lightfoot agreed to deploy additional police resources to the 17th Police District late last month.
Carlson said he's lived in Albany Park since 1959 and attended Roosevelt High School, which sits across from the building he owns at Wilson and Kimball avenues.
"I'm 68 years old and been a landlord since 1982," he said.
"This is rough-and-tumble Albany Park. Right now it's better than it's ever been because there used to be a lot more crime years ago. It's clearing up because of gentrification. Gentrification is moving the neighborhood up. But this is a citywide problem and to solve it you need more jobs for everyone so they don't sell drugs."
Pontecore and Ald. Rossana Rodriguez (33rd) said landlords are responsible for the safety issues in their buildings.
"Property owners could lose a lot if there are things going on in their building that are illegal and they catch wind of it but just let it keep happening," Pontecore said. "They run the risk of going to court and losing that building. They need to be responsible building owners and use common sense to keep the neighborhood safe."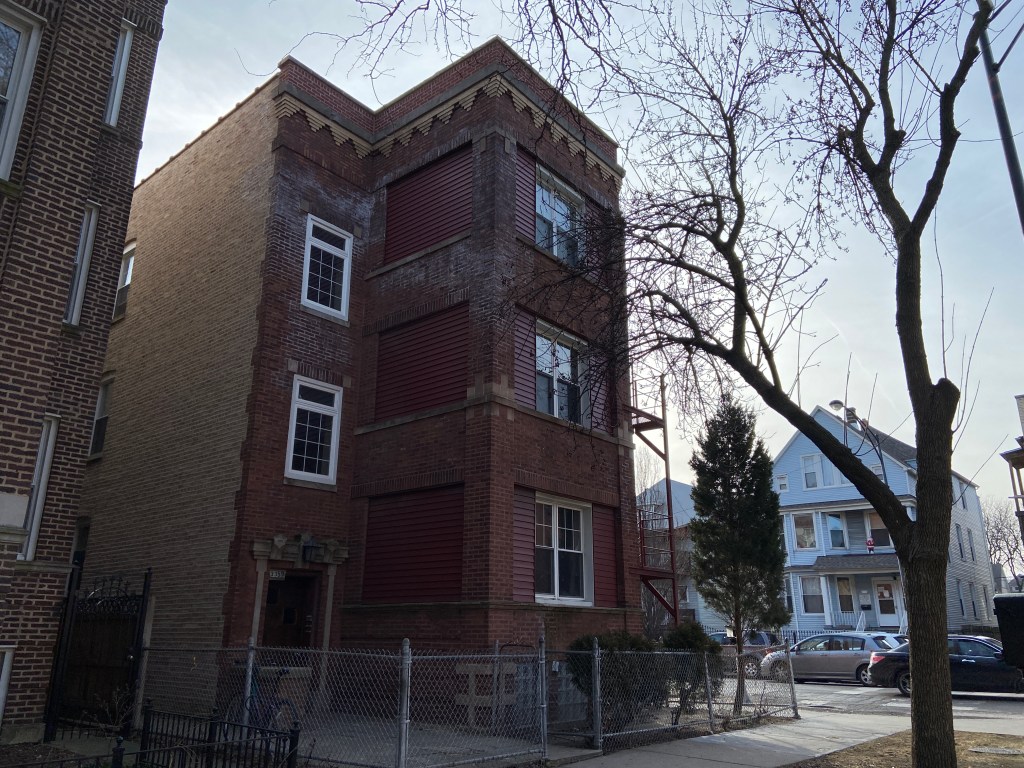 Longtime residents say the recent wave of violence has interrupted the relative calm the neighborhood has experienced in recent years.
"There's always been crime and violence here. That's always been a problem and it happens in cycles. Over the past few years though, it seemed like it was finally calming down," said Cecelia Garcia, in Spanish. "But when the cops left then the violence returned. It's a very hot area again."
RELATED: After Public Outcry, More Cops Will Be Sent To Albany Park, State Rep Says
Garcia said she's lived in the neighborhood for 22 years and has heard sporadic late night gunfire along Wilson Avenue.
"As a mother I can't sleep peacefully until my children and husband are safe at home from working late at night," she said. 
On Jan. 21, a 51-year-old man was shot in the 4600 block of North Kedzie Avenue, just east of where the firefighter was shot. 
"Until now the community has been afraid to speak out against the gangs causing this violence because we didn't know if they would target us and our families for doing so," Garcia said. 
Ahead of Tuesday's roll call, Ald. Rodriguez said she would continue to advocate for violence prevention programs in her ward.
"I'm always open to talk to neighbors to figure out what is going on if a neighbor doesn't feel safe," Rodriguez said. "I don't want people to live in fear."
"Every landlord is responsible for their property. Rental units have to be in good condition, and tenants should feel safe," she added, urging renters who feel unsafe to contact her office.
Do stories like this matter to you? Subscribe to Block Club Chicago. Every dime we make funds reporting from Chicago's neighborhoods.
Already subscribe? Click here to support Block Club with a tax-deductible donation.