ALBANY PARK — An Albany Park drug house is being blamed for a series of shootings in the neighborhood, one of which left a Chicago firefighter injured this weekend.
Tuesday at 5 p.m., neighbors and police will gather with elected officials at Wilson and Kimball avenues, near where a fireman was shot while putting out a car fire early Sunday.
Police say the firefighter, who is recovering from his injuries, was not the intended target.
After the shooting, officers found three guns in a nearby apartment — and neighbors say they aren't surprised.
"Tenants in that building lived in fear of the people who took over the first floor," said Ishmael Alvarez, a neighbor who lives nearby. "Just look at the gunshots in the windows. That's a good indication of the things that were happening there."
Alvarez said police were seen arresting people from the apartment at 3359 W. Wilson Ave. after the firefighter was shot, but Chicago Police Department spokeswoman Maggie Huynh said no arrests have been made.
"I'm glad that they got them out of there," Alvarez said. "The police came after the firefighter was shot and arrested everybody in that apartment. They're all gone now."
RELATED: Firefighter Shot While Putting Out Car Fire In Albany Park
Neighbors on the block allege people were using the first floor apartment at 3359 W. Wilson Ave. to sell drugs.
Monday afternoon, the first floor window of the apartment had eight bullet holes in the glass and appeared empty. 
After the shooting, Ald. Rossana Rodriguez (33rd) took to Facebook to let neighbors know the firefighter was recovering — but neighbors wanted to know more. Specifically: Why are all these shootings happening and what is being done to stop them?
One neighbor said he was considering moving after having two shootings over the past month within blocks of each other on Wilson Avenue.
A 51-year-old man was wounded by gunfire Jan. 14 in the 4600 block of North Kedzie Avenue, just east of where the firefighter was shot. The neighbor said he and his wife are increasingly concerned by these shootings.
"I would rather not have hollowpoints coming through my window from across the street," the neighbor said.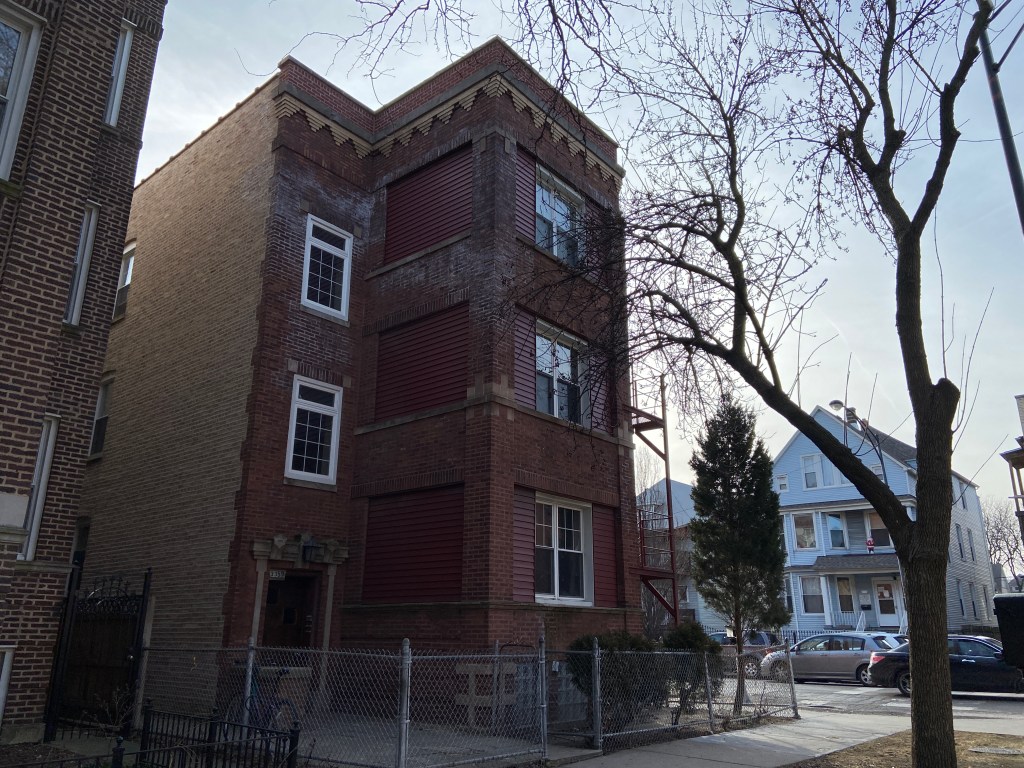 As for the cause of the violence, Rodriguez didn't have answers Monday.
"The district commander has increased the police presence in the area," Rodriguez (33rd) told Block Club Monday. "And they're sending officers to do more 'missions' in the area too. The police are aware of the situation. But they told me there's still an ongoing investigation and couldn't say more."
'The folks there scare the s–t out of me'
Marked and unmarked police cars were circling the block every 15 minutes Monday afternoon. A plain-clothes officer was seen entering the first floor apartment at 3359 W. Wilson Ave., but wouldn't answer questions.
Other neighbors on the block, who wish to remain anonymous fearing their safety, said they saw people living in the first floor apartment selling drugs.
Alvarez said the unit was previously occupied by an elderly man, but rumors have swirled that he was kicked out by a group of squatting drug dealers.
"They chased that poor old man out of that apartment," Alvarez said. "They were more than squatters, they kicked the old man out of that apartment."
The building's landlord, Gary Carlson, could not be reached for comment despite multiple attempts.
"The apartment building on that corner is shady as hell," said another neighbor, who asked not to be named. "The regular late hour visitors and on the street shenanigans around that place…The folks there scare the s–t out of me."
State Rep. Jamie Andrade Jr. said tenants in the building contacted him about problems in the first floor apartment, including intimidation, electricity theft and other issues.
Andrade said he relayed this information to the Albany Park (17th) police district during a Jan. 21 CAPS meeting.
Andrade said he's been making a point to visit the area in the last month, and he's witnessed people who look like they are very sick or on drugs coming and going from the apartment. 
"Last week I was walking around there and I saw the apartment still had the people inside and asked the landlord for an update on the eviction process," Andrade said.
He also has not heard back from Carlson, the building's landlord, about the issue.
Letecia Chavez said she's lived in the neighborhood for the past eight years and used to love it. But she's seen a steady increase in gun violence related to drug dealing on the block.
"There are kids selling drugs all along Wilson for blocks in either direction from [Roosevelt] high school," Chavez said in Spanish. 
While she didn't blame the specific apartment others were discussing, she said she no longer feels safe in her community.
"I just don't walk in peace like I used to," she said. "I especially don't go out at night anymore if I can help it. It seems like there's shootings happening here pretty often now." 
Rufus Amusan also lives on the block. When he first moved to the area in 2012, he said the block was much quieter and his family felt safe. Not anymore.
"I had just gotten home from my shift around midnight and was starting to fall asleep when I heard bah, bah, bah bah. Just all these gunshots that woke me and my wife up," Amusan said. "It didn't used to be like this when we first moved here."
Police will discuss their efforts to curb the violence at 5 p.m. Tuesday during a roll call at Wilson and Kimball avenues.
Anyone with information about recent shootings is asked to contact Area North Detectives at (312) 744-8261 or to send tips anonymously via CPDTip here.
Do stories like this matter to you? Subscribe to Block Club Chicago. Every dime we make funds reporting from Chicago's neighborhoods.
Already subscribe? Click here to support Block Club with a tax-deductible donation.