ALBANY PARK — The owners of a cafe slated to open later this month near the Kedzie Brown Line stop are being attacked in a series of posters popping up in the neighborhood.
Khepri Cafe, owned by Albany Park residents Tatum Drewes and Issac Melton, is set to open at 4650 N. Kedzie Ave. The new cafe will bring healthy food options, coffee and a community space to the now-vacant space, owners said.
But an anonymous group called For The People Chicago believes the cafe will lead to gentrification. In a Facebook post and in fliers posted around Albany Park, the group accused the couple of "exploiting working people," though the group could not be reached to answer questions about these claims.
"Our community has had enough and are ready to fight back," the group's Facebook reads. "We don't need nor want CBD coffee and the 'good vibes' Khepri will provide."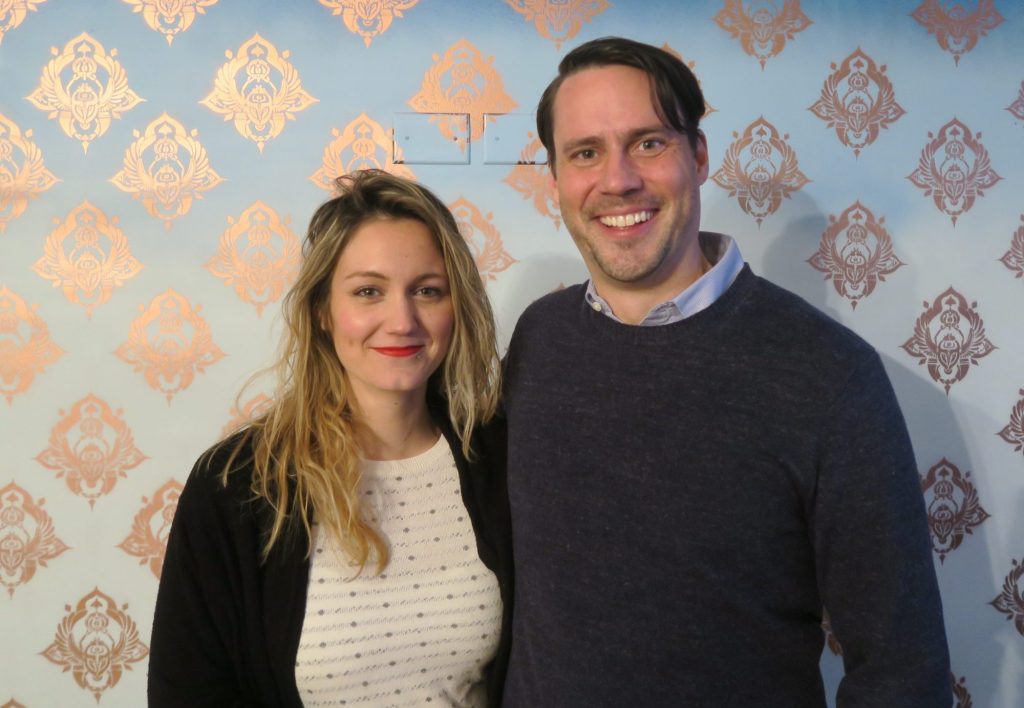 Posters from the group claim the business will bring "developers, gentrifiers, and police into the community" and make Albany Park more "white and expensive."
Drewes, who has lived in Albany Park for four years, told Block Club she is aware of the flyers and denied the group's allegations that she or her partner were exploiting anyone.
"We are dedicated to the community and have prioritized hiring within Albany Park and paying a generous wage. We have made it a point to make our menu and retail items affordable," Drewes said. "We are sensitive to the issue of gentrification and do not want to be disrupters, but rather a community-focused business. Especially because we live right here in Albany Park."
The flyers were the first time she'd seen opposition to the cafe opening, she said.
Ald. Rossana Rodriguez (33rd), the Albany Park Chamber of Commerce, neighbors she's met participating in Flavors of Albany Park and the Lot Jams summer concert series and other Albany Park business owners have been very supportive about Khepri opening in the neighborhood, she said.
Drewes said For The People's mission of "combating food and housing insecurity" is something she herself is passionate about, and had the group reached out she would have been open to listening and even working together.
"We would hope to partner with organizations like [For The People] to strengthen support and trust in our neighborhood," Drewes said.
While Drewes said she's saddened by the flyers, she hopes it leads to a meaningful conversation about the issues surrounding gentrification impacting people in the neighborhood that leads to a positive outcome.
"We are creating a place that is the exact opposite from how the flyers portray us. Khepri Cafe will be a resource for the community," Drewes said. "In addition to creating jobs here, we have events lined up from community meetings, immigration law courses, painting classes for children, fundraisers and more."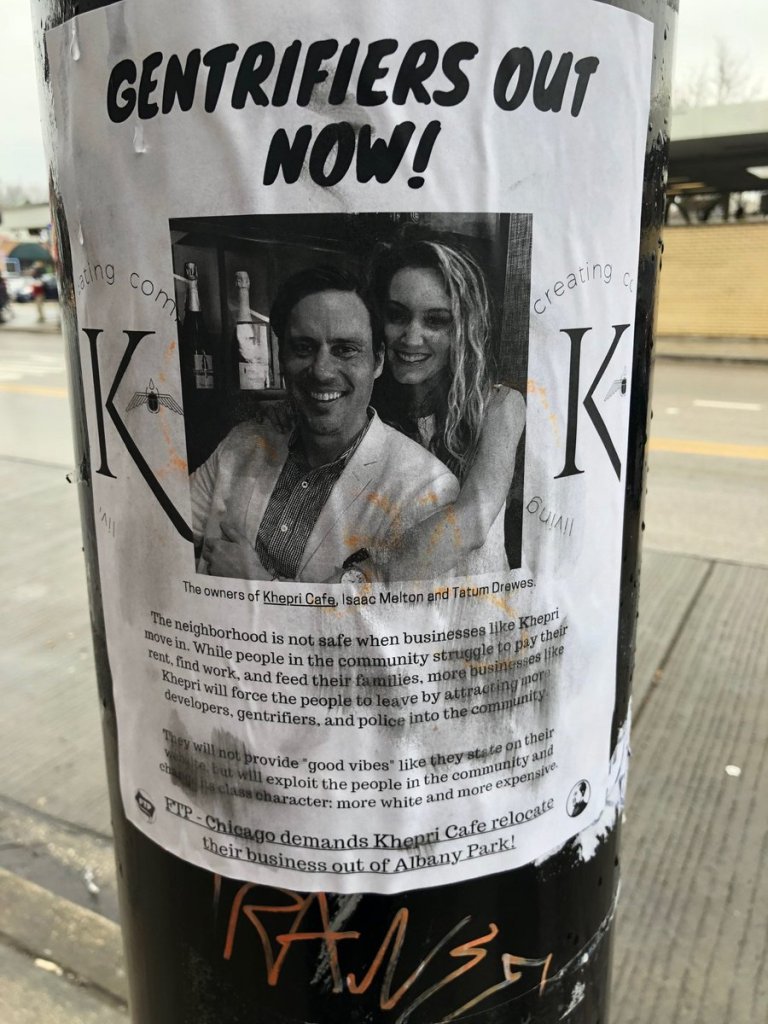 For The People Chicago describe themselves as the Chicago chapter of the Maoist Communist Party that is "conducting our social investigation and class analysis in the neighborhood of Albany Park." 
Members of the group blur their faces in online images, and did not respond to requests for comment.
Drewes is also the owner of Higher Healing and Khepri Renewal, two Albany Park-based companies focusing on CBD infused products. Speaking to Block Club last month she said the new cafe's events would also serve as a resource for people to learn about the health benefits of cannabidiol (CBD) and cannabis.
RELATED: Khepri Cafe Opening Near Kedzie Brown Line Will Have CBD-Infused Cold Brew
Do stories like this matter to you? Subscribe to Block Club Chicago. Every dime we make funds reporting from Chicago's neighborhoods.
Already subscribe? Click here to support Block Club with a tax-deductible donation.