UPTOWN — While Uptown waits for its new co-op grocery store to open in the historic Gerber Building, a colorful new tenant has moved in.
Artist Mara Baker's "Chameleon Blind " installation now adorns the windows in the overhauled Gerber Building at 4620 N. Broadway. Spanning 16 windows, the installation's geometric sculptures light up a dreary stretch of Broadway, contributing to a burgeoning Uptown arts corridor.
Baker's Chameleon Blind project has appeared in vacant Chicago storefronts before, with temporary installations in Avondale and West Town. The Avondale-based artist uses "found objects" to brighten otherwise-empty buildings.
"They usually involve places people might not think of holding art," Baker said on her installations. "I want to bring art to places where it usually doesn't exist."
Chameleon Blind was installed in the Gerber Building in early January and will remain on display indefinitely. An opening reception for the installation will be held at 4 p.m. Saturday.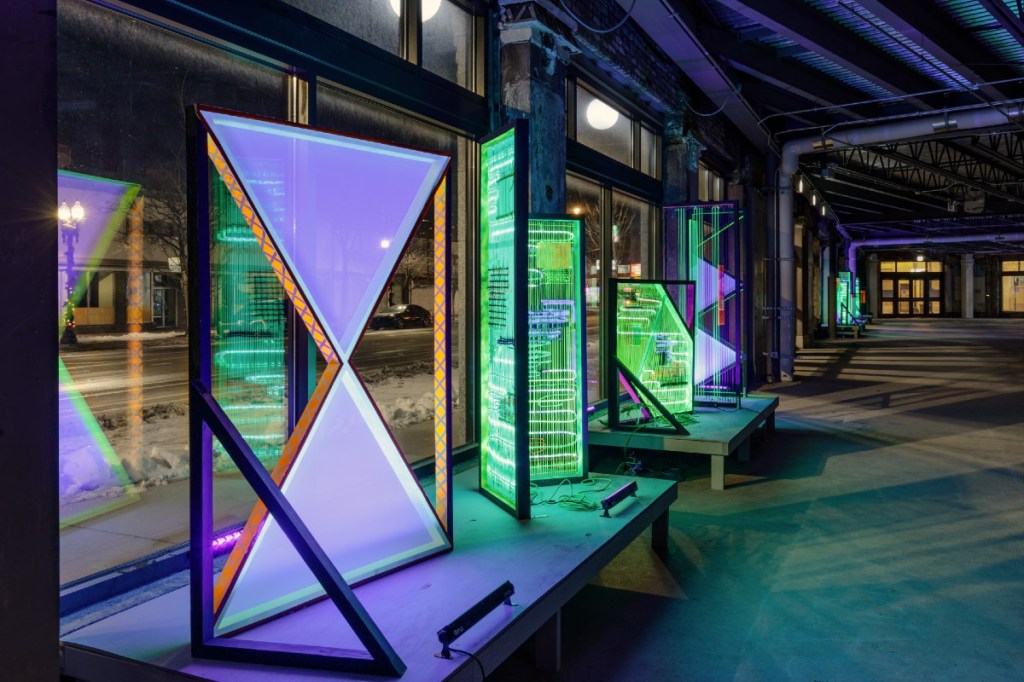 After realizing her art project could have benefits to landlords and commercial corridors, Baker began pitching chambers of commerce on the installation. That led her to Uptown United, the neighborhood chamber group who thought the project would work well for the Gerber Building.
In 2018, a renovated Gerber Building was unveiled along with a new Wilson Avenue Red Line station. Built in 1923 as a train station, the building is to hold the Chicago Market, a neighborhood-owned grocery store and cafe.
The co-op project is still in its fundraising phase. Chicago Market stands at 1,823 owners and is seeking to reach 2,000 before getting a loan and building out the space, said Grant Kessler, board president of the co-op. In the meantime, the art installation is bringing the building to life, he said.
"It's a total win-win," he said of the art installation. "Bringing community together, whether as a store or just as a space, definitely makes sense."
The Uptown version of Chameleon Blind will be three times larger than any previous version of the installation, Baker said. The pieces are inspired by the Gerber Building's Beaux Arts facade, and seek to illuminate an otherwise-dark storefront.
"If you're zipping by in a car, you see the colors very vibrantly," Baker said. "It's meant to act as a source of light and color, especially because winter in Chicago is so dark and gloomy."
The piece is meant to complement other public art between the Wilson and Lawrence avenues, said Justin Weidl, business district manager for Uptown United.
With the Lawrence Red Line station set to close for as long as two years, the chamber is seeking to enliven the stretch between Lawrence and Wilson that will likely be more heavily walked during the station closure. At least eight murals have been painted on Broadway and North Clifton Avenue, Weidl said.
"We want to ensure that two block walk is enjoyable to people," he said.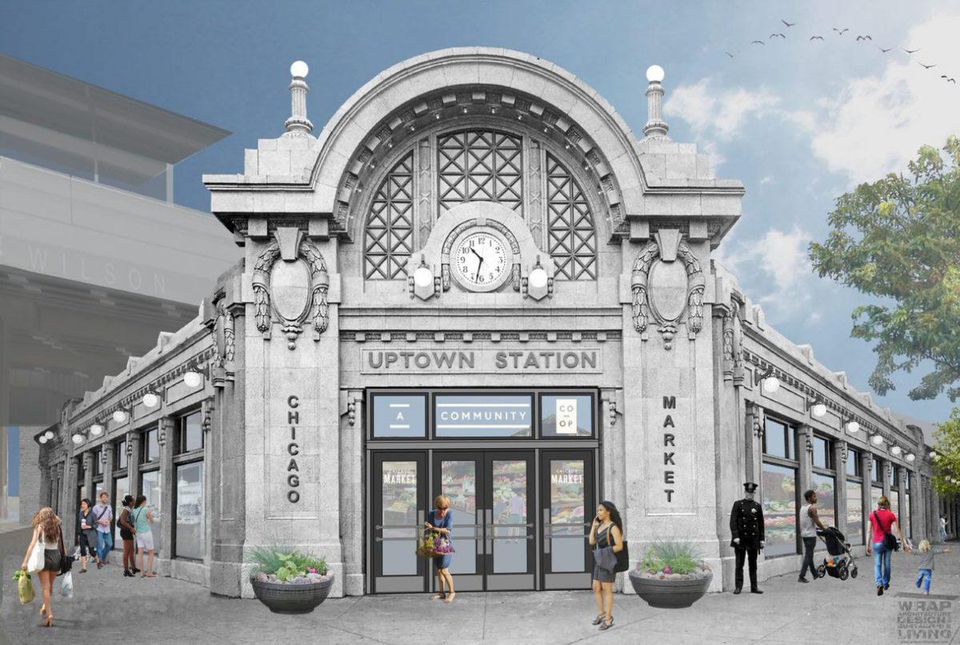 An opening reception for Chameleon Blind will be held from 4-7 p.m. Saturday at the Gerber Building, 4620 N. Broadway. Baker will give a talk at 5:30 p.m., and a tour of the new Clifton Avenue Street Art Gallery will commence at 6:30 p.m.
Refreshments will be served by Earth First Farms and Andy Kalish, owner of Uptown's new all-Vegan Jewish deli Sam & Gertie's.
Chameleon Blind will also be installed in empty buildings at Six Corners on the Northwest Side and in West Town, Baker said. The idea is to bring the installation to as many corners of the city as possible.
"[Vacant storefronts] can speak negatively of a community," Baker said. "It's a small attempt to make a difference on our streets."
Do stories like this matter to you? Subscribe to Block Club Chicago. Every dime we make funds reporting from Chicago's neighborhoods.
Already subscribe? Click here to support Block Club with a tax-deductible donation.