HERMOSA — More than a dozen Hermosa residents took to the streets Monday evening to protest new Ald. Felix Cardona Jr.'s plan to fix a narrow stretch of Kostner Avenue.
For years, residents have pushed the city to turn Kostner between Belmont and Diversey avenues into a one-way street. They even got the 31st Ward's last alderman to push through the change.
But Cardona is now in favor of leaving Kostner as a two-way street and adding "carriage walks" along the curbs so parkers can put two wheels over the curb to create more space in the street.
That over-the-curb situation made news in Albany Park last week when a city parking enforcement worker ticketed cars on an entire stretch of Wilson Avenue for parking that way. That neighborhood's alderman said the tickets were a mistake, and that residents had long been allowed to park over the curb.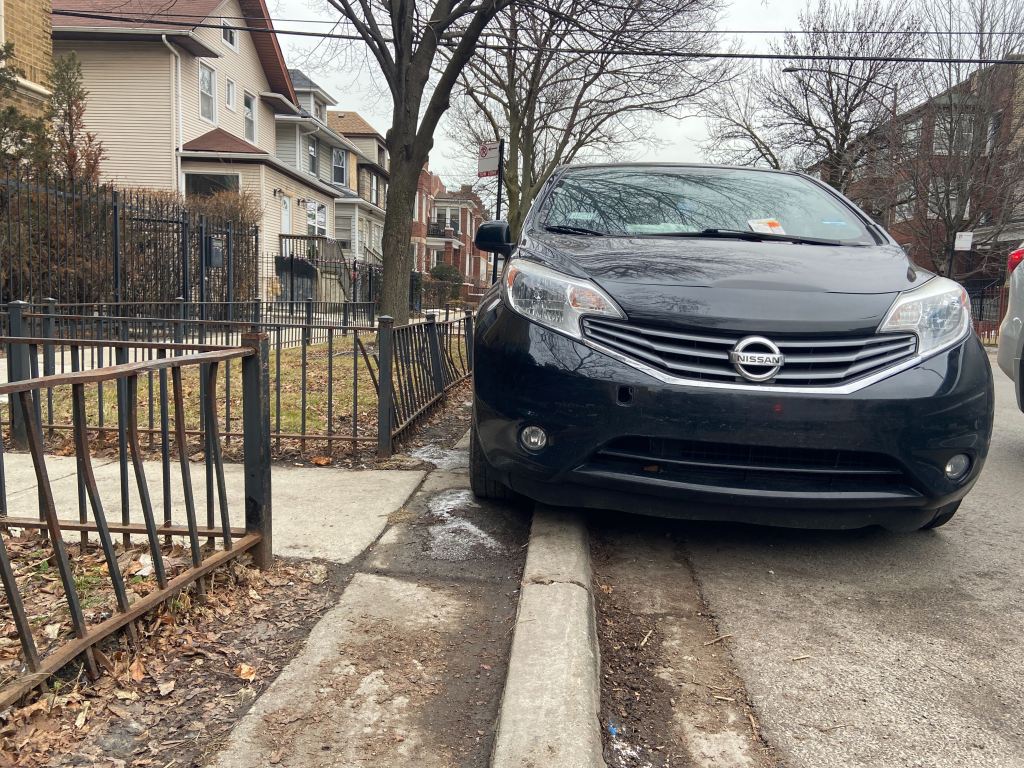 But on Kostner Avenue, residents don't want the carriage walks. They say it could make the notoriously unsafe street even worse, leading to more speeding drivers and damaged cars.
Patsy Banaszkiewicz, who has lived on the street for more than 40 years, said in recent years her daughter's car was totaled and her car was hit and suffered $8,000 in damage — both while parked on Kostner. Car mirrors are "constantly" being knocked off, Banaszkiewicz added.
For decades, Banaszkiewicz and her neighbors have been fighting for a fix. Some 200 neighbors petitioned then-31st Ward Ald. Milly Santiago to convert the stretch into a one-way to slow down traffic. Santiago signed off on the idea and sent an ordinance to the City Council for approval.
But Cardona Jr., who beat Santiago is last year's election, has since rescinded the ordinance and is planning to instead install carriage walks along the stretch based on the recommendation of the city's Department of Transportation.
"We have tried and tried and tried to get this and they just don't want to do it for us. There's no reason," Banaszkiewicz said. "There are streets all over the city that are wider than Kostner that are one-way."
Banaszkiewicz was among the neighbors who marched in protest of Cardona Jr. Monday evening. Holding signs that read, "Cardona ignores 200 residents" and "No carriage walks on Kostner!" the neighbors marched from Kostner and Belmont Avenues to Cardona Jr.'s office at 4606 W. Diversey Ave. while chanting, "No carriage walks on our blocks" and "Cardona doesn't listen to his constituents."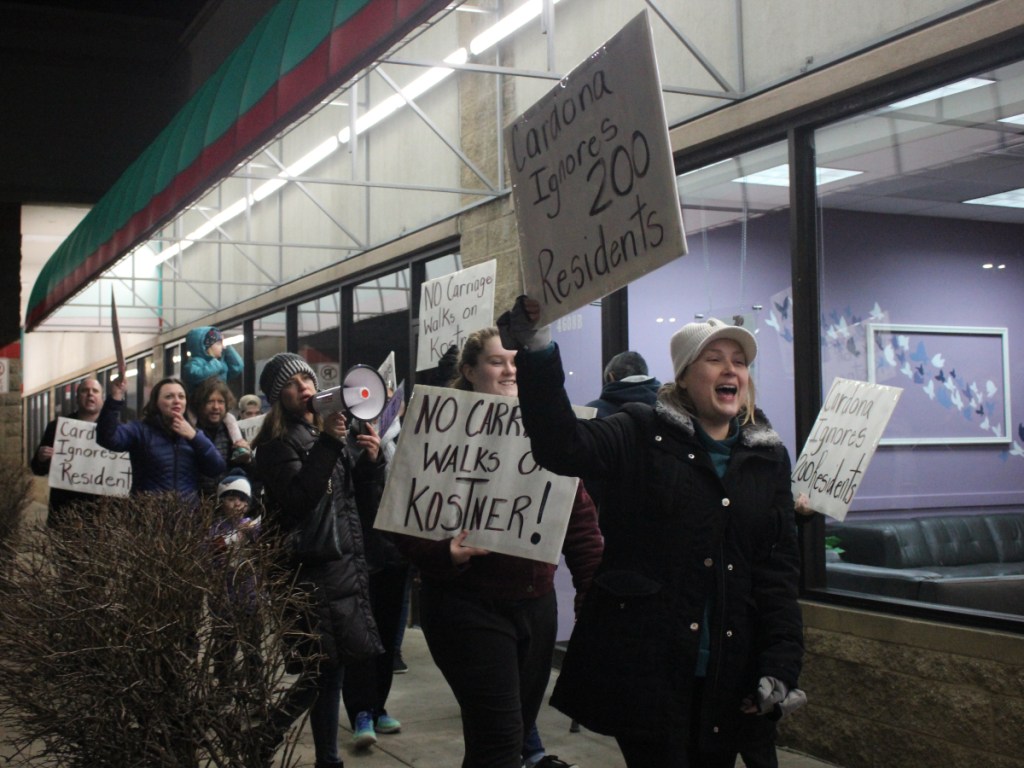 Michael Claffey, spokesman for CDOT, said after studying the traffic pattern on the stretch, the agency has decided to install carriage walks on either side of the Kostner stretch this spring.
Carriage walks will allow "parked vehicles to pull up on the curb to accommodate two-way traffic more safely," according to CDOT.
In its analysis, CDOT determined that converting Kostner into a one-way could make speeding worse and increase congestion on nearby side streets "due to displaced northbound traffic." The conversion could also hurt response time for ambulances and other emergency responders, the agency noted.
In addition to 2.5-foot carriage walks, CDOT plans to install detached bump outs at Barry Avenue, Wellington Avenue and George Street. The bump outs aim to shorten the crossing distance and reduce the speed of turning cars, the agency said.
But neighbors who have been pushing for safety fixes aren't satisfied with CDOT's analysis. They say carriage walks will have the exact opposite effect.
"The carriage walks further widen the street, increasing the speed of two-way traffic and travel, bringing the cars closer to our houses," neighbor Katie Baltensperger said.
Baltensperger, who works for the Field Museum, said she also has environmental concerns over replacing green space with cement.
Ted Sutkus, who, like Banaszkiewicz, has lived on the street for about 40 years, agreed, saying, "I'd rather leave it the way it is than have them put [in] carriage walks."
Sutkus said Cardona Jr. and CDOT are blatantly ignoring the wishes of the community.
"They don't care about the residents," Sutkus said.
Reached by phone, Cardona Jr. said he has held three community meetings on the subject since he took office eight months ago and ultimately decided to follow CDOT's recommendation.
"It's freedom of speech. They can march. I hear them, I understand them, but they're not the professionals," Cardona Jr. said of the march. "The professionals are CDOT, the city. Whatever they determine, I'm basically supporting it."
Cardona Jr. said he hasn't received many complaints about Kostner Avenue and noted that some of the accidents that opposed neighbors are referring to happened many years ago.
"You have certain residents that are lying. They're playing into this whole thing. I'm looking at what's best for the whole neighborhood, not just for Kostner," he said.
Rupert Medina, a 35-year resident, said in recent years one of his cars was totaled while parked on Kostner and a family friend's young daughter was hit by a speeding car, but walked away unscathed.
About a dozen years ago, a man was killed by a driver at Kostner and Barry avenues, according to Medina.
"I don't want to see another person killed," he said.
Medina said he and his neighbors are open to other safety fixes like adding speed cameras, but have always been opposed to carriage walks because they will essentially make the street wider.
"Now to sell something which this community has a history of opposing? Not good. How can you go against your residents like that? I just don't understand it," he said.
Do stories like this matter to you? Subscribe to Block Club Chicago. Every dime we make funds reporting from Chicago's neighborhoods.
Already subscribe? Click here to support Block Club with a tax-deductible donation.