LINCOLN PARK — Several hundred students, parents and teachers packed Lincoln Park High School's auditorium Monday evening to ask for answers about the investigation that led top school administrators and coaches to be ousted and the boys basketball team's season to be suspended.
The CPS Office of Inspector General is conducting four investigations at the school, officials said. They involve "sexual misconduct, retaliation and interference with investigations and serious misconduct that led to student harm," said Laura LeMone, chief of Network 14 in Chicago Public Schools.
The investigations involve allegations of both teacher-on-student and student-on-student sexual activity, officials told parents. They did not share other specific details, citing privacy concerns from those involved, but said the actions of the adults involved "could not be tolerated."
Athletic recruiting violations and financial mismanagement are also alleged. Officials are also investigating whether suspended employees were allowed to continue to work.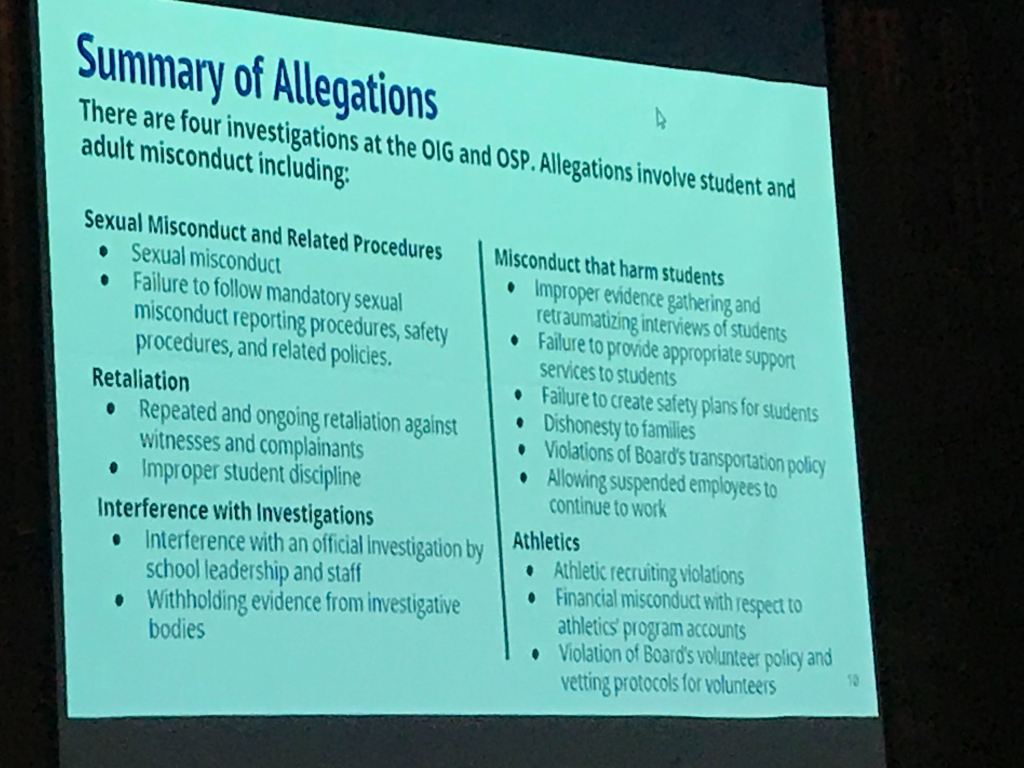 On Friday, LeMone told parents interim principal John Thuet and assistant principal Michelle Brumfield had been "removed from their positions." Lions head basketball coach Pat Gordon was previously suspended by CPS, according to the Sun-Times. Two other coaches, interim head boys basketball coach Donovan Robinson and a girls basketball coach, were "reassigned from their duties pending the outcome of these investigations, according to the Tribune. Dean John Johnson has been reassigned, too, according to a letter sent to parents.
The ousting was due to "multiple allegations of serious misconduct involving the athletics program at Lincoln Park High School."
Investigation timeline
On Jan. 2, CPS' Office of Student Protections received reports of misconduct involving a "recent unauthorized boys basketball overnight trip." The claims were related to students having sex in Detroit and social media being somehow involved, the Sun-Times reported. Gordon who was then suspended by CPS, denied he knew about the alleged incident in Detroit.
On Jan. 7, the Office of Student Protections found additional "serious policy violations and failures to follow proper protocols" by adults at the school. Those adults were removed from their positions, officials said.
On Jan. 13, investigators found "greater systemic policy violations by adults."
On Jan. 14, investigators received a new, separate complaint of alleged sexual misconduct" and began a second investigation.
A third investigation began on Jan. 16, when investigators learned that "school leadership was aware of student-on-student retaliation that was not properly reported."
On Jan. 25, the fourth investigation began when the Inspector General's office received a new, "separate report of alleged sexual misconduct related to the girls basketball team." The allegation was that the girls basketball coach "engaged inappropriately with a student," according to the Tribune.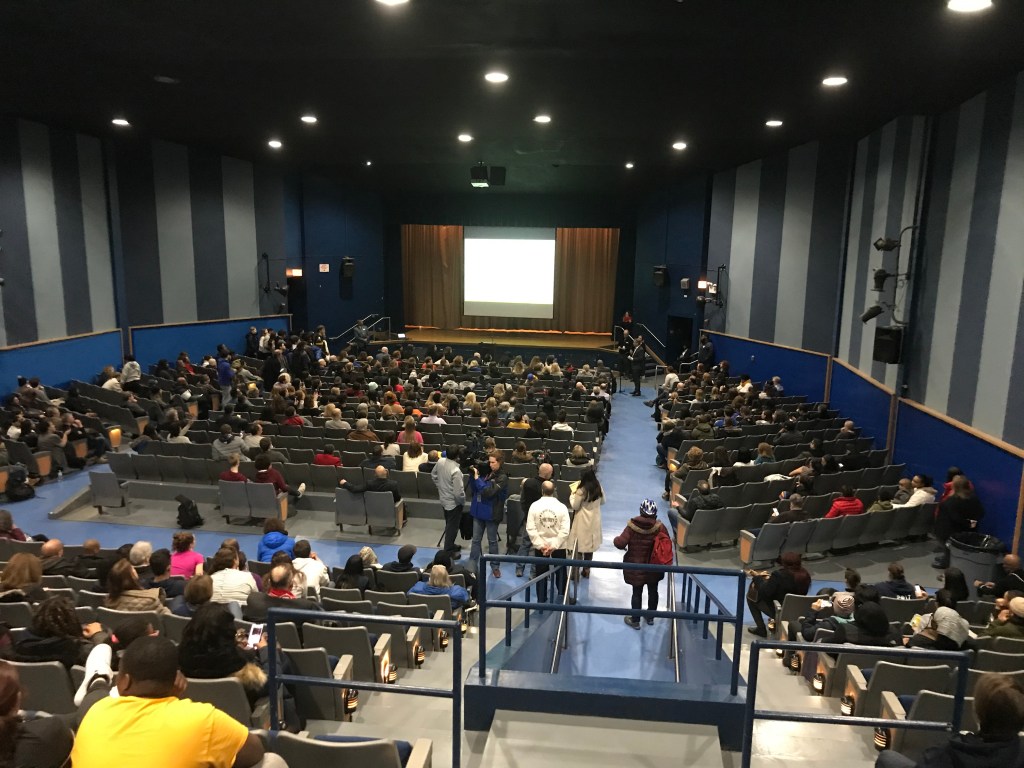 Backlash from students
As students and teachers at the school spoke out in defense of administrators Thuet and Brumfield during the tense meeting Monday night, the audience cheered in support. CPS officials were booed when they told the audience they couldn't provide more details.
The meeting began just hours after students led a walk-out Monday morning in support of the team and the school's leaders. 
Multiple students asked who would be there to greet them with "Good Morning Queenies" as Brumfield had done. One student credited Thuet and Brumfield with improving the atmosphere of the school.
"Our school has shifted immensely," one student said. "…The school spirit has grown, students have felt that they have a voice and most importantly students have felt safe at school."
A teacher read from a letter signed by other faculty that called for more transparency from the district.
"We the undersigned hope that the CPS provides the school community with further information that allows us to understand its decision and proven, direct wrongdoing by the administrators so that we can move forward," she read as the crowd erupted in cheers.
Other teachers and students said that Thuet and Brumfield were only beginning to repair damage done to the school from previous administrations.
One parent whose child is a senior at the school complained about the lack of information parents have received about the investigations.
"It is not lost on several of us here that we heard more about the f***ing coyote," she said, referencing the coyote believed to have attacked a man and child later captured in Lincoln Park.
Ald. Michele Smith (43rd) called on CPS to provide greater transparency into the oustings. She said that previous concerns about past administrations at the school had gone unanswered from by CPS officials, including CEO Janice Jackson.
"Despite repeated requests from administrators, teachers, students, and parents for help on many issues over the years, we've been told to figure it out for yourselves," she said. "…Meanwhile my own request for a meeting with CEO Jackson has been ignored for over two years."
During the meeting, another basketball player made one final plea to allow the team to play.
"I won't even be able to have a senior night," he said. "…We've been on a winning streak, we're 19-3, playoffs are tomorow…scouts are looking at us, everything is going good for us right now. We just want our season back, please, please, please."
After he spoke, students chanted "Let Them Play! Let Them Play! Let Them Play!"
The team is currently ranked 13th in the state, according to Max Preps, a site dedicated to high school athletics.
On Jan. 9, the boys basketball team's families were told that the school had learned that members of the team took an unsanctioned trip over winter break, and a staff member had been suspended. On Jan. 25, families learned that another staffer had been accused of having an inappropriate encounter with a student.
The two letters were in reference to Gordon, and girls basketball head coach Larry Washington, according to the Chicago Tribune.
Eli Grant, a community representative on Lincoln Park's Local School Council, said he was upset CPS didn't include the council or the larger school community in their decisions.
"We value the privacy of the students most of all, but we want to understand that decision and make sure that they're weighing the consequences of that, because I think tonight was a pretty clear indication that they hadn't really thought through all of those things," he said.