LITTLE VILLAGE — Illuminated by the orange-tinted street lamps along Pulaski Road and handheld candles, neighbors bowed their heads in silence to pay tribute to Reynaldo "Rey" Grimaldo, a Little Village resident who died last month while working at the former Crawford Coal Plant site.  
On Thursday night, about 22 people, including Ald. Michael Rodriguez (22nd), gathered at a vacant lot across from Hilco Redevelopment Partner's demolition site at 3501 S. Pulaski Road to honor Grimaldo.
"We are here today because we thought it was important to honor the life of the gentleman who passed away at the…Crawford Coal Power Plant site," said Kim Wasserman, executive director of the Little Village Environmental Justice Organization.
 "He has left behind his family, and he left behind his legacy and it's really important to ensure that we take a moment of time to be here for his family and support them," Wasserman said.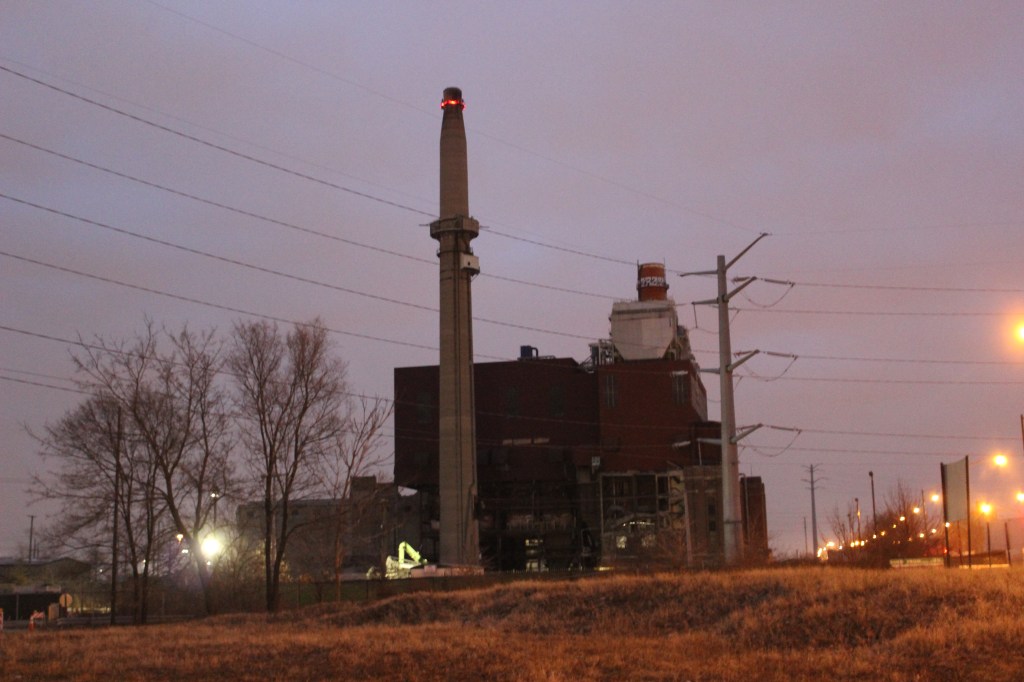 On Dec. 30, Grimaldo, 54, was attempting to climb onto an elevated platform when he fell 50 feet to his death, officials said. Work was subsequently suspended at the site.
Hilco Redevelopment Partners has since resumed work.
Grimaldo's death is being investigated by the Occupational Safety and Health Administration (OSHA). No details on OSHA's investigation have yet been made available to the public.
"OSHA will work to complete the investigation quickly and efficiently, but by law, OSHA has six months to complete the investigation," said Scott Allen, a spokesman for OSHA.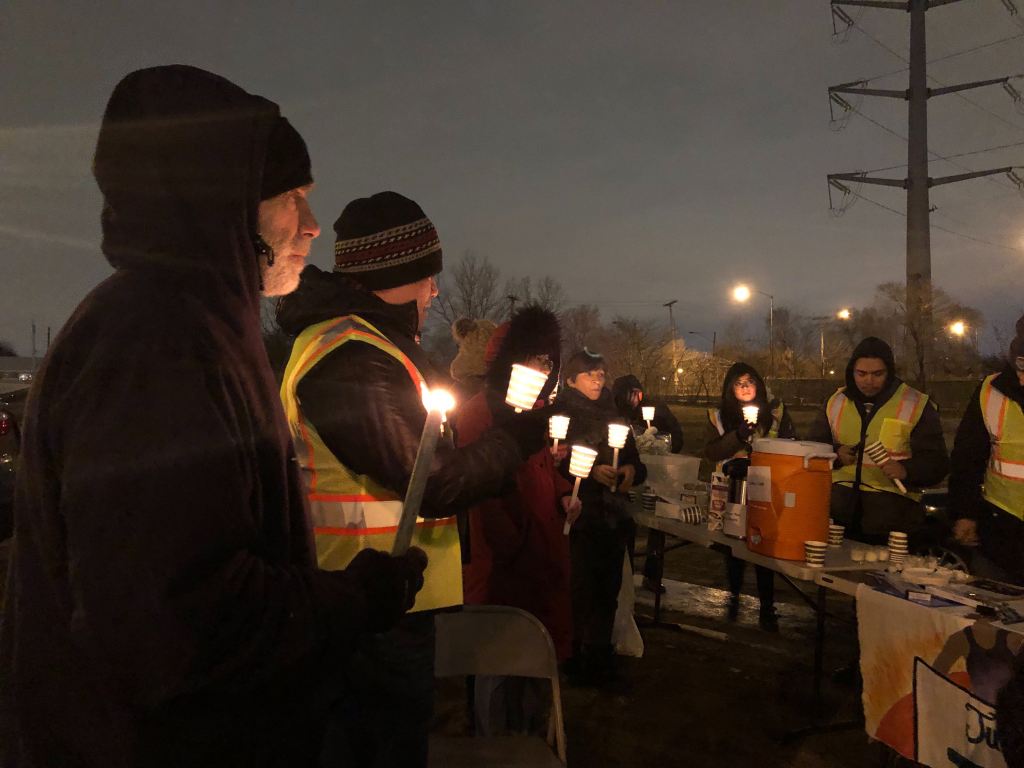 During the vigil organized by the Little Village Environmental Justice Organization Thursday, Wasserman said the community has been calling for more details on the work at the plant to avoid this type of tragedy. 
At a previous community meeting, Wasserman called for work to be stopped indefinitely until an emergency plan was in place to ensure the safety of workers and the surrounding community.
Following the vigil, attendees walked from the vacant lot to the corner of the old Crawford site to set a candle and white carnations at the foot of a sign promoting the one-million square foot facility set to be constructed at the site.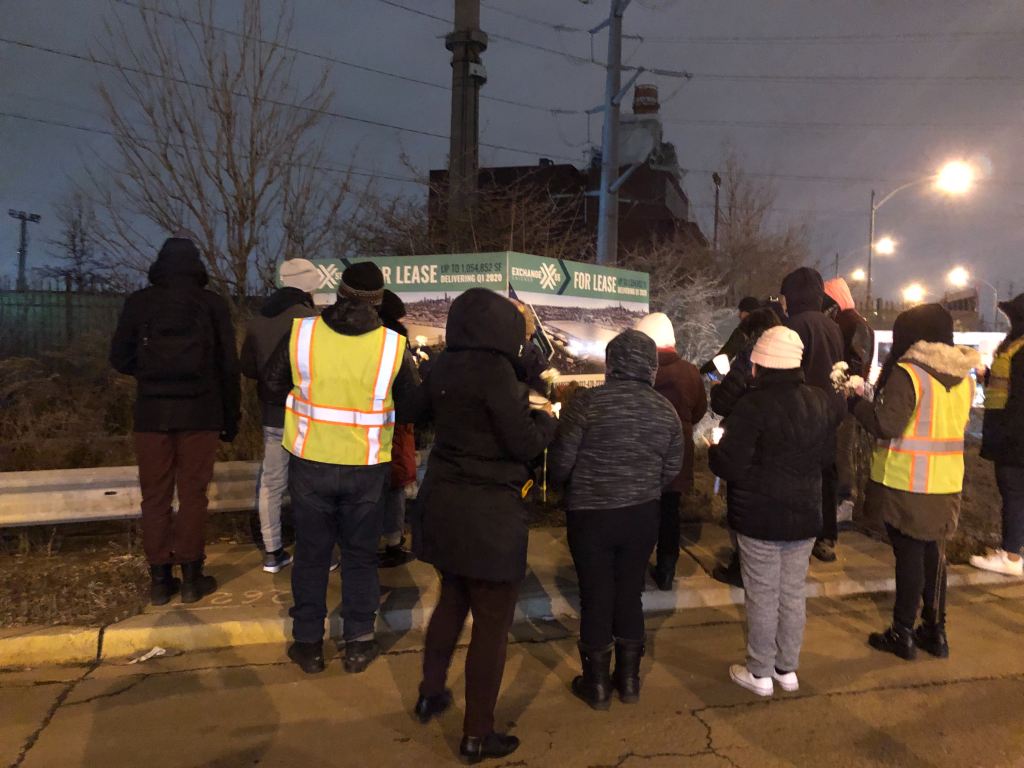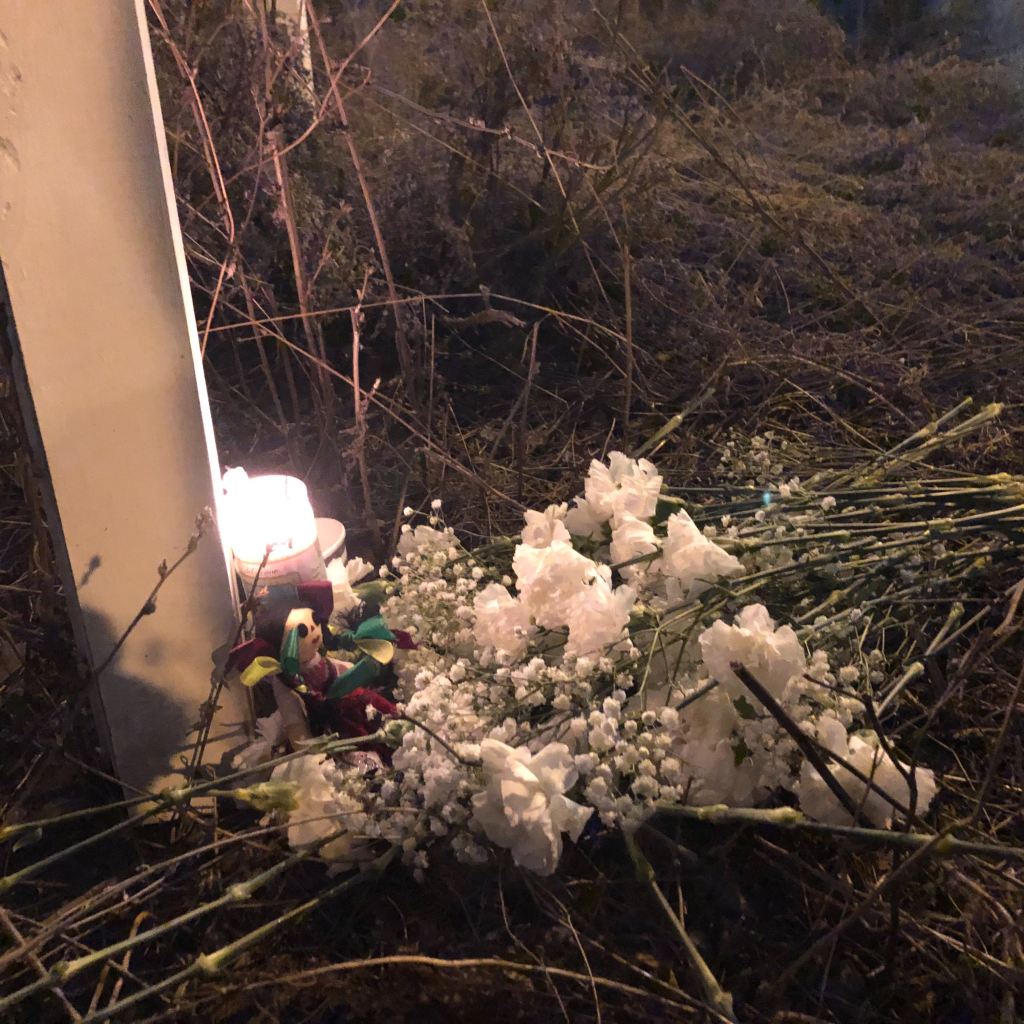 Little Village resident Dolores Castañeda, who has been in contact with the family said "this was a painful moment for the family."
Grimaldo's mother had lost a grandchild to cancer, a daughter and now her son all within a span of a year, Castañeda said. Grimaldo's family was not in attendance Thursday night.
Castañeda urged attendees of the vigil to write letters of support during this trying time to show that the community was standing in solidarity with Grimaldo's family.
Castañeda, who is part of an organization Padres Angeles, or Angel Parents, said it was important to fight to ensure workers' safety.
Last fall, the father of Castañeda's children also died while working in precarious conditions, she said.
"Unfortunately, right now, workers are seen as dispensable …The owners of these businesses don't take into account that they have kids and families that these workers look after," Castañeda said.
The Little Village resident said it was time to speak up and march to demand better safety conditions in the workplace. 
Little Village resident and anti-violence activist Doris Hernandez echoed Castañeda's concerns about worker safety, stating that more assurances needed to be made, not just at the Crawford Coal Plant demolition site, but at other worksites across the city.
"While fear may cause barriers preventing people from speaking up about injustices or unsafe working conditions, it was time to knock down those barriers and take action," Hernandez said in Spanish.
"The authorities need to know that there are people watching that see injustices and we want to see them take action," she added.
Related:
After Worker's Death, Hilco Resumes Work At Old Crawford Coal Plant Site In Little Village
Little Village Residents Search For Answers After Worker Dies At Old Crawford Coal Plant Site
Wife Of Worker Who Fell To His Death At Crawford Coal Plant Demolition Sues Developers
Demolition Of Crawford Coal Plant Suspended After Worker Falls To His Death
Worker Falls To His Death In 'Tragic Accident' At Crawford Coal Plant In Little Village
Do stories like this matter to you? Subscribe to Block Club Chicago. Every dime we make funds reporting from Chicago's neighborhoods.
Already subscribe? Click here to support Block Club with a tax-deductible donation.