NEW YORK CITY — It was all smiles as Englewood activist Tamar Manasseh walked through the doors of the Lincoln Center Thursday night for the sold-out premiere of "They Ain't Ready For Me," a documentary that focuses on her work to transform a dangerous corner into a safe haven.
The film was featured in the New York Jewish Film Festival, now in its 28th year. Director Brad Rothschild and his crew trailed the MASK (Mothers Against Senseless Killings) founder over the course of a year, chronicling the highs, the lows, and the challenges of being a Black Jewish woman trying to build a community.
"I think it was October 2016 when I was reading an article online with the headline 'Black Rabbinical Student Leads An Army Of Moms Against Gun Violence' so I was immediately intrigued," Rothschild said. "The thing that grabbed me was the part where she said her Judaism was the cause of her activism, so I thought she'd be an interesting subject for a film."
Convincing Manasseh would take some time, though. Rothschild mounted a full court press, sending a flurry of Facebook messages and emails in hopes of getting her onboard.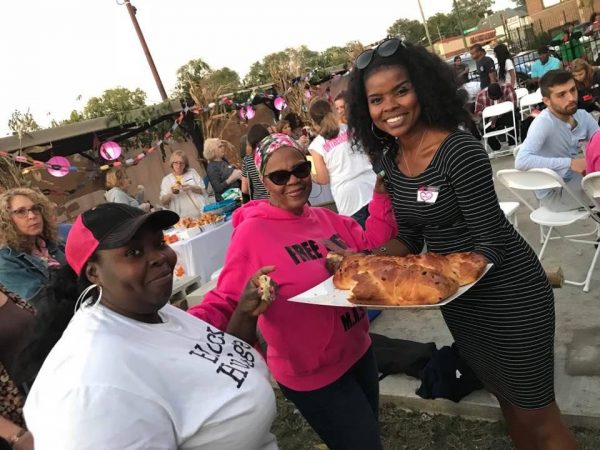 "After a while she told me, 'I think my life is about as interesting as watching paint dry, so I'm going to pass,' but that didn't stop me," recalled Rothschild.
"He was relentless," Manasseh said.
It wasn't until a last-minute meeting in Staten Island that she acquiesced. Eventually, the film crew became part of the community themselves.
"This wasn't an outsider making a movie about us anymore," said Manasseh. "This was us making a movie about us. There were a couple of awkward moments — you don't want to leave your microphone pack on while you're in the bathroom — but if I'd known this experience would be as painless as it was I probably would've agreed to do this six months before I signed on."
The physical transformation of an overgrown lot at 75th and Stewart gives way to paved sidewalks and bus-stop benches, life slowly returning to a forgotten tract of land. Food is an uncredited co-star, from the sandwiches the army of moms hand out on hot summer days, to the Passover meal Manasseh organizes to build a bridge between her two worlds.
"We started off on this 10-foot by 20-foot patch of concrete across the street from the lot, feeding 100 people a day in this small space," she recalled. "We had to move because the owner didn't want us there, and the city sided with him, so we relocated to the lot. We put in an application for the lot, but people didn't think we would get it. When we did, it was a victory for the whole community."
And as the space kept growing, so did the people who occupied it, said Manasseh.
"They grew socially, emotionally, and spiritually," said Manasseh, shouting out volunteer Jermaine Kelly, who finished trade school in December.
The film also follows Manasseh as she makes an emotional pilgrimage to her ancestral home in North Carolina, visiting the gravesite of her great-grandparents who were born into slavery while grappling with the sight of Confederate statues.
While the production team is still at the beginning of the journey, Rothschild shared with the audience during the Q and A session that he is in talks to distribute to film.
"We'll be getting the word out about Tamar. She has a life that inspires others," said Rothschild.
RELATED COVERAGE:
$15K Raised For Information About Killings Of 2 Moms At Peace Corner In Auburn Gresham
Days After MASK Moms Shot Dead, Group's Founder Serving Slices Of Hope At New Peace Of Pizza In Beverly
'Love Like He Loved': Calvin Seay Laid To Rest As Residents Wait For Police To Find His Killer
Do stories like this matter to you? Subscribe to Block Club Chicago. Every dime we make funds reporting from Chicago's neighborhoods.
Already subscribe? Click here to support Block Club with a tax-deductible donation.