UKRAINIAN VILLAGE — Chicago culinary duo Wilson Bauer and Alice Richter want to bring a homemade pasta shop in Ukrainian Village — and they're asking their neighbors for the help they need to open it.
In an effort to crowdfund the costs of finishing touches on booth seating, flooring and kitchen equipment, the husband-and-wife team launched a Kickstarter fundraiser with a goal of $12,000. The restaurant aims to open in February or March on Chicago Avenue in Ukrainian Village, but the couple isn't ready to disclose the exact address yet, Richter said.
Contributions to the Kickstarter are tiered; donors who pledge $10 receive a Flour Power sticker, while donors who pledge $1,500 receive a year's worth of pasta.
As of Monday, 23 backers have donated $3,465. There are eight days left in the campaign and every penny helps, Richter said.
"It's very intentional, having this restaurant in Ukrainian Village," Richter said. "We would love to have this restaurant be an awesome family non-corporate chain option. … We want to give something to the neighborhood."
The tiny 640-square-foot B.Y.O.B. restaurant will offer just four booths for up to 16 diners.
The menu will change daily. Each bowl of pasta, priced at $12 a pop, will be made fresh that day.
First-come, first-served seating is limited, but there will be a carryout counter.
Flour Power will not offer delivery service — a decision that speaks to the couple's intention of creating a neighborhood place, Bauer said.
"[Many] restaurants make their money doing catering, delivery. … That ends up affecting their product," he said.
"We wanna cater to the people to the neighborhood. Those are the people who are going to keep the lights on."
Richter, 27, has lived in the same Ukrainian Village building for 20 years. Today, Bauer, their 18-month-old son and Bauer's 9-year-old son live there, too.
A self-described "Ukrainian Village lifer," Richter said Flour Power will be an affordable local restaurant dedicated to meeting neighbors' price point.
"There are tons of positives about our neighborhood changing," she said. "[But] I felt like we couldn't afford all these new changes. … We want to be an option for everyday people to eat awesome handcrafted food."
After spending much of their careers in Michelin-starred kitchens, the couple wanted to create a true "mom-and-pop" shop for their family and their neighborhood, Bauer said.
Pasta is versatile, fun and personal, he added.
"The pasta restaurant seemed like an ideal situation," he said. "Something where I can take my ability, my attention to detail … and satisfy hunger."
Bauer and Richter met while working at Schwa, an award-winning tasting-menu restaurant located at 1466 N. Ashland Ave. in Wicker Park.
During Bauer's time at Schwa, the restaurant earned a Michelin star. Bauer himself was honored as Chef de Cuisine of the Year in the Jean Banchet Awards. Bauer has cooked at other lauded restaurants, including Longman & Eagle, Elizabeth and Grace.
Richter performed front-of-house work at Schwa after serving at The Aviary, a West Loop cocktail lounge from the team behind Michelin-starred Alinea.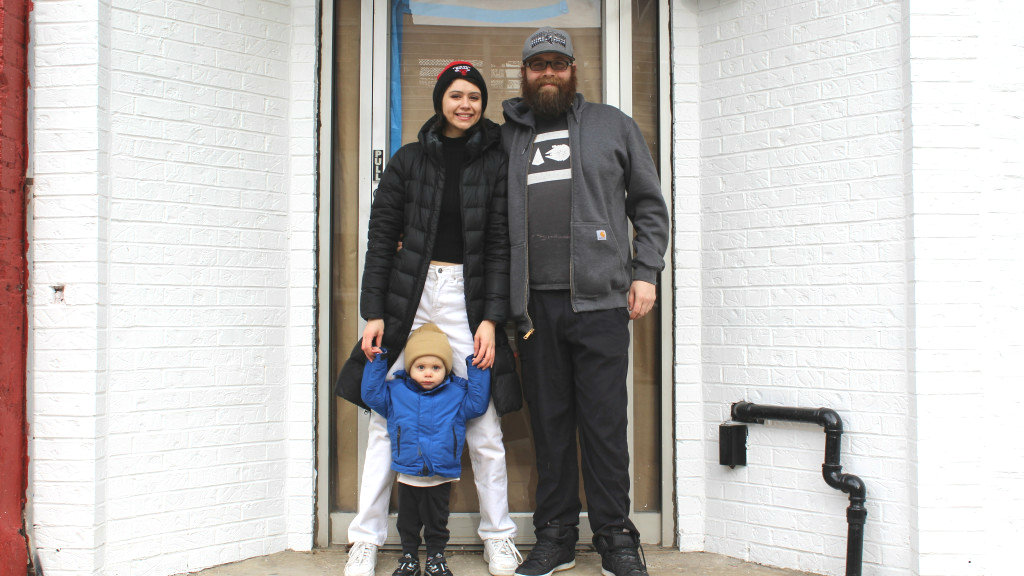 In 2018, Bauer and Richter launched an underground dinner club called Chicago, Washington at their home.
Bauer learned professional pasta techniques at Zoe, a restaurant in Seattle. During a stint as executive chef at Va Pensiero in Evanston, Bauer worked in a dedicated pasta-rolling room.
Even at Schwa, Bauer mastered chef Michael Carlson's signature quail-egg ravioli.
At Chicago, Washington, he said, diners often named his carbonara raviolo as their favorite dish of the entire meal.
At Flour Power, Bauer will cook while Richter will handle front of house operations.
"People think of pasta as dried. … It's really special when you get really good pasta," he said. "It's got that bounce to it, that perfect texture. … It's going to be an opportunity to focus in on one thing, and do that one thing perfectly."
Do stories like this matter to you? Subscribe to Block Club Chicago. Every dime we make funds reporting from Chicago's neighborhoods.
Already subscribe? Click here to support Block Club with a tax-deductible donation.