DOUGLAS — The Raby Foundation is inviting activists of all ages to celebrate and continue the work of Civil Rights leader Al Raby in a series of panel discussions the next few weeks.
The three "family chats" focus on issues Raby centered his life around advocating for, said Katanya Raby, his granddaughter and the foundation's co-founder.
The discussion topics are:
The chats are free, and meals will be served at the first two. Light refreshments will be available at the housing conversation.
The foundation hopes the events will be "an intergenerational vibe," Katanya Raby said, with younger folks discussing with elders how to best advocate for social change.
The talks are in line with the foundation's purpose: Connecting the civil rights work of Al Raby's lifetime to that of the present, she said.
The education talk features CPS CEO Janice Jackson, who was the founding principal of Al Raby High School in East Garfield Park; former CPS educator Bill Gerstein and Borderless Studio founder Paola Aguirre Serrano.
The education panelists will explore how educational spaces shape the surrounding communities, even when the schools themselves are shut down, Katanya Raby said. Her daughter, a 17-year-old student at Lindblom Math and Science Academy, will serve as moderator.
Sun-Times editorial board member and author Lee Bey will sit on the Feb. 6 anchor institutions panel. He said he had the chance to hear Raby speak in a Hyde Park apartment shortly after he graduated high school in 1983.
A young Bey was "extremely energized" by Raby's words and ideas. He hopes the panel discussions can have a similar effect on the youth who attend.
"When you see old footage of Raby's work … you see how young those people really were," Bey said. "There's a role for young people to play, to be excited and activated by this kind of work."
Anchor institutions like universities, hospitals and banks have become more responsive to community concerns since Raby's time, Bey said — and that's no accident.
"Because of the work of people like Raby, we've learned to expect these institutions to be partners rather than colonizers in neighborhoods," Bey said.
Bey will chat with Bernita Johnson-Gabriel of World Business Chicago; Christyn Freemon of Project Forward and the North Lawndale Employment Network; and Arveal Drummer, an admissions director at the Illinois Institute of Technology.
Chicago Housing Commissioner Marisa Novara will speak on the Feb. 13 housing panel. Jackson and Novara's decision to join these panels is a sign of progress in Chicago politics, Bey said.
"Fifty years ago, this would be the kind of thing city officials would've stayed away from, or just monitored to report back to the powers that be," Bey said. "Now city officials understand they have to be part of these solutions and conversations."
Novara will chat with Janet Smith, director of the Voorhees Center at the University of Illinois at Chicago, and Michelle Rodgers, whose grandmother Dorothy Gautreaux successfully sued the Chicago Housing Authority for racial discrimination.
The housing conversation was organized in the spirit of one of Al Raby's key efforts, Katanya Raby said.
Martin Luther King, Jr. launched his Chicago Campaign "mainly because of Al Raby," King told Ebony Magazine in 1966. "I had been watching Al for some time, and I must say that I became enormously impressed with his work and with the sincerity of his commitment."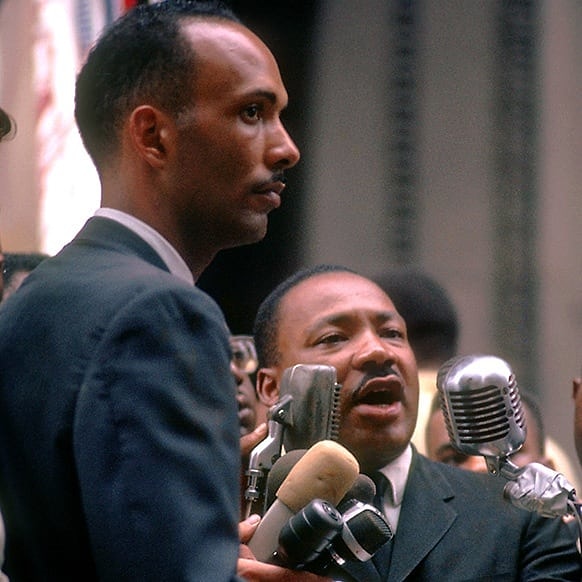 The series will remind black Chicagoans "why the things we now have access to in the black community are available to us," Katanya Raby said.
But that access "doesn't mean that the fight is over; there's obviously a lot more to fight for," she said — and she hopes the conversations will inspire the youth to continue where Al Raby left off.
"If my grandfather was living, he would still be out on the front lines figuring out how to make things better," Katanya Raby said. "It's a personal charge to figure out how to galvanize, organize and make sure we are bringing our elders and youth together."
Do stories like this matter to you? Subscribe to Block Club Chicago. Every dime we make funds reporting from Chicago's neighborhoods.
Already subscribe? Click here to support Block Club with a tax-deductible donation.