WEST TOWN — A printing company's one-story building at the corner of Grand and Hermitage avenues in West Town will be torn down and replaced with a series of four-story condo buildings, under a plan approved by city officials last week.
It will mark a dramatic new look for the 500 block of Hermitage Avenue, a narrow one-way street that some neighbors say is already too tight.
And the project will also add to the evolution of Grand Avenue in the area. A four-story condo building is under construction across the street, and multiple other properties on Grand between Ashland and Western share similar zoning that could lead to redevelopment.
Some neighbors spoke out against the size of the new project. The developers of the buildings, at the urging of Ald. Daniel La Spata (1st), met with neighborhoods leaders. Together, they tweaked the plan to reduce the size of the fourth floor in each of the new buildings planned for the block.
The site currently houses MidAmerican Printing, a 35-year-old, family-owned and operated commercial printing shop with more than 40 employees.
It would be replaced by four four-story buildings, each with six condos. Each building would have a garage with six spots. The addresses of the future buildings are 505, 513, 521, and 529 N. Hermitage Ave.
The ground floor of the building at 505 N. Hermitage Ave., situated at the corner of Hermitage and Grand avenues, will be zoned for retail. The building will also include an elevator with access to a rooftop deck.
Last week, the city's Zoning Board of Appeals voted unanimously to approve the project. The project was initially scheduled to go before the board in December. But after hearing concerns from neighbors, La Spata asked the developer, Diamond Partnership, to meet with neighbors.
Diamond Partnership representatives met on Jan. 8 with the alderman and members of the local neighborhood group, the Chicago-Grand Neighbors Association. While not affiliated with the city, CGNA routinely weighs in on neighborhood issues, with its decisions often factoring into whether or not the city approves development, licensing and zoning requests.
During the meeting, neighborhood leaders and the developer agreed on two concessions, zoning attorney Mark Kupiec said.
The developer agreed to set the fourth floor balconies in all four buildings back by six feet, eight inches, somewhat decreasing a pedestrian's perception of the buildings' height.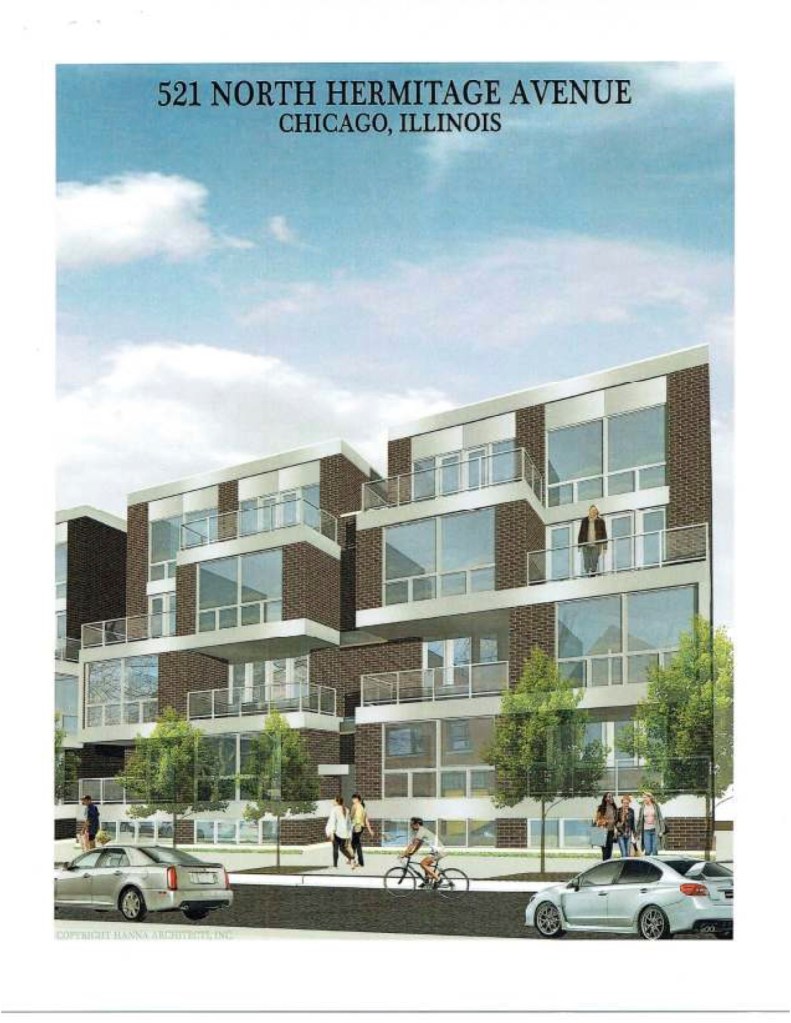 The developer also agreed to convert the previously designed seven-car garages to six-car garages with one on-site parking spot.
These changes appeased neighborhood leaders, architect John Hanna told the Zoning Board on Jan. 17.
"They're very happy with that," Hanna said.
Hanna and Kupiec submitted to the Zoning Board minutes from a CGNA Planning & Development meeting in which the neighborhood leaders accepted final designs. 
At the end of the day, neighborhood leaders felt they got the best deal they could, CGNA leader Peter Frisbee said. 
Because the developer did not need a zoning change, the neighborhood group had very little leverage to change the project, Frisbee said.
"We used our leverage as much as we could have," he said. "There's good and bad things that happened, even though it's going to be too high. … We did our best to represent [neighbors]."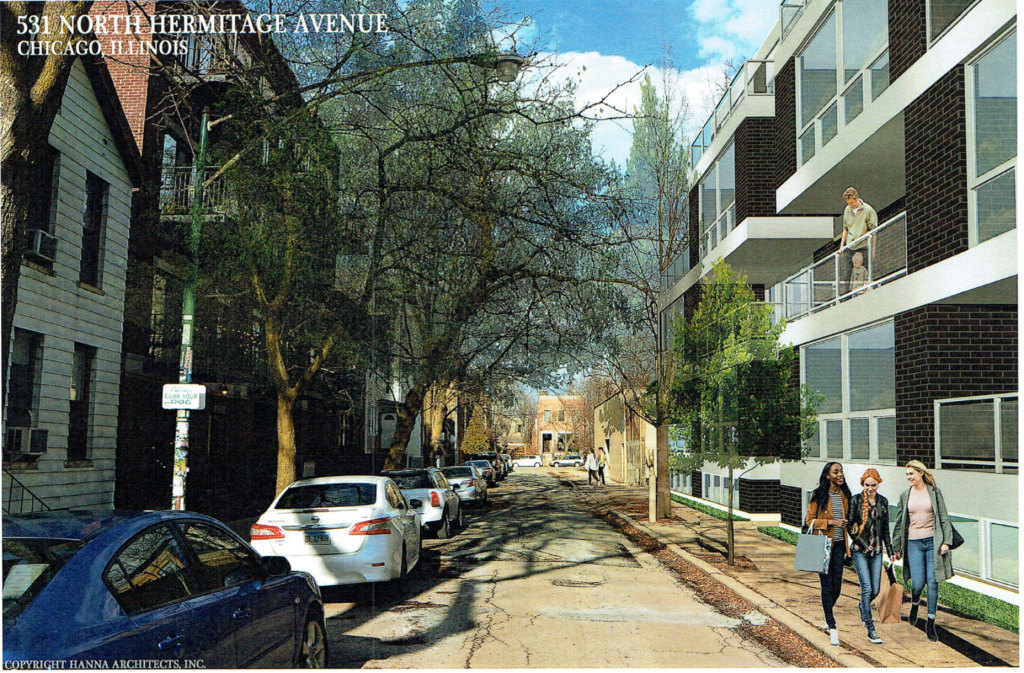 In an ideal world, this project might not be as tall, Frisbee said. But the project does offer some "positive features," he said.
"It's an opportunity to have some condos that are less expensive than a single family home," he said. "[There is a chance to] improve the street and alley, maybe more residents and more children for the school."
Hanna, the architect, has worked with CGNA in the past, and had reached out to the committee early on, Frisbee added.
"People like John Hanna who have worked with CGNA before know we have very high standards," Frisbee said. "They started by designing a project whose quality would meet our standards." 
Some neighbors who live near the project were not invited to the Jan. 8 meeting, however, and felt they didn't get to weigh in.
Lauren Young, who lives in the 500 block of Paulina Avenue and would share an alleyway with residents of the new condos, said the project will "change the feel of the neighborhood," Young said.
"For a narrow street, when combined with a narrow alley, the size of this project will impact the neighbors greatly," she said. "Our alley doesn't have space for our garbage cans, and cars to pass easily as it is."
Like Young, Dan Grilo lives within 250 feet of the project and received written notice of the project's Zoning Board of Appeals applications.
He, too, wished CGNA leaders had invited neighbors to the Jan. 8 meeting.
"The neighbors themselves haven't had a chance to sit down with the developer and share thoughts and concerns," he said. "It's going to be a nightmare to do construction of something that big in such a small space."
Frisbee said the CGNA Planning & Development Committee generally meets privately to discuss projects that do not require zoning changes. Moving forward, however, there will be a public meeting for neighbors and the developers. 
'A good wake up call'
Because Grand Avenue is home to several sites similarly zoned for commercial use, Grilo said he was mostly concerned about the precedent the newly-approved project sets.
Across the street, on the southwest corner of Grand and Hermitage avenues, a separate four-story building with ground floor retail is under construction.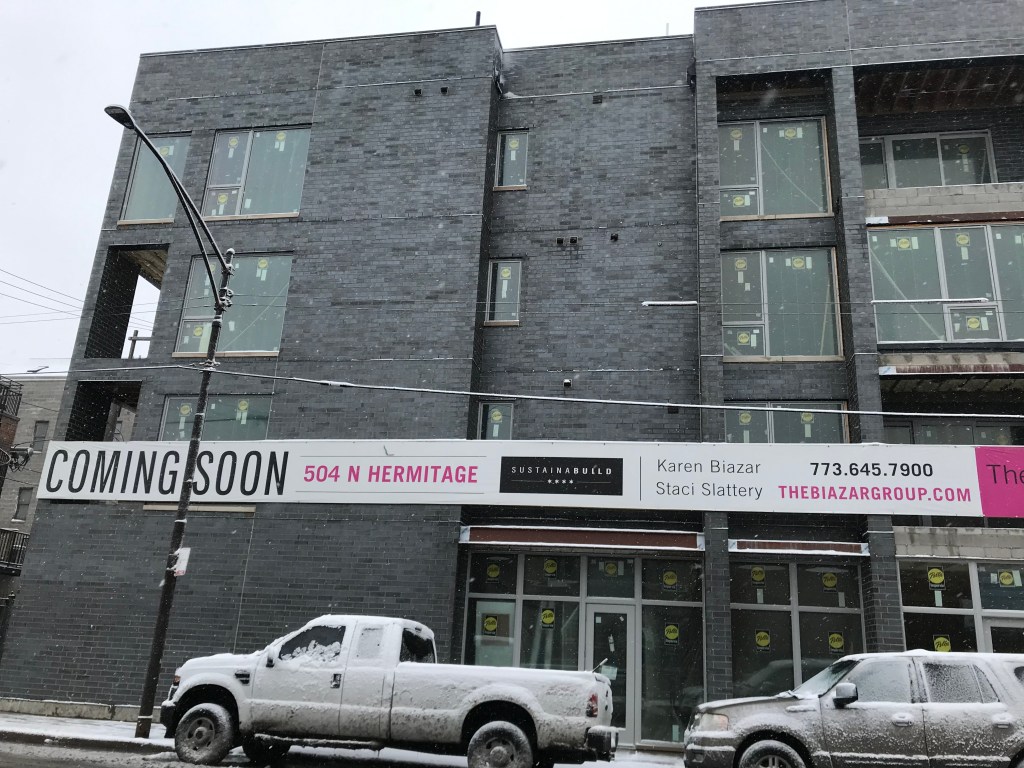 A few blocks west, at the corner of Grand Avenue and Wood Street, a 20-unit apartment building with ground floor retail was recently proposed to replace a vacant lot.
In that case, the developer, Planrise, LLC, needs a zoning change from Ald. Walter Burnett (27th).
RELATED: 20-Unit Apartment Building Proposed Across From Breakfast House In West Town
According to the city's zoning and land use map, the stretch of Grand Avenue between Ashland and Western avenues contains eight distinct sites or groupings of parcels zoned for commercial use. Another seven sites have business zoning that could also allow for condo or apartment buildings.
"If everything that is commercial becomes a 60-foot condo building, is that in line with the community we're trying to build here?" Grilo said. "[This project] goes against this small town community we love."
RELATED: White Claw-Flavored Doughnuts? They're Coming To New Shop In West Town
The approval of the project has inspired him to become more involved with the CGNA, Grilo added.
"We know we're going to lose some of these battles and we understand. Maybe this was a good wakeup call for whatever comes next," he continued. "We need to talk about what's in the near future for our area. That's really concerning for us."
Do stories like this matter to you? Subscribe to Block Club Chicago. Every dime we make funds reporting from Chicago's neighborhoods.
Already subscribe? Click here to support Block Club with a tax-deductible donation.