SOUTH SHORE — As Lake Michigan shows its damaging power time and time again, south lakefront residents and politicians want to make sure their voices are heard — and funding is secured to protect all of the city's shoreline.
The South Side Lakefront Erosion Task Force was announced last month. Its first meeting was Jan. 9 at state Rep. Curtis Tarver's (D-25th) office, 1303 E. 53rd St.
Fellow state Rep. Kam Buckner (D-26th) and Ald. Greg Mitchell (7th) are also behind the task force. As its first step, members are circulating a petition calling for all levels of government to address lakefront erosion.
The push comes after decades of delays when it comes to addressing issues of erosion specifically on the South Side.
Though funding to protect the eight "most critical" miles of Chicago's lakefront was approved way back in 1996, two projects have yet to be completed; both are on the South Side.
Reinforcements from 45th to 51st Streets and to Promontory Point are still in progress.
Tarver said his office is drafting a resolution to urge Gov. J.B. Pritzker and Congress to take action and provide additional funding.
He hopes to present the petition and introduce the resolution to the legislature by March. The task force will meet again shortly after these documents are submitted, he said; a date has not been set.
This timeline gives members a couple months to continue collecting signatures and collaborating with government officials, he said.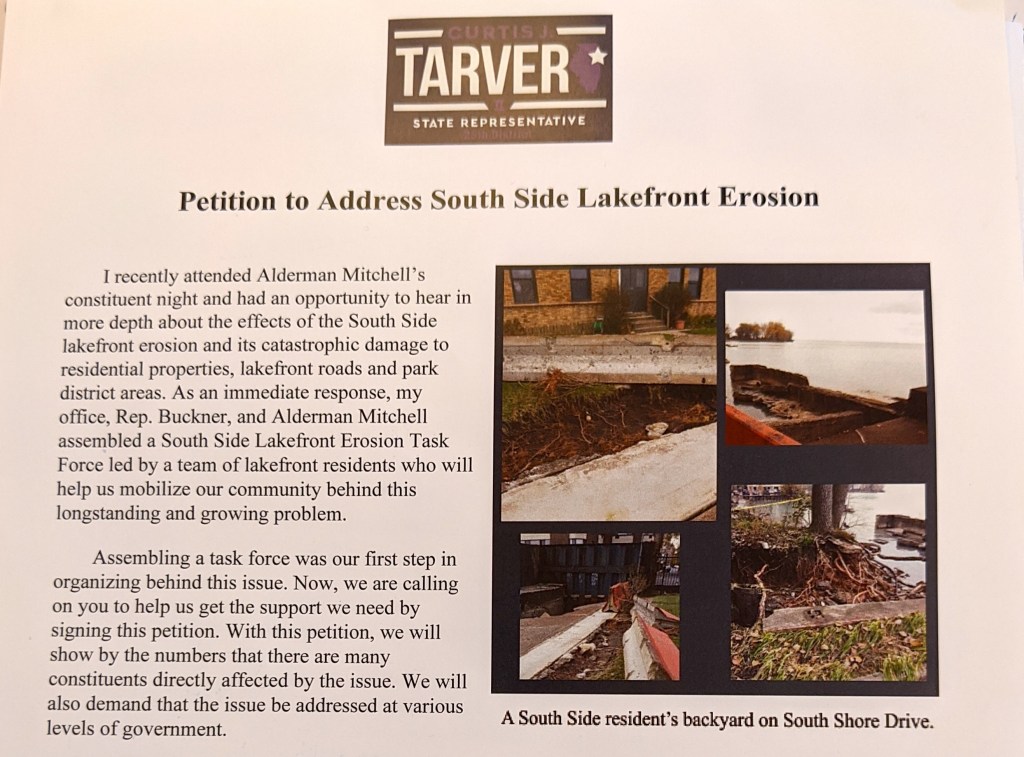 Signs of deterioration in Chicago's century-old shoreline protection system first appeared in the 1950s. In 1974, Congress directed the Army Corps of Engineers to investigate this and all other erosion along Illinois' shoreline.
Given this long history, it's curious that there "just hasn't been a lot of conversation" around erosion until recently, Tarver said. He's "hopeful" the task force's efforts will encourage officials to take immediate action.
"Here we are now in 2020, and nobody can say anything appreciable has been done," Tarver said. "When my constituents reach out and say, 'We're not getting answers,' my responsibility is to reach out to every level of government."
Much has been made about the lake's threat to private property, Tarver said, but he doesn't want task force members to lose sight of the bigger picture.
He encouraged all Illinoisans who "enjoy the precious natural resource that is our lakefront" to sign the petition and get involved in the lakefront protection effort. It's a strategy he hopes will better convey the severity of the issue.
"This is not an individual homeowners' association issue," Tarver said. "I'd like to see us focus on the fact that it's a huge issue for the public. There's a benefit for private landowners I'm sure, if we address the issue of public lands as well."
There's no set goal for signatures, but task force member Sharon Louis hopes 1,000 to 2,000 people will lend their support.
Louis has lived in South Shore since 1966, and has owned her home on the 7300 block of South Shore Drive since 2000.
Finding an affordable property along South Shore Drive "was manna from heaven," she said. "I've put a lot of money into it. It is my dream home."
As her investment faces the constant threat of flooding, Louis — like Tarver and other lakefront residents — is concerned with the pace of the government's response.
She understands there are "a lot of players" involved with protecting the lakefront; a primary goal of the task force is figuring out who those players are and how they can take action.
But in the meantime, "there needs to be an emergency plan," Louis said. "This is an immediate thing. We don't have time to go lobby."
Luckily, the area is home to plenty of residents who are willing to act immediately, Louis said — herself, Faith in Place outreach director Veronica Kyle and Louis' neighbor Juliet Dervin to name a few.
"People are passionate about where they live," Louis said. We are also knowledgable and we understand what we own."
Task force members have jobs, families and other commitments, "but we're making time to contribute so we can help our elected officials understand the issues," Dervin said.
Dervin is a resident of the Windsor Beach co-op, a national landmark on the lakefront at 7321 S. South Shore Drive. She brings years of experience with digital systems to the task force, and has been charged with organizing the information its members collect.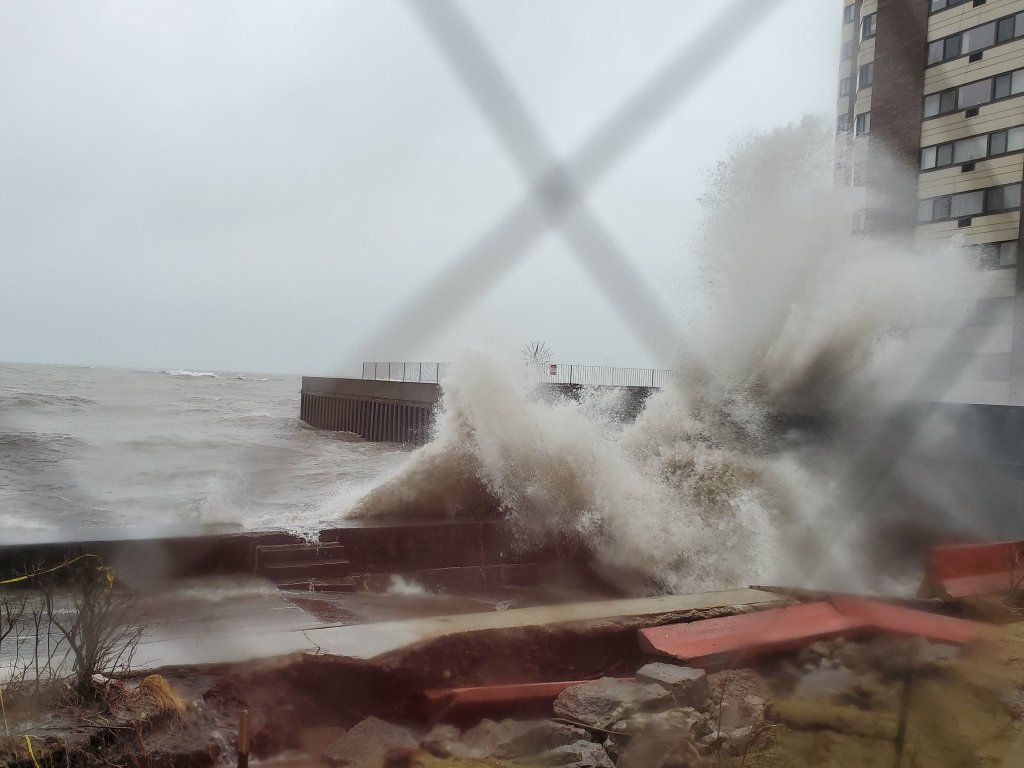 The task force's creation is a "perfect first step" in addressing residents' longstanding concerns, she said. It's also a sign elected officials are taking this issue as seriously as they should have years ago.
"Democracy is never as simple as you'd like it to be, but I have a lot of faith in new administration in Springfield and with Representative Tarver taking such an active lead," Dervin said. "We can be leaders. Other places can follow us and learn from us on how we protect both people and places."
Do stories like this matter to you? Subscribe to Block Club Chicago. Every dime we make funds reporting from Chicago's neighborhoods.
Already subscribe? Click here to support Block Club with a tax-deductible donation.