ANDERSONVILLE — Luca DeSanto was in second grade when he began learning about Dr. Martin Luther King Jr. and the Civil Rights movement. Immediately, he wanted to do something to commemorate the service of King and other Civil Rights leaders.
"I read a book about Martin Luther King, and it explained all the service he did," said Luca, now 11 years old. "It inspired me. If we're off [school for Martin Luther King Day], why don't we do something to honor him?"
So, Luca organized a day of service for his classmates at Pierce Elementary, 1423 W. Bryn Mawr Ave. Monday marked the fourth consecutive year Pierce families have gathered on Martin Luther King Day to collect donations and deliver them to local charities.
Luca — now a 6th grader at Pierce — originally asked his mom, Emily, about a day of service in remembrance of King. So Emily got the idea to recruit some of Luca's friends and organize a donation drive.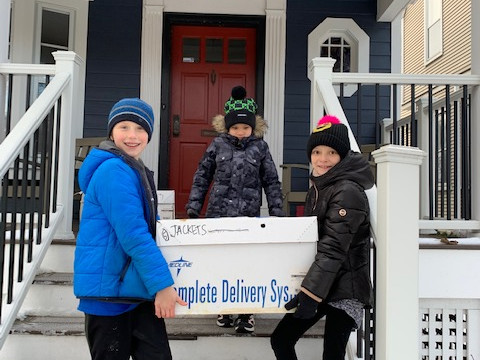 Each year, the group picks a new charity for which to raise money and donations. A few days before Martin Luther King Day, the group of schoolkids will walk Andersonville and hand out fliers that explain their efforts, who they're collecting for and what items they are seeking.
On Monday, the group then headed back out to grab items from participating households.
The day of service has grown every year, from about 10 volunteers four years ago to about 55 on Monday, Emily said.
"Every year, they keep inviting more friends," she said of her sons Luca and younger-brother Finn. "For the kids, it's about the experiences, hitting the streets and doing something good for the community."
This year, the group raised donations for Care For Real, an Edgewater-based charity that has a food pantry, clothing drives and provides outreach and counseling to those in the neighborhood. The charity has seen a rise in the number of clients seeking help, with Care For Real assisting over 5,000 individuals in December alone, according to its website.
The Pierce students worked with Care For Real to determine what items were needed. Then it canvassed the neighborhood, seeking donations. On Monday, the group collected $230 in donations and six car loads of donations, Emily said.
Luca and his friends worked on a script to thank the households who donated, and the group watched a bit of King's "I Have A Dream" speech before collecting items Monday.
"He's gotten really into it, and he takes a lot of pride in it," Emily said. "It's really neat, and people are extremely generous."
Andersonville business also help out in the endeavor. Ranalli's of Andersonville donated pizza to the kids, First Free Church of Chicago donated space for the group to sort donations and the Walgreens at 5440 N. Clark St. donated beverages.
Luca said he is excited to see his idea for a service day grow, and that other's want to help out as much as he does.
"My friends like it, too," he said. "It's almost a school-wide project now. Our neighbors help out a lot."
Do stories like this matter to you? Subscribe to Block Club Chicago. Every dime we make funds reporting from Chicago's neighborhoods.
Already subscribe? Click here to support Block Club with a tax-deductible donation.