BUCKTOWN — A neighborhood barber who brought people together over decades as Humboldt Park and Bucktown transformed has died.
Frank Burgos, a man who led a 56-year career operating independent barbershops in the area, died this month at the age of 85. He is survived by his wife, three sons and five grandchildren.
Burgos' business, Frank's Barber Shop, was most recently located at 1856 N. Western Ave. until it closed permanently in 2017.
From 1981 through the early 2000s, the barbershop was located within — and later next door to — what is now Green Eye Lounge, 2403 W. Homer St.
Burgos, a Puerto Rican who moved to mainland America in the 1950s, opened his first two-chair shop at the corner of North and Maplewood avenues in 1963.
The Humboldt Park and Bucktown neighborhoods experienced great turmoil throughout the later half of the 20th Century, Burgos' eldest son, Frank Burgos Jr. said.
But through it all — the white flight of the 1960s, gang violence of the 1970s and 1980s and gentrification of the 1990s, 2000s and present day — Frank's Barber Shop persisted as a "mainstay" for neighbors, Burgos said.
"His barbershop was just an anchor, and a clubhouse for people, to go play dominos … to watch the Cubs or White Sox," he said. "My father [was] what helped stabilize that neighborhood for decades. It was Margie's [Candies] and my dad's barbershop. … That's how you defined [in] a lot of ways Western and Milwaukee. That whole Bucktown area."
This month, Burgos' sons gathered inside Green Eye underneath their father's old business sign, which reads, "Frank's Hair Styling."
Joined by bar staff who knew and loved their father, the family raised glasses of Burgos' favorite drink, Canadian Club whiskey. Frank Jr. gave one of his father's funeral prayer cards to a bartender.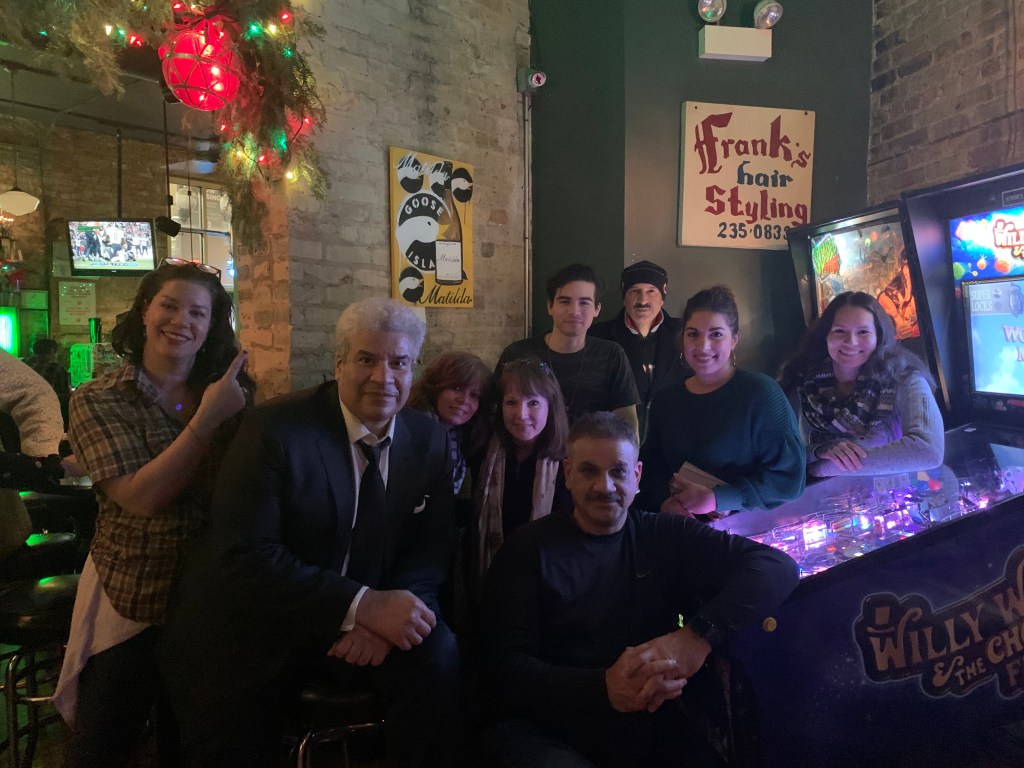 The sign will remain in the bar, Green Eye owner Steve Kopka said.
"It's a piece of history, and a reminder of who Frank was — genuine, kind, inclusive, generous," Kopka said. "We'd be very lucky if a little bit of that spirit continues to hang around."
'We were Americans'
Burgos came to America from Puerto Rico during the 1950s. He first moved to New Jersey as a migrant farmer, picking strawberries.
He learned how to cut hair in Puerto Rico. As a farmer, he offered $1 haircuts to his coworkers. He did this in secret, however; the company barber charged $2.
Burgos later moved to Chicago. His first job was as a cook at the Palmer House Hotel. He eventually worked for an Italian barber on Taylor Street.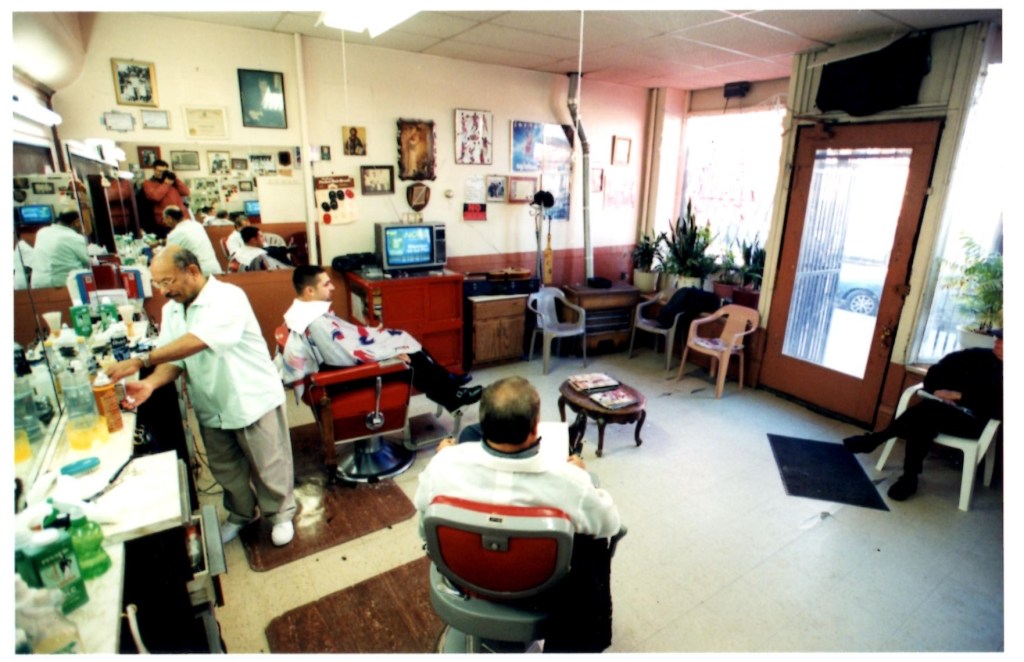 During this time, a mutual friend introduced Burgos to his wife, another Puerto Rican. She was living in Puerto Rico, but communicated with Burgos via handwritten letters.
The couple eventually met in person, married and moved into a two-bedroom apartment near the intersection of Maplewood and North avenues in Humboldt Park.
Frank Jr. and his younger brothers, Ruben and Fernando Burgos, were born in Humboldt Park. The family was one of the first Hispanic families to live in the neighborhood, Ruben said.
Burgos was a devout Catholic, but back in the 1960s, the nearest Spanish masses were on the city's South Side — the closest on Roosevelt Street.
From their two-bedroom apartment on Maplewood, Burgos' family rode a bus to Damen Avenue, where they caught a train to Roosevelt Street.
"That's the effort it took just to go to church," Ruben Burgos said. "To go to church was an outing."
A gifted and self-taught musician, Burgos played his 12-string guitar during church services and at his barbershop.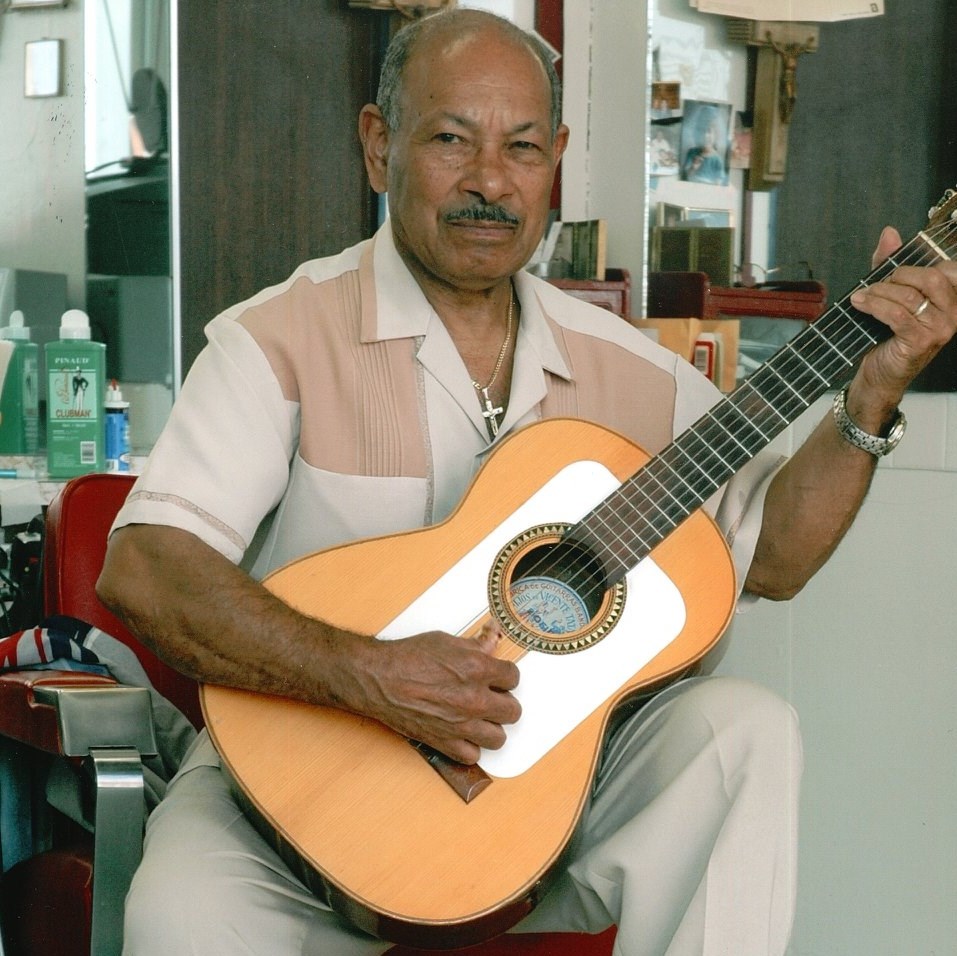 He was also skilled on the baseball diamond, and enjoyed 12-inch and 16-inch pickup softball games with neighbors. (While he supported both the Cubs and the White Sox, he was partial to the Cubs, Frank Jr. said.)
But life in Chicago during the 1950s and 1960s wasn't easy.
Because Frank Burgos happened to be much darker-skinned than his wife, landlords in the heavily Polish and German Humboldt Park neighborhood viewed the couple as "mixed skin" and often refused to rent to them, Ruben said.
"When they got married, it was hard to find housing," he said. "Did it scar him? Probably. But a lot of things that scar us, [what] shapes a person, makes them stronger. … He kept reminding us that we were Americans. People had no right to downgrade us, as outsiders. We were Americans."
A barber shop for everyone
In 1963, Burgos opened Frank's Barber Shop, a two-chair enterprise, across the street from the family's Humboldt Park apartment.
In 1969, the Burgos family bought and moved into a three-flat near the corner of Homer Street and Western Avenue at the Humboldt Park-Bucktown border.
One day on his walk to his shop, Burgos dropped by a Homer Street barber shop that had been owned by an Italian man for 40 years.
The barber, who planned on retiring, offered to sell Burgos the business for $1,500. The rent? $250 a month.
Burgos had been experiencing break-ins and vandalism at his Maplewood Avenue shop. The two men shook hands on the deal, and in 1981, Frank's Barber Shop moved to what is now Green Eye Lounge.
During his high school years at Roberto Clemente High School, Frank Jr. said, racial tensions gripped Humboldt Park. A riot resulted in overturned cars and the tear-gassing of students. A police officer lost an eye.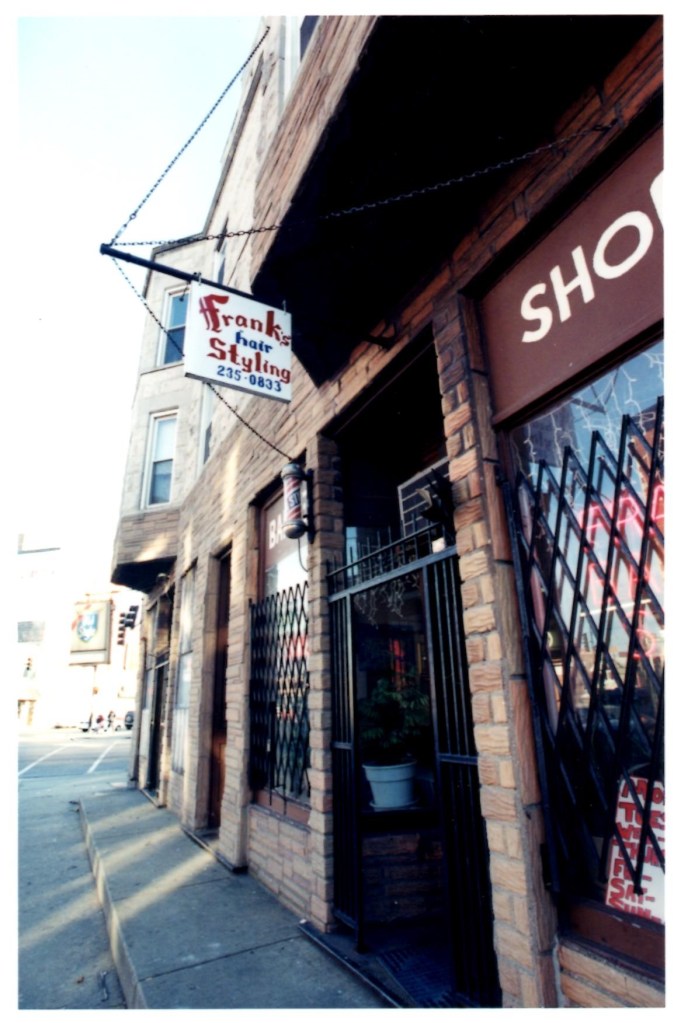 "You would just see people being arrested left and right," Frank Jr. said. "Someone was shot in front of our home. Dad [washed the] blood off with a hose."
But Frank's Barber Shop was a safe haven for all.
Burgos gave free haircuts to people experiencing homelessness and drug addiction.
When a neighboring home on Homer Street burned down, Burgos bought and fenced in the lot in an attempt to deter crime.
One day, while driving, Burgos saw a young white boy being chased by a pack of neighborhood dogs. Without hesitating, Burgos swerved the car toward the dogs, saving the boy's life.
Even white neighbors who belonged to white supremacist gangs, such as the Gaylords, felt comfortable around Burgos, Ruben said.
"They'd go out of their way to say hi to them," he said. "There was no reason for these troublemakers to like him. I can't think of one reason. Except that they must have received some of that love."
New neighborhood, same Frank
In the 1980s, the neighborhood began to "turn around," and neighbors heard "hints of coming gentrification," Frank Jr. said.
Now, each time Frank Jr. return home, he notices a new craft cocktail bar or a comic book store.
"I don't recognize my neighborhood anymore," he said. "But through all of that, there was my dad and his barbershop."
In 2003, Green Eye Lounge, 2403 W. Homer St., moved next door to Frank's.
A few years later, Burgos "graciously" downsized his shop so that Green Eye could expand its footprint, the bar's owner Steve Kopka said.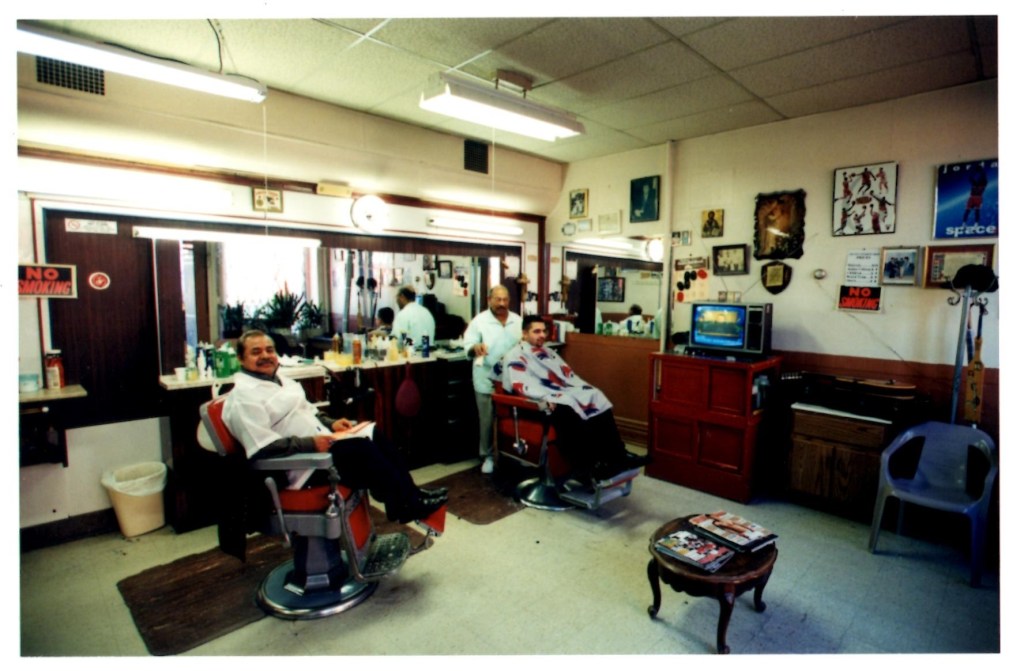 "Frank's was a place welcome to absolutely everyone," Kopka said. "You might hear several different languages spoken and you might see an 80-year-old get a cut right after a 10-year-old. … Frank's was always warm and inviting and friendly, reflecting the kind of person Frank was."
In 2007, ownership of the building changed hands. Burgos moved Frank's Barber Shop a few blocks south to 1856 N. Western Ave.
There, Burgos personally cut hair until March 2014, when cancer and other ailments took a toll on his health.
Burgos initially put up a sign telling customers he planned to return to work. He never did. The shop closed in 2017.
Today, Dark Matter Coffee operates in the shop's place.
Frank Jr., who spent part of a 30-year journalism career at the Sun-Times, said he never met anyone like his father.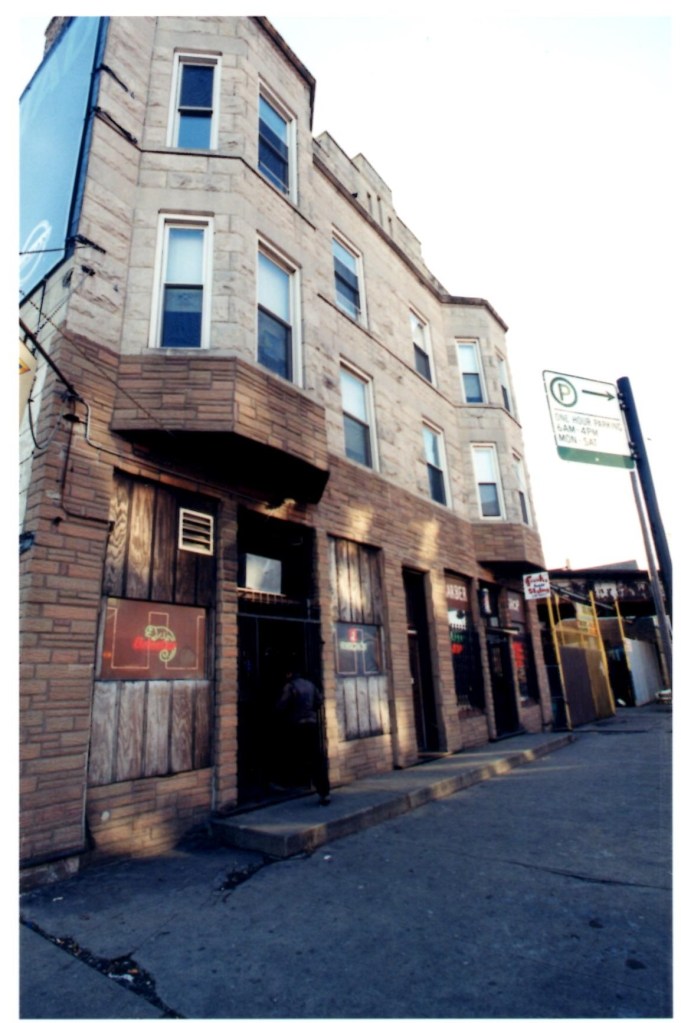 "I've interviewed all sorts of people in my life. My father had no artifice," he said. "He was the most genuine human being I've ever met."
He continued:
"He was a man of great forgiveness and great grace. I believe kindness was just baked into my father's DNA. It's just who he was. … If there's a moment, an opportunity for you to act kind, take that moment, take that opportunity," he said. "Because it's what my father would have wanted you to do."
Burgos is buried at Graceland Cemetery, 4001 N. Clark St., in the Uptown neighborhood.
Those who wish to make donations to the Burgos family are encouraged to instead contribute to charities focused on either helping children in Chicago or supporting disaster relief in Puerto Rico.
Do stories like this matter to you? Subscribe to Block Club Chicago. Every dime we make funds reporting from Chicago's neighborhoods.
Already subscribe? Click here to support Block Club with a tax-deductible donation.