LINCOLN PARK — For the third time since April, city officials informed skeptical neighbors about a plan to build an athletic field for two area high schools just east of the Diversey Driving Range.
Some neighbors who live closest to the proposed field oppose the project, saying it will bring congestion, noise and attract rowdy adult sports leagues, while student athletes, parents and school leaders say it will give kids a much-needed place to play and practice. About 80 people attended a meeting Presence St. Joseph Hospital last week to weigh in.
The field would primarily be used as a practice field by Lincoln Park High School and Lake View High School. Other CPS sports teams would have access, and it would be available for recreational use by the community when it wasn't being used by the schools.
The project would also fix parkland just north of the driving range, known derisively as "Lake Wellington" because of its persistent flooding issues, by adding drainage structure and raising the land's elevation. Officials said funding for the water mitigation was not available unless the field is built.
The $3 million project would be paid for by CPS. The Chicago Park District is also applying for grants to help offset the costs of some natural plantings that will be installed in the area.
The turf field will replace an open, grassy area wedged between Lake Shore Drive and the driving range, just north of Diversey Harbor. It will be 55 feet wide, run parallel to Lake Shore Drive length wise, and have four LED light fixtures facing the field.
Park District officials said the lights would shut off at 11 p.m. when the park closes and coaches would have access to the lights to turn them off earlier if the field wasn't in use.
If all goes well, the field could open next fall, said Sarah White, lakefront planning coordinator for the Park District. The plan must be approved by the Chicago Plan Commission first.
Fixing 'Lake Wellington'
The turf field would sit at an elevation of 7.5 feet. The area between the field and "Lake Wellington" would be at 6 feet, and the flood prone area would be raised to 6.5 feet, which White said will be high enough to prevent the area from sitting under water.
"During the thick of the wet spring season, saturated soils were observed around four to four and a half feet, so we're raising it a good amount above that," she said.
Soil from the construction of the turf field and other sites would be used to raise the area. Natural solutions like planting and bioswale will also be added, said Heather Gleason, director of planning and construction for the Park District.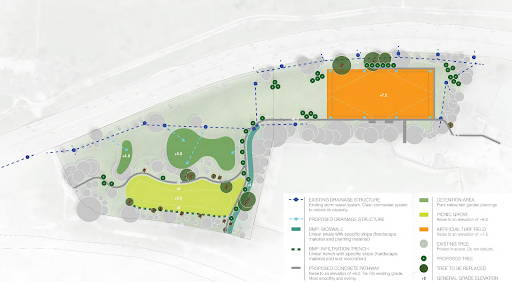 Ald. Tom Tunney, whose 44th Ward includes the site where the field will be built, said "Lake Wellington" has been a thorn in his residents side for years.
"It's actually what I consider linked development. It's a turf field that has an overall storm mitigation plan to really work on the flooding issues that abut that area, specifically what we call Lake Wellington," he said. Without the field or another development, "we'd be sitting on that pond for many years to come."
Field will attract adult sports leagues, neighbor worries
One man who opposed the project said the field wouldn't just be used for school kids chasing their athletic dreams, but also adult sports leagues.
"Have you visited some of these other soccer areas? And you see how rambunctious. It's a pretty wild. It's a lot of fun, but there's a lot of beer, there's a lot of wild soccer activity," he said.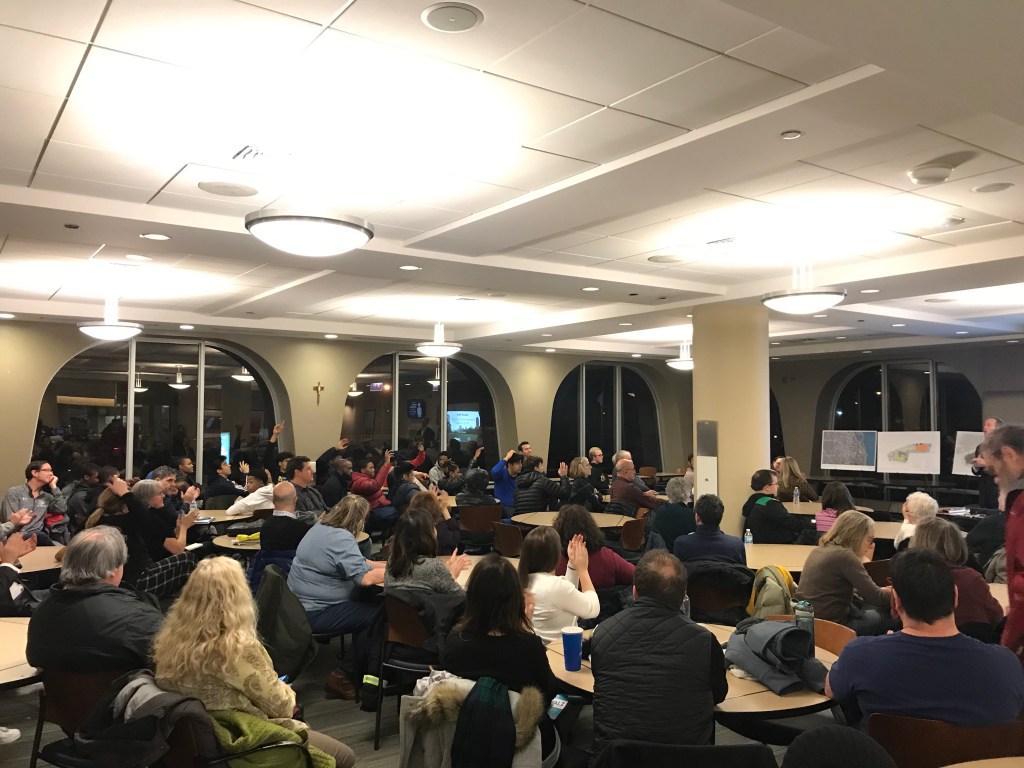 After the meeting, Tunney acknowledged the field will likely be used by adult sports leagues.
"They will be using if for teams, you know, like they've done all over the lakefront, there's going to be some revenue out of it," he said.
One woman said she lives next to the driving range and the lights there frequently stay on overnight. She's concerned she will have the same problems with "light pollution" if the athletic field is built.
"I'm tired of sending mail with pictures off to our alderman, and talking with the Park District and nothing has been done," she said. 
Many who spoke in opposition linked this plan to other projects planned for the area. A separate group is hoping to build a dog park close by using private funds. The 13,000-square-foot dog park is proposed on the other side of a bike path from "Lake Wellington," north of Arthur Telscer Memorial Playground.
One man said all of these projects are leaving precious little space for simple, open, parkland.
"There's just not parkland, it's been balkanized into all these little things for specific little groups, and yes these guys and ladies need a place to play, but that's a school problem," one man said.
Tunney said he understands the concerns of those who've seen changes to the park over the years, but projects like the field will bring more people into the parks.
"I just think if there's a flurry of activity or even an exercise center, you know, they're complaining about noise and in the (proposed) dog park, odor," he said, "…I just think they don't like change. And I think we've got to enliven the parks to be used, and I think they'd like that quiet, dormant space and if people want activity they can go on the other side of [Lake Shore Drive]."
Students says new field needed
Students like Madeline Moser, a senior at Lincoln Park High School and a captain on the soccer team, said she'll be playing collegiately next year in spite of the practice conditions she's had over the years.
"I came from practice …and it was in the hallways of our school, and we don't really get much done except for running," she said. "…And our old practice field, near north, it was terrible, always flooded, half the grass was gone…there would be glass on the field, a lot of trash, a lot of holes, a lot of our players would trip and hurt themselves."
Moser will be in college next year and won't benefit from the new field, but she hopes training on turf will allow her friends to beat their rivals.
"I want to see them beat Lane Tech, and Payton, and Jones…they all have good turf fields," she said. "…We just can't excel as much as them if we don't have the same facilities."
Ald. Michele Smith (43rd), whose ward includes Lincoln Park High School, said they've been fighting for a field for six years.
"We have been begging for a field," she said, "…There is no available open space anywhere in the entire 43rd Ward."
CPS did not respond to questions about the project.
Do stories like this matter to you? Subscribe to Block Club Chicago. Every dime we make funds reporting from Chicago's neighborhoods.
Already subscribe? Click here to support Block Club with a tax-deductible donation.