NORTH LAWNDALE — On Martin Luther King Jr.'s birthday, it is customary to look back at the great victories King pioneered through the Civil Rights movement: his legacy of nonviolent civil disobedience, the Montgomery Bus Boycott to end segregation and the March on Washington that united hundreds of thousands of people in a peaceful fight for equality.
But at this year's annual MLK Day commemoration at Stone Temple Baptist Church in North Lawndale, where King preached during the Chicago Freedom Movement, the ceremony called upon a different memories of the civil rights era. This celebration was also a reflection on the deep and unsettling discomfort that sits at the core of King's legacy, the discomfort that societies wrestle with at the precipice of great change.
"I welcomed you earlier to get comfortable. But let me welcome you now to get uncomfortable," Stone Temple's Bishop Derrick M. Fitzpatrick said at the church, 3622 W. Douglas Blvd. Just as King was driven by his discomfort with American society in the era of Jim Crow, Fitzpatrick said King would similarly "not be happy" with the present state of the world.
"I believe that you ought to be uncomfortable as Dr. King was uncomfortable with the rise in sexism, the rise in racism, the rise in antisemitism," Fitzpatrick said. "The only way that you're going to change things is to agitating things. The only way you're going to change things is to make people feel uncomfortable."
In the spirit of King, the commemoration followed a theme of restorative justice, and reflected on the many uncomfortable hurdles that must be overcome to envision a justice system that takes into account all parts of a person, including the capacity to change and be redeemed.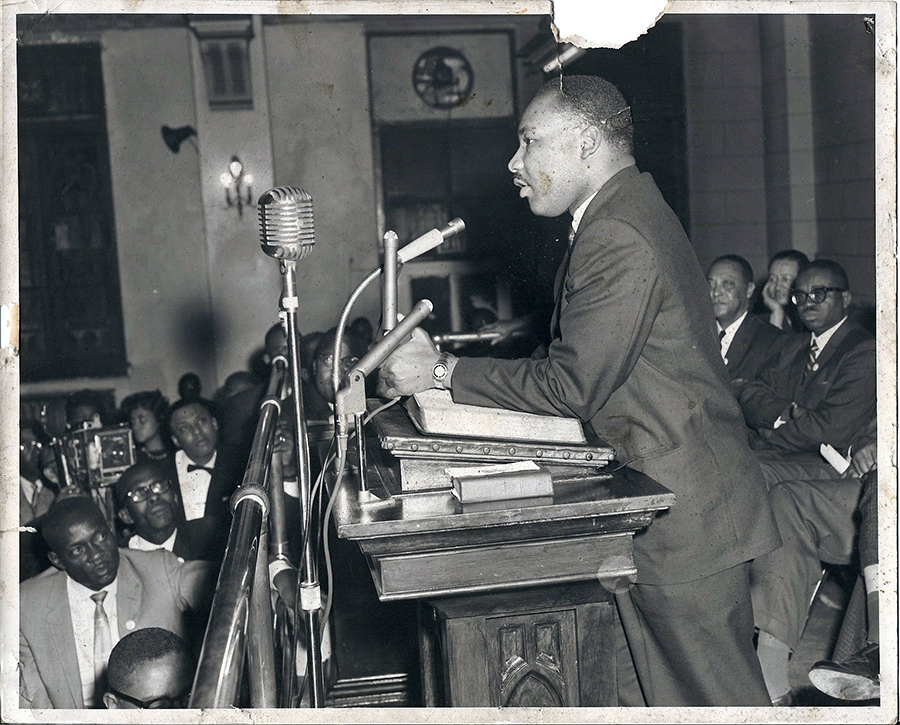 Jen Leemis from the Jewish Federations of North America said America's justice system was historically designed to target people of color.
"Though traditional slavery ended, new forms of servitude evolved. First through sharecropping, then segregation through Jim Crow laws, and most recently through racialization of criminality leading to mass incarceration and voter suppression," Leemis said.
Cook County State's Attorney Kim Foxx reminded the congregation that at the time of King's assassination, he was wildly unpopular with most Americans. Movements towards justice are always impeded by those who profited from injustice, she said.
"His biggest frustration was that there were those allies who wished he would [do this] a different way," Foxx said, referencing King's Letters From A Birmingham Jail. "…When you say that we believe in restoration and not punitiveness, then the people who have benefited from punitiveness will try to cast you out."
A restorative justice system is designed to repair the harm done to a victim, and help the perpetrator of harm to reintegrate into society so the entire community can grow together, she said.
"The work around restorative justice… is in the vision of King to see the wholeness of the person, the whole humanity that all of us are fragile," she continued. Even when somebody commits a crime, "they're still human. They're still like me. They still have the power of redemption."
Sen. Dick Durbin (D-IL) recounted his experience visiting a Cook County Juvenile Detention facility. During his visit, he realized nearly all of the young people labelled as criminals by the justice system were also victims of trauma.
"They were not born members of a gang," Durbin said. "They didn't will it on themselves, it happened to them…We make errors in our lives. But we believe that we can be redeemed.  We can believe that we can turn our lives around."
Chief Judge Timothy Evans of the Cook County Circuit Court recounted his civil rights-era experience. White supremacists would burn crosses and plant bombs in black community churches in resistance to the movement towards equality, he said.
Even today, restorative justice is an uncomfortable change to be taken up by the legal system, he said.
"That's not going to be immediately embraced, because some people are more interested in revenge than they are in the solution," Evans said.
But Evans pioneered the creation of the Restorative Justice Community Court in North Lawndale, the first court of its kind in the state and one of the first nationwide. The court allows nonviolent youth offenders to have their cases dismissed after working with the community to repair the harm caused by their crime.
"What we're gonna do is put you in a circle where you get a chance to listen to the victim and hear what the victim had to suffer. …We can expunge that record and then come back to the community not as a convicted felon, but as a contributing citizen to the welfare of the community," Evans said.
Pascal Sabino is a Report for America corps member covering Austin, North Lawndale and Garfield Park for Block Club Chicago.
Do stories like this matter to you? Subscribe to Block Club Chicago. Every dime we make funds reporting from Chicago's neighborhoods.
Already subscribe? Click here to support Block Club with a tax-deductible donation.