WEST TOWN — Two 1920s workers cottages will be demolished to make way for a larger condo building — if a West Town property owner can win over neighbors.
The buildings at 1533 and 1535 W. Fry St. are about a century old with significant structural issues, said property owner Mike Skoulsky.
Skoulsky said he moved to Fry Street eight years ago; when he bought the wood frame and partial brick cottages as rental properties, he never intended to demolish or sell them. But last winter "took such a toll" it left one of the buildings with 18 burst pipes.
"My partner wants to sell," he said. "We're running on a major negative."
Skoulsky joined developer David Schwartz, architect Victor Drapszo and attorney Ximena Castro to share their plans with Ald. Daniel La Spata (1st) on Tuesday.
The group would need a zoning change to build the condos, and La Spata requires a community meeting before approving any zoning change.
Schwartz told La Spata the neighborhood already has plenty of condos that are similar to the ones he intends to build, so it would not be out of place in the neighborhood.
"We think it fits with the context of the neighborhood," he said.
Early renderings of the six-unit project show a dark brick facade and street-facing balconies.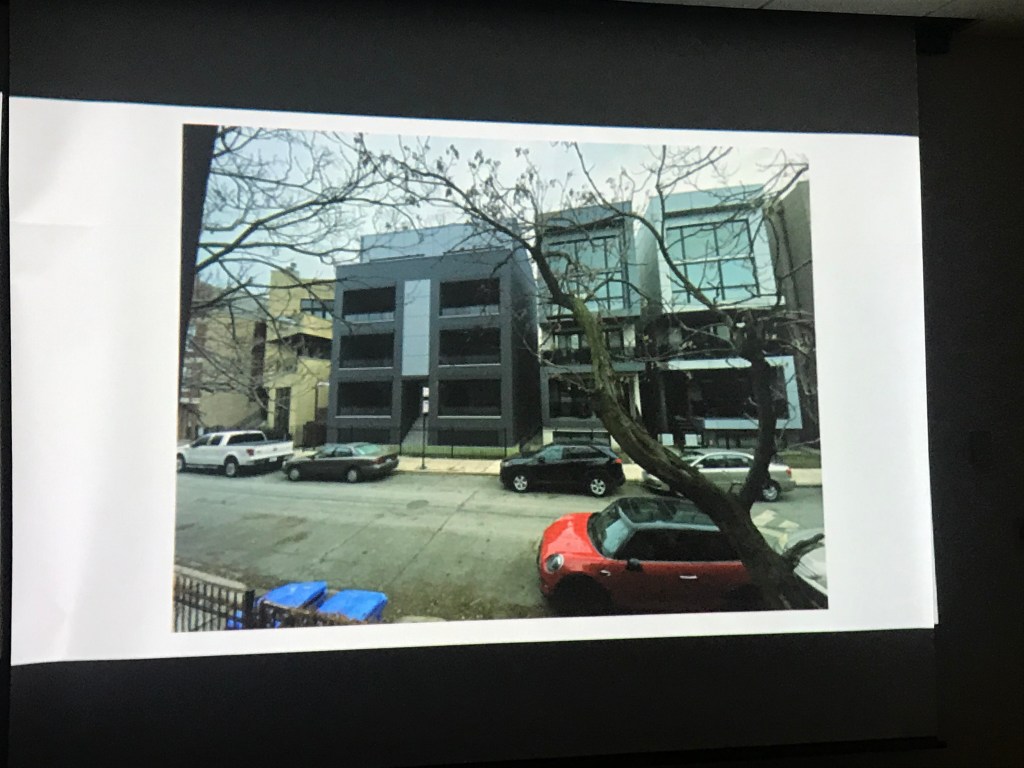 The renderings are subject to change, the developer explained.
This section of Fry Street has seen seven zoning map changes since 2005, said 1st Ward staffer Nick Zettel.
Since taking office, La Spata has said he wants to give the public more of a chance to weigh in on zoning changes than they had in the past, particularly for projects that involve demolitions or the creation of six or more units.
"We have tried to be really consistent in that," La Spata said. "We want this to seem like a responsive, fair and democratic process for doing zoning changes."
At a future meeting, neighbors will be asked to approve or deny a zoning change for the project, La Spata said. The meeting, which will be organized through the Eckhart Park Community Council, has yet to be scheduled.
If neighbors are undecided or divided on the plan, La Spata may host a separate public review.
Do stories like this matter to you? Subscribe to Block Club Chicago. Every dime we make funds reporting from Chicago's neighborhoods.
Already subscribe? You can make a tax-deductible donation to support our nonprofit newsroom here.