WASHINGTON HEIGHTS — South Side commuters got their first glimpse at proposed changes coming to the South Halsted Bus Corridor during last week's public meeting at Woodson Public Library.
Transit officials from the Chicago Transit Authority and PACE were on hand to field questions about the project and Pulse, PACE's rapid transit network introduced last summer in an effort to modernize facilities and increase ridership.
They also received input from customers, who will have the biggest say on all potential improvements planned for the 11-mile corridor, one of the busiest in the city.
The total cost of the project is $52-$72 million, with Pulse station upgrades costing $500,000 each and buses costing $400,000 each, according to PACE Chief Communications Officer Maggie Daly Skogsbakken.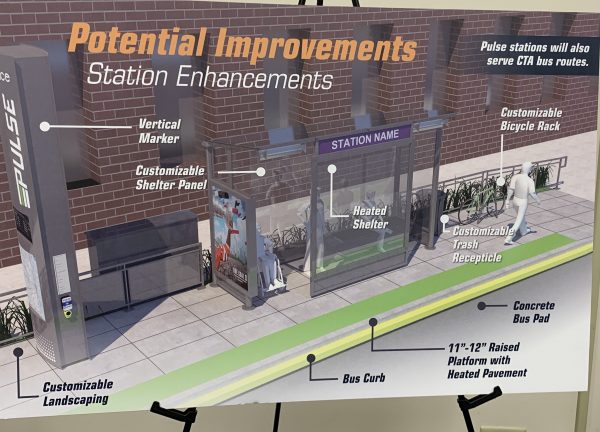 The two agencies unveiled several possible changes for the South Halsted Bus Corridor, each of which would ease the flow of traffic and reduce travel time between 5 and 10 percent.
The first option would call for parking spaces to only be repurposed at intersections, shaving travel time by 5 percent. The second option would replace a travel lane for bus lanes between 129th and 154th Streets. The third includes Option Two, with bus lanes between 98th and 129th Street replacing on-street parking, reducing travel time by 10 percent.
Potential Pulse station enhancements include heated shelters, customizable shelter panels, landscaping and trash receptacles and an 11- to 12-inch raised platform with heated pavement that would allow for level boarding. Buses would also get a Wi-Fi upgrade.
"Depending on the size and location, the stations could have bike racks. The community or business — if the Pulse station is on private property — will have the opportunity to add elements that would personalize the station for them. We have a couple in Niles where they have their logo etched in the glass of the back shelters, so that it doesn't impede upon the visuals," Skogsbakken said.
Once public input is reviewed, the advisory board will be tasked with refining and reevaluating the options, ensuring that the project follows National Environmental Policy ACT guidelines before moving on to the design and construction phases of the project.
Construction on Pulse stations could be underway soon, while roadway improvements may take a few years, said Skogsbakken.
For D'Angelo Hartley, the upgrades are a welcome change. The South Shore resident travels the south corridor frequently for work and fun.
"It's a vast improvement. A lot of commuters rely on these bus routes," Hartley said. "Anything that cuts travel time is a definite win."
Do stories like this matter to you? Subscribe to Block Club Chicago. Every dime we make funds reporting from Chicago's neighborhoods.
Already subscribe? Click here to support Block Club with a tax-deductible donation.