ROGERS PARK — A pair of Loyola University Chicago graduate students — with help from Rogers Park neighbors — have designed an app that helps CTA riders know when elevators are out of service.
When discussing ideas for a class project in Loyola's graduate software engineering program, Tyler Arndt and Sam Siner knew they wanted to develop something that has value to the community. So the pair decided to develop an app that informs people when elevators are out of service at their preferred "L" stations.
Access to elevators at "L" stations is critical to CTA riders who use wheelchairs, parents with strollers and other commuters. About 70 percent of "L" stations are equipped with elevators, but the machines break down often, Arndt and Siner said.
There's been at least one broken-down elevator on a CTA platform since the app rolled out in the summer, they said. There were six CTA elevators out of operation as of Wednesday, according to the transit agency.
That's where the app Elevate Chicago comes in. The app allows users to check their preferred "L" stations to see if elevators are operating before they begin their commute.
"We can't do anything about the elevators being broken," Arndt said. "What we can do is fix the communication gap."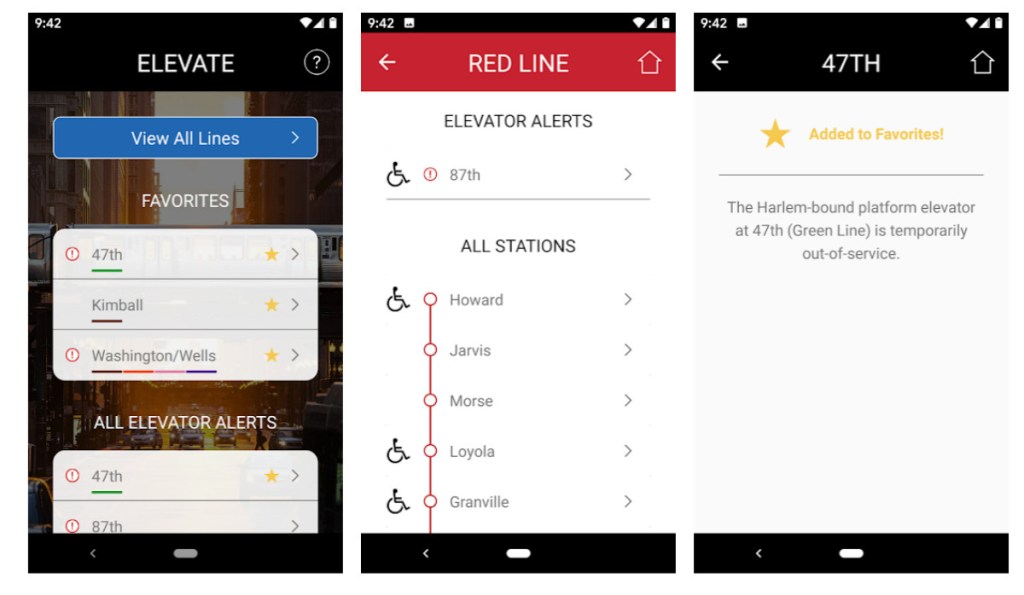 Elevate Chicago users can favorite their preferred stations, which allows them to get notifications when elevators are inoperable and when they are back in service. Its design is simple and user-friendly so anybody can use it, Arndt and Siner said.
"We wanted to do something that wasn't just a class project but also a benefit to the community," said Siner, an Edgewater resident. "We're not trying to make it overcomplicated. We want to keep it simple for users."
Elevate Chicago was rolled out on Android platforms this summer, and Rogers Park residents beta-tested the app to work out kinks and offer feedback.
Siner posted on the Rogers Park neighborhood Facebook page to elicit help. He got an enthusiastic response and worked with members of advocacy group Access Chicago to workshop the app.
Some members of the public said they didn't want another app to use on their commute. So Arndt and Siner came up with the push notification system, which allows riders to know immediately when an elevator is inoperable or back in use. (CTA has a webpage and a hotline with information about elevator outages, but it is not as mobile- or user-friendly as the app, the pair said.)
"If you punch in your favorite stations, you really don't have to do anything again," said Arndt, who lives in Lakeview.
The app is still in its early phases. The next step is to add an app to the Apple operating system, and the pair is seeking to add their app's information to Google Maps' transit feature.
In 2018, then-Mayor Rahm Emanuel announced plans to equip all "L" stations with elevators within 20 years. The expansion of such amenities is good for the city and will make the app more useful, Arndt and Siner said.
In developing the app, the software designers realized more than just people using wheelchairs and other riders with disabilities rely on elevators. They're also crucial for those with strollers, elderly people carrying packages and tourists with luggage, they said.
Their hope is to service as many of those riders as possible.
"We want to get it into the hands of the people who could use it," Arndt said.
To download the app on Android devices, click here.
Do stories like this matter to you? Subscribe to Block Club Chicago. Every dime we make funds reporting from Chicago's neighborhoods.