LOGAN SQUARE — What if one developer ruled Chicago?
That's the question Jacqueline Frole asked herself when she set out to create "Jackieland," the art project that recently went up in the window of cocktail bar The Whistler, 2421 N. Milwaukee Ave.
When Frole isn't working as a set designer for the TV show "The Carbonaro Effect" or doing freelance graphic design projects, she makes objects out of paper mache and posts her creations to Instagram — often accompanied by stop motion videos.
All of Frole's paper mache creations, a mix of everyday objects like a bowl of noodles and weirder things like a hand with its fingers cut off, exist in the same "crazy, kooky" fictional world: "Jackieland."
"It started because I was sick of being on the computer and I wanted to makes some crazy stuff," she said.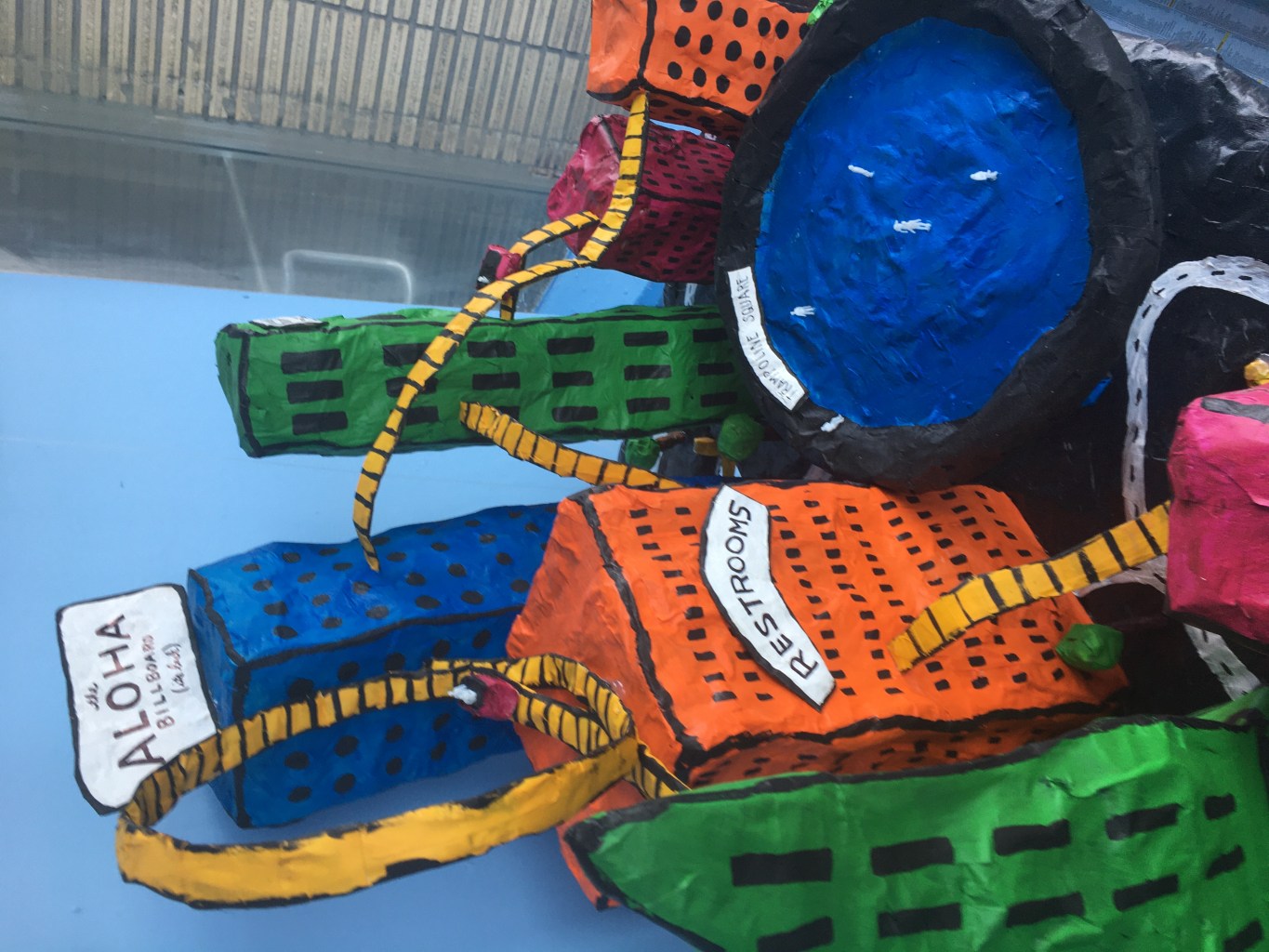 Frole, a Logan Square resident of five years, said she wanted to take "Jackieland" to the next level for The Whistler's rotating window display. Frole installed the art project the first week of December. It's slated to stay up through the end of January.
"I've really admired the installations at The Whistler for a while," she said. "I live pretty close to so I always walk past it. I was like, if I have a good idea, I wanna do something for it."
Frole said the city, made out of paper mache, masking tape, paint and glue, is ruled by one "egotistical" developer, making it "an entire city that only benefits one person." That developer lives in a paper mache tower made to look like the clock tower from "Back to the Future II."
Above the paper mache buildings are paper mache signs that read, "Investment opportunity of a lifetime!" and "Vibrant new development!"
Other signs should look familiar: Frole included Target, opening soon in the massive Megamall apartment complex, and the Logan Square-famous "Aloha" billboard.
Frole said she drew inspiration from Logan Square, but that "Jackieland" shouldn't be reduced down to a shot at Logan Square development.
"It's definitely supposed to be humorous and fun. It's definitely not a takedown," she said.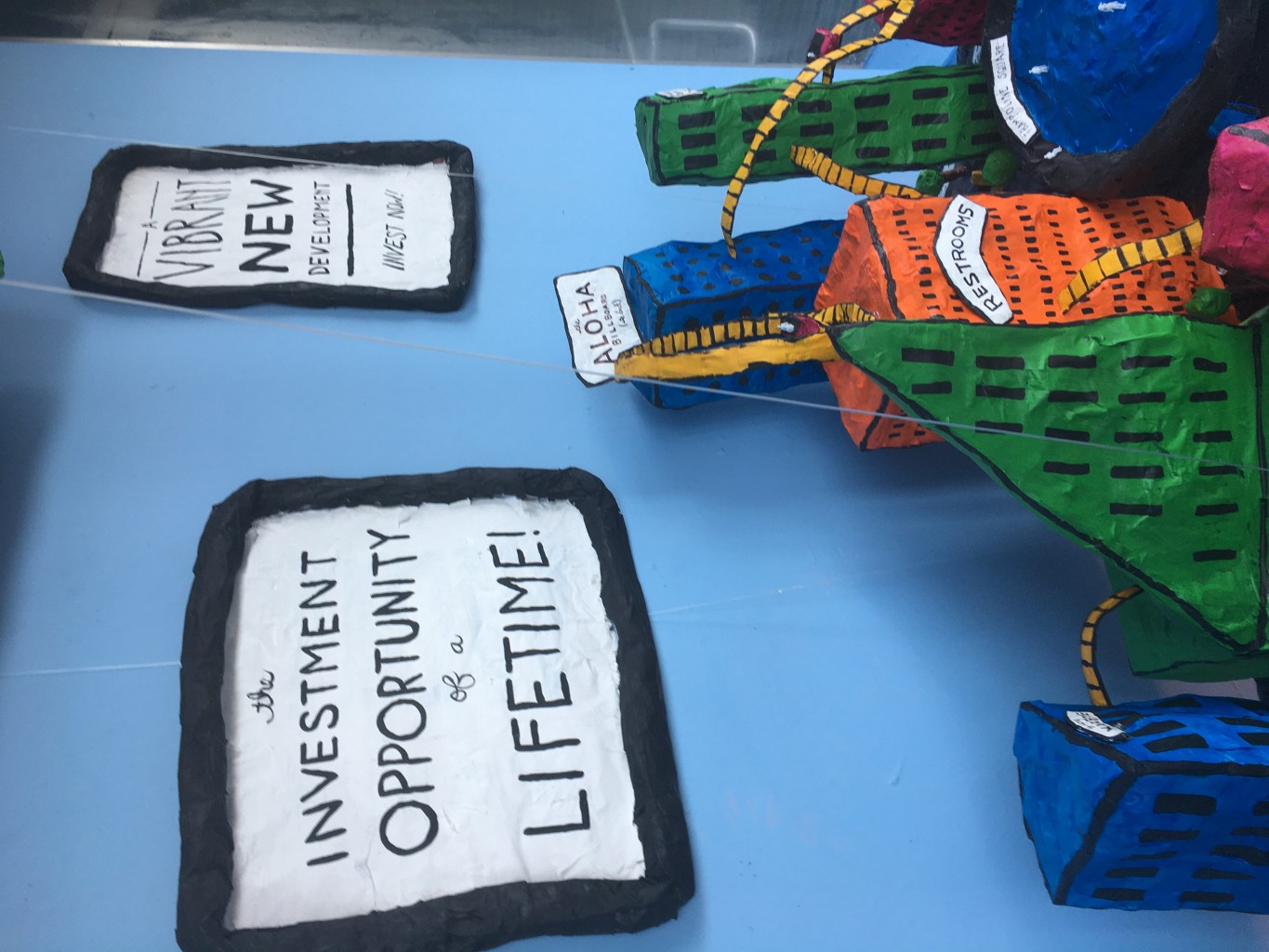 Frole stressed that the project isn't about one specific developer either.
"I go to the architecture biennial every year. Some of [the developments] are great, some of them are terrible. A lot of developers, especially in Logan Square, they can be really selfish, just throw up a building and it's poorly designed and there's not a lot of input from the community. I wanted to take that to the extreme," Frole explained.
Frole said she hopes the art project inspires people to think critically about development in their neighborhood — to "take real developments more seriously."
But it's also not that serious.
"It's mostly supposed to be fun," Frole said.
Do stories like this matter to you? Subscribe to Block Club Chicago. Every dime we make funds reporting from Chicago's neighborhoods.
Already subscribe? Click here to support Block Club with a tax-deductible donation.