WEST RIDGE — For years, students at one of the state's best schools ate lunch in the hallways, practiced music in the library and held recess in a nearby community center.
But those days will soon be behind West Ridge's Stephen F. Decatur Classical School, as the top-performing, selective-enrollment school will open a new annex and schoolyard in time for the next academic year.
Work has already begun on the annex at Decatur, 7030 N. Sacramento Ave. It will include three classrooms, a gym/cafeteria, library, science room and other features.
The major expansion will also include renovations to the existing school building, including turning the library into a dance room and turning the multi-purpose room into a music room, city documents show. Plans also include a new playground, a turf playing surface and an expanded parking lot.
The expansion will not only relieve severe overcrowding that has plagued the school for years, but it will allow Decatur to add 7th and 8th grade classes for the first time in its history. Decatur officials have long wanted to add the upper-grades to help its students, who are often stressed when seeking to find a middle school for two years before then finding a high school.
"It is tremendously difficult for current Decatur students to seek a new school for 7th grade then again for high school," Ald. Debra Silverstein (50th) said in a statement when the annex project was announced. "This new expansion will allow them to complete their elementary education in one school, and will remove a major source of stress for the children."
Decatur is likely to add a 7th grade class next school year, Principal Yolanda Luna-Mroz said in an update to parents.
"This expansion is important to our entire community," Luna-Mroz wrote to parents. She did not immediately respond to requests for comment.
Decatur officials and parents have for years sought resources to address its overcrowding. Space constraints at the school caused the science room to double as a music room and required the school to rent a nearby gym for $10,000 a year.
The school saw some relief to its overcrowding problems in 2017 when Luna-Mroz joined as principal. Students ate in a makeshift cafeteria for the first time, and special-needs students went from being instructed in hallways to a new classroom that was converted from an old storage room.
Still, problems persisted, including the fact that the gym is too small to accommodate school-wide assemblies and that recess space is scarce.
School officials and elected leaders have considered opening a satellite campus for Decatur or moving the school to shuttered CPS facilities in Rogers Park, Uptown and Andersonville. For various reasons, those plans didn't pan out.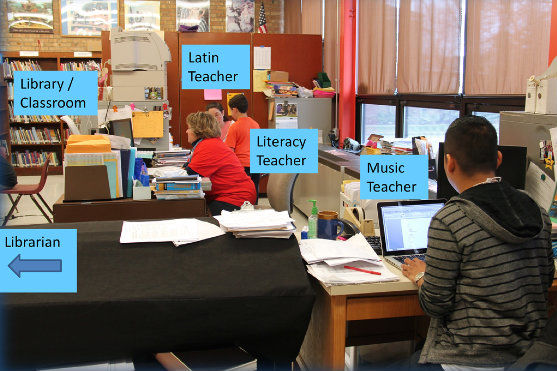 In July 2018, then-Mayor Rahm Emanuel announced $20 million in funding for a new annex at Decatur. The funding was announced as part of a $1 billion building initiative for CPS, the Chicago Sun-Times reported at the time.
Work on the annex project began in November. The building is scheduled to be completed in time for next school year, while work on the parking lot, playground and turf field will wrap up by the end of 2020, according to the Public Building Commission.
Decatur is one of CPS's five "classical" schools, which are selective-enrollment schools that include a "challenging liberal arts" curriculum, according to CPS. It is rated Level 1-Plus, the highest rating for a CPS school.
Decatur was founded as Greene Classical School in 1978 and originally shared space with nearby Boone Elementary. It eventually moved into its current building, which was constructed as a "starter school" to house only kindergartners through second-graders, with the intention to eventually expand, Local School Council officials previously told DNAinfo Chicago. That expansion is only happening now.
A number of West Ridge schools are receiving expansions or upgrades.
That includes Boone, which is receiving a $1.5 million school yard to replace a busted and dangerous playground. Anderson School just received a new playground. Plus, Rogers Elementary is also receiving a new annex, according to Ald. Silverstein.
"These new improvements should help our children continue their education in the most conducive environment possible," Silverstein said in an email to constituents.
Do stories like this matter to you? Subscribe to Block Club Chicago. Every dime we make funds reporting from Chicago's neighborhoods.
Already subscribe? You can make a tax-deductible donation to support our nonprofit newsroom here.