LINCOLN SQUARE — A jiu-jitsu black belt who co-owns a Lincoln Square martial arts school nabbed a teen breaking into his car last month, but instead of pummeling him, Idriz Redzovic turned it into a teachable moment.
The burly Redzovic posted a video this week that included surveillance video of the break-in and a reenactment of the martial arts moves he used to grab the far smaller 18 year old.
In the YouTube video, Redzovic said he could have hurt the teen, but acknowledged he was no longer a threat. Instead, Redzovic used his training to de-escalate the situation.
According to the video, Redzovic then called police and texted the teen's father.
After the police arrived, Redzovic didn't press charges, hoping to turn the bad situation into a positive by teaching the teen a lesson that goes beyond the obvious: Don't break into a black belt's SUV right outside his martial arts school.
Redzovic told police the teen made a dumb mistake and he didn't want to make things worse for him.
"I'm not perfect myself. I did a lot of stupid things when I was younger. But people gave me chances," Redzovic said. "My hope was that giving this kid a chance would make him realize he might not get lucky with someone who isn't me next time. It's almost like God sent him in my direction. It's weird, but it is what it is."
He also tried to talk to teen's father when he arrived to pick him up but couldn't due to a language barrier.
"There's always a positive that could come out of stuff like this. Hopefully something positive comes out of this," Redzovic said. "Maybe the kid who broke into my car has a wake up call and stops breaking into people's cars. Or someone else who has been breaking into cars or was thinking about it, this video prevents another kid from doing something like this."
Redzovic, a father of four, said he's glad no one was hurt in the incident. 
Redzovic has been studying martial arts for 20 years. He's a second-degree black belt and co-owner of Redzovic Jiu-Jitsu, which has three locations in the city. 
He and a group of students were finishing classes at the Lincoln Square location at 4900 N. Lincoln Ave. at about 2:20 p.m. Dec. 28 and planned to go eat at nearby Luella's Southern Kitchen.
Redzovic couldn't find his phone and decided to pop outside to check if he left it in his car. That's when he saw someone he didn't know lean against a friend's parked car while using their phone.
"I just kept an eye on him while I walked to my car, which was like half a block away from the school," Redzovic said. 
Redzovic found his phone in his car and headed back to the school. He then saw the same teenager repeatedly pulling on the door handle of his friend's car.
"The kid kept trying but that car door was locked. I ran back to the school and he ran across the street. Back inside the school I told my friend what happened," he said. "He was angry and wanted to go outside and escalate things with the kid. I told him to calm down, man." 
While Redzovic and the students discussed what happened, the teenager ended up going towards Redzovic's unlocked SUV. 
"I saw him check my car door handles. Since I left them open when I ran back into the school he just walks right into my car," Redzovic said. "I was like, 'What the hell is this?'"
Redzovic ran over with a friend to confront the teenager rummaging through his car's backseat. When he opened the door and grabbed at him, the teen was shocked, he said.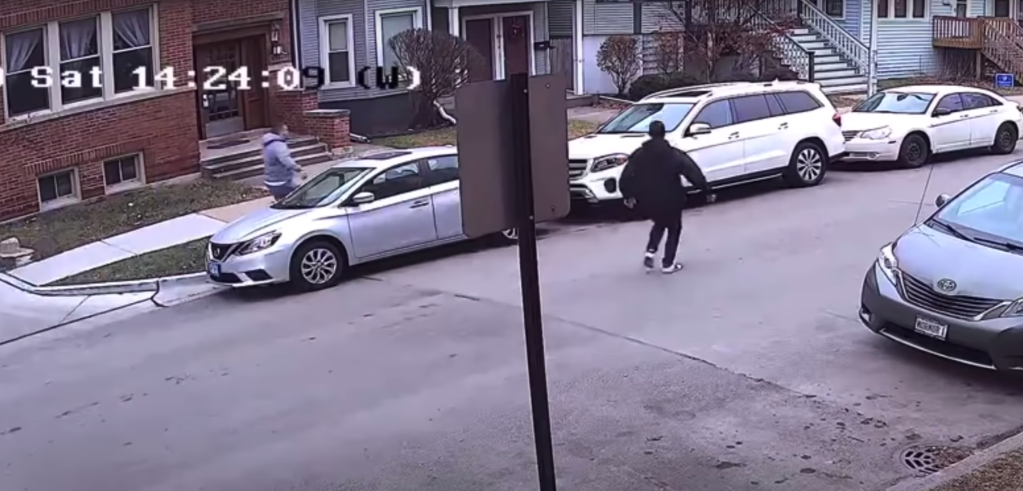 "The kid freaked out when I pulled him out of the car and pinned him. He was a smaller kid and because of my training I didn't have to do anything other than hold him down," Redzovic said. "I didn't want to hurt him. I just kept him there until the cops arrived."
The teen told Redzovic that he had asthma and couldn't breathe. After Redzovic checked him for weapons, he let the teenager sit down on the ground while he called the cops and then texted the teen's father.
Asked if he was afraid of confronting a stranger who broke into his car, Redzovic said he was on autopilot and calm. 
"The adrenaline high combined with my experience working security at nightclubs back in the day, I think my head just blocked off any fear I had of going to confront him," he said. "A lot of things could have happened differently. And because of my martial arts training I didn't need to do any damage. I just kept him there. "
A Chicago Police spokesperson confirmed officers responded to a call of a criminal trespass to a vehicle in the 2400 block of West Ainslie Street at about 2:25 p.m. Dec. 28.
"The victim detained the offender until officers arrived. The victim did not press charges," said Sally Bown, a police spokesperson.
After the incident, Redzovic said he went on with his day.
"It was a happy ending because I also got to go eat lunch at Luella's afterwards," Redzovic said.
Do stories like this matter to you? Subscribe to Block Club Chicago. Every dime we make funds reporting from Chicago's neighborhoods.
Already subscribe? You can make a tax-deductible donation to support our nonprofit newsroom here.